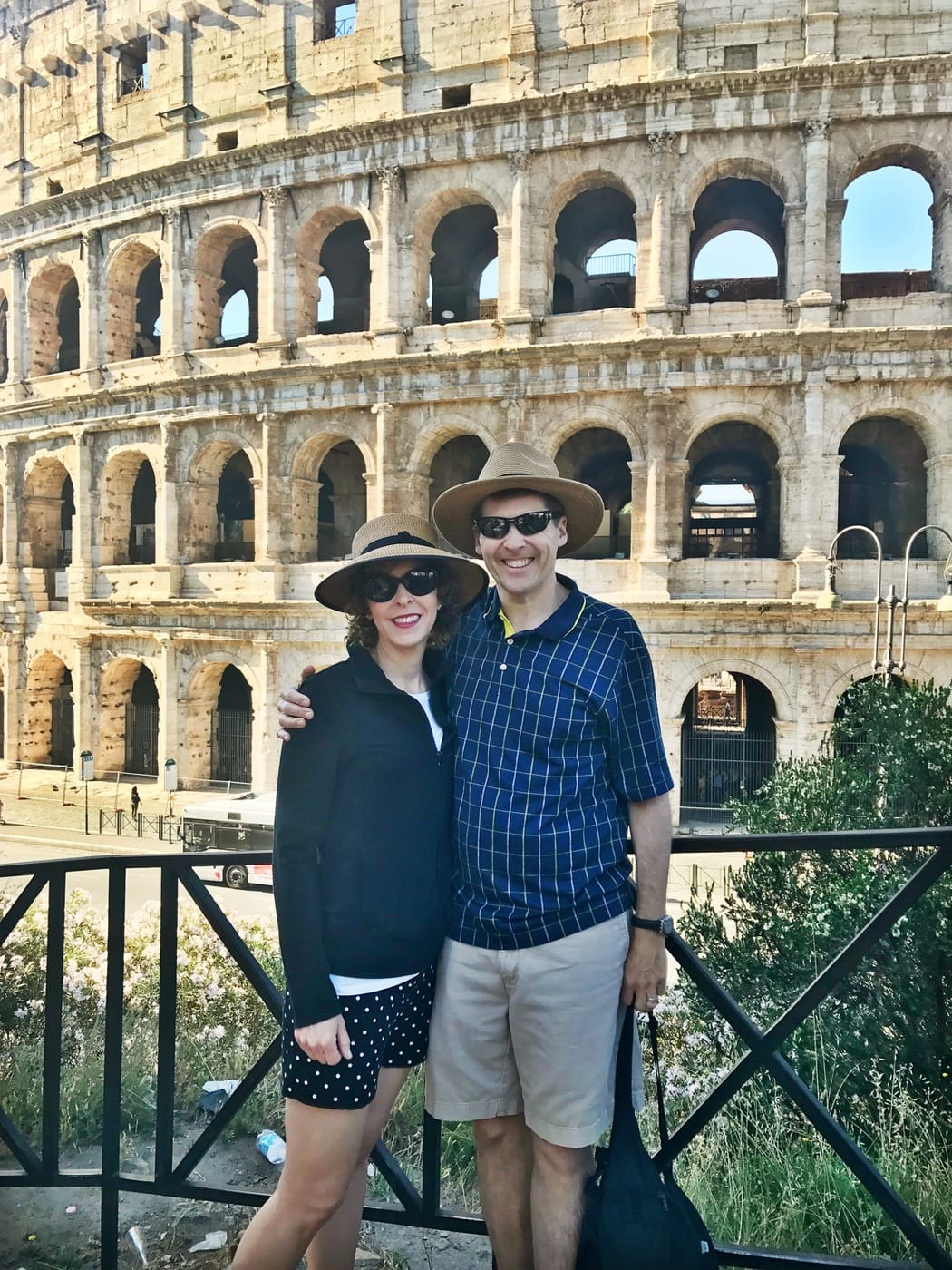 When you only have three days in beautiful Rome, you put your head down and just get it done! Bob and I had two days in Rome at the front end of our recent cruise, and one day at the end, so we knew we had to be efficient with our time. As I've shared before, we are kind of high-strung, worked up travelers. It's embarrassing to share, but we definitely sweat the small stuff, getting hung up and worried about all the details. If admitting that you need help is the most important step, we are right there! When it came to seeing Rome, we knew we needed someone to come alongside us, so our cruise specialist, Tom Pecena of Ahoy Cruises, recommended his go-to driver and guide, the charming Aldo Marrani. (You can read more about Tom Pecena in this post.)
The Essential Sights to See in Rome
I started emailing Aldo a few months ahead of our trip, and he helped me put together a plan for our time in Rome. He picked us up at the airport, took us to some of his favorite "out-of-the-way" sights in Rome, and arranged for a private tour guide (who was outstanding) to whisk us past the lines and through the essential sights like the Vatican, Colosseum, and Forum. With a limited amount of time available, splurging on private tours made a lot of sense for us. Whether you spring for a private guide or not, my best tip is to get to each sight as early as possible. Consider doing The Vatican one morning, and the Colosseum/Forum the next. (Thankfully, Aldo kept us from making the rookie mistake of trying to do all three in one day.) The famous Spanish Steps and Trevi Fountain (right next to each other) were within walking distance of our pre-cruise hotel, so we walked over the first afternoon we were in Rome. (As I shared on my Instagram, we were jetlagged and trying desperately to stay awake!)
The Out-of-the-Way Sights to See in Rome
Along with seeing all of the essential sights, Aldo took us to several less-touristy sights that we absolutely loved! The Catacombs are underground burial tunnels (some dating back to the second century), that snake under the city. Catch one of the 30-40 minute tours offered throughout the day. You'll be glad you did! Be sure to check out the Appian Way, one of the most famous ancient roads. It was built in 312 BC by Appius Claudius Caecus and spanned 350 miles from the Roman Forum to modern day Brindisi. It's remarkable! Next, head to the semi-secret Aventine Keyhole (aka "The Keyhole to Rome"), where you can see a breathtaking view of St. Peter's dome through the keyhole on the gate to the headquarters of the Knights of Malta, located on Rome's Aventine Hill. Finally, be sure to get a cab or have a driver take you about 16 miles outside of Rome into the Alban Hills to the village of Castel Gandolfo, the location of the Pope's summer vacation home. One of Italy's most scenic towns, it overlooks gorgeous Lake Albano and boasts a population of only 8800. It is completely adorable! While you are there, you'll want to grab lunch at the beautiful Ristorante Pagnanelli, overlooking the lake. To see the view from our table, check out this photo I posted on Instagram.
Where to Stay in Rome
Pre-cruise, we stayed at the Marriott Grand Hotel Flora. It is located in a cool Neoclassic building on Via Veneto next to lovely Villa Borghese Park, and lots of restaurants and shops are in close proximity. Post-cruise, we stayed at the Marriott Autograph Collection Boscolo Exedra Roma. It's built in an old Roman palace on top of ancient Roman baths (which you can view through the glass floor in the basement!) and it has a rooftop terrace with a stunning view of the city. It is a really special place.
Where to Eat in Rome
If you've read my post on our trip to the Florida Keys, you know I love to dine al fresco! Both of our hotels had outdoor cafes, where we loved people watching while eating pizza and pasta. Aldo recommended Rinaldi al Quirinale, a must-visit seafood restaurant with incredible food that is frequented by locals. (Seriously, my mouth is watering while I am writing this!) If you're a coffee connoisseur, you must stop in at Sant'Eustachio Il Caffè, famous for its cappuccino made from home-roasted beans, blended with water from an ancient aqueduct. Try their Nutella mini croissant. (Again with the mouth watering!)
If we learned anything trying to do Rome in three days, it's that it is very difficult to do it justice in that amount of time. We're already talking about going back! Do you have some favorite spots that you love? Please share them in the comments so we can add them to our list for next time!
Blessings,