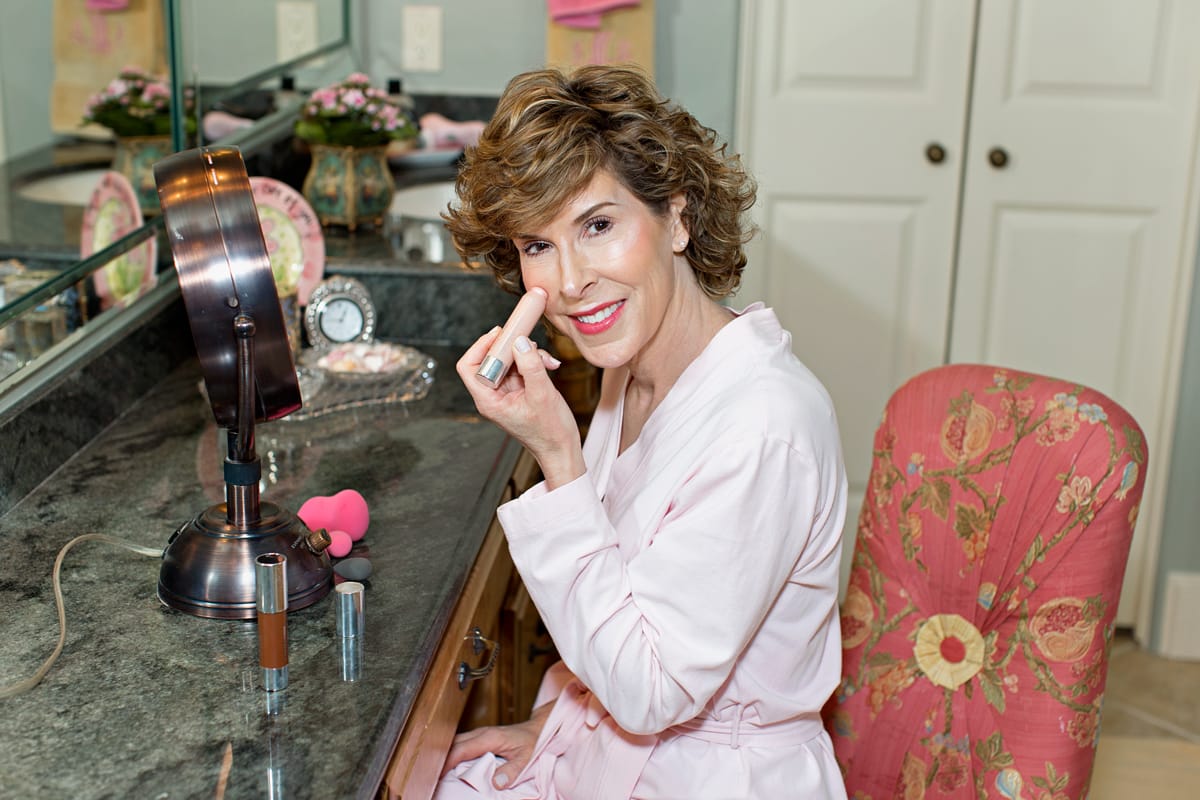 I'm all about using makeup to enhance what the good Lord gave you. I love the idea of contouring, and it's ability to give women a more sculpted, slim, and youthful appearance. I've wanted to learn how to contour and highlight properly for a while, but it always seemed kind of complicated. I knew I wouldn't do it if it wasn't simple and quick! Also, I didn't want to share it with you until I felt like I could make it easy, clear, and fun. After a private lesson with Dallas makeup artist Bebe Tran, and watching countless YouTube tutorials, I'm ready to share a simple and quick guide to highlighting and contouring.
Contouring/Highlighting Terms
First of all, let's get our definitions down! Contouring is done with a matte, dark cream, powder or stick to define or reshape. When you contour a feature, it makes it fade away visually. When you highlight a feature, it emphasizes the feature visually. (You may have also heard highlighting referred to as "strobing.") My daughter, who's an acting major, recently took a class on stage makeup. She gave me an easy way to remember contouring and highlighting. It's not too complex! She said that you basically contour anything you want to recede (Saggy jawline anyone?) and highlight anything you want to accentuate (Cheekbones, anyone?).

Contouring/Highlighting Products & Tools
After trying powder contouring and highlighting products on my own, I decided I didn't like the way they sat on my skin. They tend to settle into lines and wrinkles. The makeup artist confirmed this and told me that cream highlighters were definitely the best call for over 50 skin, which tends to be drier. As I explored the product options, I came across Clinique's Chubby Sticks and decided to go with them. They're compact, easy to take when traveling, and the highlighting stick isn't too shimmery and sparkly. Bebe Tran thought they were a great choice!

Although she recommended blender sponges, she acknowledged that in a pinch you can blend them with your fingers. I've tried that, and it does work if you're in a colossal hurry, but I don't recommend it! Why? If you don't take the time to blend really well, you may end up looking streaky and ridiculous! (Been there, done that!) I highly recommend using blender sponges — two large and a few smaller ones.

Apply Your Everyday Makeup
Apply primer. I use this one because it does double duty as both a serum and a primer.
Apply foundation. I love this brand because it covers well and contains sunscreen.
Apply blush. I use this brand because of all the ones I've tried, the pigments in this one don't fade out like other blushes I've tried. For tips on proper blush placement for women over 50, see this post. (BTW, most women wear it too low, which drags down the face.)
Apply eye shadow. I like this brand because it glides on without tugging your delicate eye skin and doesn't crease.
You can wait to apply mascara, eyeliner, and lip color.
My Everyday Makeup (Latest Faves)


Contouring Basics
Contour right above your temples. If you have a high forehead that's not covered up with bangs, continue the line up the hairline.
To emphasize your cheekbones, contour along the ridge just under your cheekbones. Use your fingers to feel this out and make sure placement is correct.
If you want to make your nose appear narrower, swipe a thin line of contour to each side of the nose.
To minimize a double chin, contour just underneath the bones of your chin.
To give a sagging jawline a lift, use the contour just under your jawline.

Highlighting Basics
The most important place to highlight is along the top of your cheekbones. Start just below your undereye area and take it all the way into the hairline.
Highlight your cupid's bow by dotting the highlighter there.
Minimize a double chin by dotting the highlighter on your face right above the tip of the chin. You can run it up toward your mouth if you want.
Highlight your brow bone (just under the eyebrows) to lift and wake up your eyes.
Highlight the inside corner of your eye to open up the eyes.
Highlight your frown lines in between your brows.
Highlight the nasal-labial folds that run from the corner of your nose to the sides of your mouth.

Blending Basics
Moisten the large blender sponge and hold the rounded end. Using the pointier end, press (don't rub) the dark contour into your skin, blending it along the edges with a slightly circular motion. If you don't moisten the sponge, too much product will transfer onto the sponge, and it won't work as well. Use one of the larger sponges for contour and the other one for highlight. Use the smaller blender sponges for the smaller spots, like the sides of the nose and another one for the corner of the eyes.

To Learn More
To review some of the For a really helpful article on contouring and highlighting for your specific face shape, click here.
Have you explored contouring and highlighting? What products do you love? Please share them with me in the comments! I love sharing my beauty adventures with you. We're in it together, friends!
Happy Friday! If you've been following me on Instagram & Facebook, you know that I've been at our favorite island in Florida this week! We've had a blast, but I'm looking forward to getting home today and getting back in the swing of things. One thing I'm going to do this weekend for sure is to check out the great sales online! As I always do for you on Friday's, I'm running down the ones I think might be worth your time. Most notable this week is the semi-annual Tory Burch sale. It only happens twice a year, and, at up to 60% off, it's definitely worth a browse. Click on the pink links below to head straight to the sites. xoxo
ANN TAYLOR | 40% off full-price tops & accessories with code TOPSTORY + extra 40% off sale styles. I'm swooning over this tote! Also, I love this ruffle sleeve tee. It has longer-than-normal short sleeves that will cover our upper arms, ladies!!!
ANTHROPOLOGIE | 20% off all home. Their decor is so cute! I so wish I was in the market for something.
J.CREW | 30% off all full-price merchandise with code SHOPTOIT. Extra 20% off for cardholders.
J.CREW FACTORY | Online only! 50-60% off women's easy dresses and men's shirts. My daughter-in-law brought this dress on our vacation this week and she looked adorable!
NORDSTROM RACK | SPANX online flash event. It's time to stock up at big savings. I will be shopping this sale! Also, extra 25% off clearance.
SHOPBOP | Up to 70% off designer merchandise by taking an additional 25% off sale with code SCORE18. To see the list of designers they carry, click here.
TORY BURCH | Up to 60% off when you take an extra 25% off sale styles with code EXTRA. I saw a lady at our resort carrying this darling clutch at dinner one night and I nearly fell over myself trying to ask her about it! (Embarrassing!)
WHBM | 40% off sale styles
ZAPPOS | Join Zappos Rewards to shop the special Zappos Rewards sale + free next day shipping through 2018. Great deals on shoes and tons more.
Blessings,

SHOP THE POST

Photos by Megan Weaver.