When my kids were little, we were wayyyy into Veggie Tales. The unlikely duo of Bob the Tomato and Larry the Cucumber were so helpful in teaching my kids about virtues like kindness, honesty, and forgiveness. One of our favorite features was "Silly Songs with Larry," when Larry the cucumber would sing, well, a silly song. Our family favorite was "I Love My Lips." (Followed closely by "Where is my Hairbrush?")
Ahhhh, the lips! They're not immune from the signs of aging. In fact, like the neck and the backs of our hands, the lips and the area right around the lips can be one of the first places that show signs of aging. (Wah-Wah.) This is really frustrating, because, unlike crow's feet, which sweetly show that you've loved much and laughed often, drying, thinning, and wrinkled lips can make you look kind of mean and tired. (Bob says I may be reading just a little too much into lips, but that's how it seems to me!) So what causes aging lips, and what can we do about them?
Aging Lips: Why Lips Age
1. Thin Skin
Did you know that the skin of the lips is thinner than the rest of the skin on your body? Lip skin only consists of three to five cellular layers instead of up to sixteen layers elsewhere. In fact, it's this thinner skin that accounts for the pinkish color we see. (It's simply easier to see the blood vessels underneath!)
2. Genetics & Heredity
The shape, size, and to some extent the plumpness of the lips you were born with is determined by heredity.
3. Lifestyle Choices
Things like smoking, drinking out of straws (guilty!) and even chewing on our lips out of nervousness or anxiety (also guilty!) can greatly accelerate the aging process.
4. Time
Don't hate me for sharing this, but did you know that women's lips reach their maximum thickness at age 14? (I see those eye rolls!) After that, they naturally begin the thinning process.
5. UV Rays
Even if you're diligent about applying sunscreen to your face and body,  you may have neglected your lips! Sun exposure plays a big part in aging lips. Try a natural, zinc oxide based sunscreen like Elta MD's UV Facial Broad-Spectrum SPF 30+ on your face and dab it on your lips as well. It's formulated with hyaluronic acid to help skin and lips retain moisture and vitamin E to reduce free radicals that can contribute to visible signs of aging.

Aging Lips: How Lips Age
Loss of Moisture
Lips don't have sebaceous (sweat) glands. Since sweat glands also help keep the skin moisturized, this means that lips tend to dry out faster than other parts of the body. They don't produce sebum that moisturizes the rest of our skin.
Thinning & Loss of Volume
As a normal part of aging, the upper lip thins, flattens, and can appear to fold over the teeth, leading to the appearance that the upper lip is kind of disappearing! Lips get their shape in part from collagen, and as we age, we produce less of this collagen, and the lips start to lose their plumpness. The other culprit? A loss of hyaluronic acid, which keeps lips moist and plump from the inside out.
Aging Lips: What You Can Do
Hydrate
Staying hydrated is one simple thing you can do to maximize your lip's fullness. Drinking enough water is always a challenge for me!
Overall Health
To keep your lips healthy, work on keeping your whole body healthy. A high-protein diet, that's rich in Vitamin C, can aid in collagen production.
Take Care of Your Teeth
You may already know this, but teeth get smaller as we age. Younger people simply have larger teeth, which help support the lips and keep them perky. (Just another thing about youth that we didn't appreciate, right?!) As your teeth wear down over time, it can make your lips sink in somewhat.
Without any natural protection, our lips get dry and chapped, and cold weather exacerbates this! To keep your lips soft and supple, look for products that help them retain moisture.
Exfoliate
Nothing's worse than when your lips get so dry they're visibly flaky! Exfoliating your lips is an easy and effective way to keep your lips looking younger. Try a hydrating lip scrub like Sugar Lip Polish Exfoliator to gently buff and exfoliate.

Inject
The problem with lip injections (in addition to the price tag and the pain!) is that it's easy to overdo them. (Hello, Kardashians!)
Plump
You can use a sketchy electronic device that will temporarily plump up your lips using suction, but these can cause bruising. Ouch! Also, the pulling and stretching can actually speed up the aging process by causing the collagen inside your lips to break down even faster.
Topical Products
To enhance lip plumpness, look for lip treatments that boost collagen production and increase epidermal water content. Also look for humectants, like hyaluronic acid, that increase water content, moisturize to prevent cracked skin, and reduce skin irritation. Stick balms tend to be waxy and can dry out your lips, so it's better to opt for natural moisturizers that are oil-based and contain essential oils like jojoba oil or ylang-ylang oil.
What I've Been Using
With a small face and a small mouth (Fun fact—and possible TMI!—I was born without wisdom teeth and one of my molars, so I actually have fewer teeth than the average person.), this issue is very real for me. I feel like I've tried every lip plumper on the market, and never really seen results!
Lately, I've been using a product that one of my friends told me about several years ago by City Beauty. To be honest, after she told me about it, I kind of forgot about it until the company contacted me and asked if they could send me some of their lip products to review. As I've shared before (and this kinda blows my mind), at least 2-3 brands contact me every single day with offers to collaborate or requests for me to try their products. Since I'm very picky—and because your trust means the world to me—I only say yes to maybe 1% of those!  But when City Beauty reached and asked me to try their City Lips products, I remembered that my friend Susan had mentioned them so long ago! They sent me three of their lip products, and, after reading the science behind their products—along with the testimonials—on their website, I agreed to try them.
The Ingredients
Hyaluronic Acid – Hyaluronic acid molecules are too large to penetrate the skin's surface, (although they do use them in injectable fillers). But thanks to the fact that scientists have found a way to lower the molecular weight of hyaluronic acid, they can now and put it into topical products. There, it permeates the skin's top layers, temporarily hydrating, plumping, lifting, firming, and hydrating skin. Hyaluronic acid spheres use the skin's own natural moisture to plump up wrinkles from the inside out. This makes adequate hydration even more critical because the hyaluronic acid can only bind with the moisture that is already in your body.
Oligopeptides – These natural amino acids support and fuel the body's collagen production. One study showed that oligopeptides decreased lip wrinkles by 29% and increased lip volume by up to 40% in 28 days. 
Moisturizing Oils – Oils form a barrier that locks moisture in and also helps soothe and rejuvenate dry, chapped lips, while also protecting them from the elements. ylang-ylang flower oil and jojoba oil are the two that City Lips utilizes in their lip products.
The Testimonials
City Beauty has won lots of beauty awards, been featured in numerous magazines, and been worn by multiple celebrities, which you can read all about on the "PRESS" page of their website.  That's all very impressive, but the testimonial that meant the most to me was the one by Good Housekeeping. Their GH Research Institute tested the original formula Lip Plumping Treatment and found that it increased lip volume by an average of 3 millimeters…WHOA.
In user surveys:
94% said their lips felt smoother. (Mine sure do!)
90% said their lips felt hydrated. (I agree there too!)
 91% said their lips looked plumper. (I feel like mine do too.)
My Review
Are my lips plumper and fuller because I'm using City Lips? Honestly, I'm not 100% sure, because I haven't had them professionally measured to the millimeter! (Hahahaha!) But I feel like they are. One thing I know for sure, gone is the flakey, chapped skin of years past! My lips are definitely more hydrated, smoother, and more moisturized. As someone who is not ready for injections or other drastic measures at this point, this is the best alternative I've tried. I will tell you that City Lips encourages continued use to maintain and improve results, and I've been really faithful about using it at least twice a day. (And I'm not stopping any time soon!)
The Products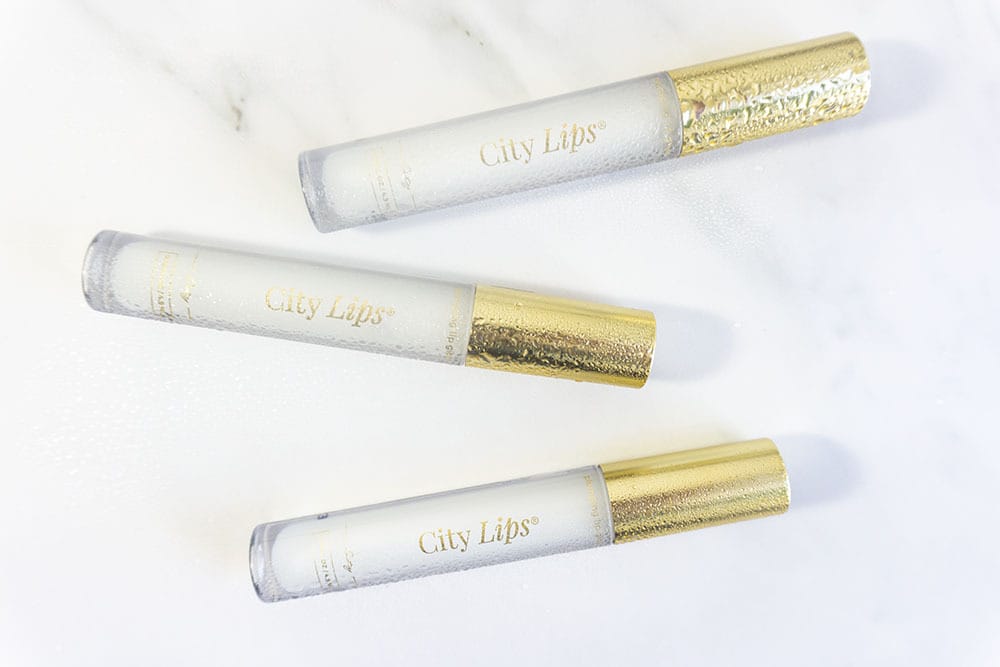 City Lips Original Formula – This is their most popular formula—with good reason! I've been using it before bed to treat my lips while I sleep and I wake up every morning now to softer, moisturized lips. I also apply it right after getting out of the shower in the morning while I'm putting on all of my other serums, lotions, and potions. I love that there isn't any stinging or burning! It immediately moisturizes, smoothing out lines and wrinkles. I leave it on as I get ready, and then either apply lipstick on top of it or use one of City Lips other long-wearing glosses right on top. If I'm going to use one of the long-wearing City Lips matte shades, I've found that they stay on better if I gently remove the clear gloss first. More on that later!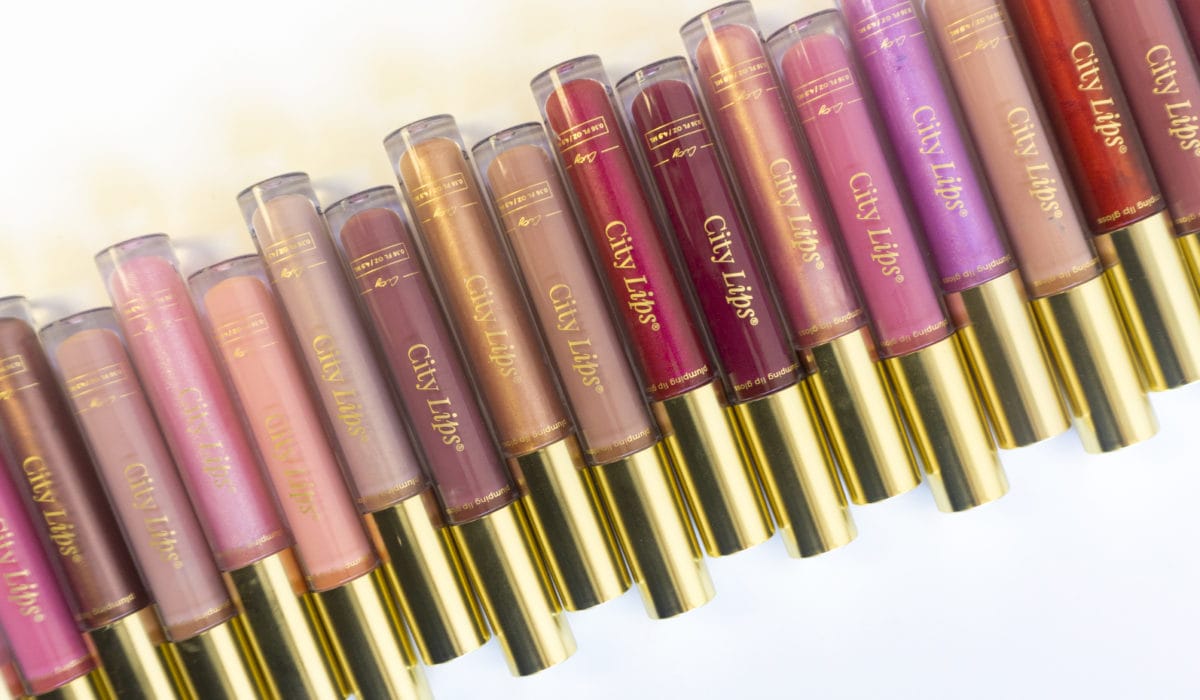 City Lips Glosses – Available in a whopping twenty shades, all of City Lips plumping lip glosses contain the ingredients we talked about earlier. I've been using Pink Nude. It's a neutral, warm tone, and I love the way it feels on my lips! If you've been hanging around here for a while now, you know we've talked a lot about the importance of determining if your skin has warm or cool undertones when it comes to selecting lip colors. The good news is that City Lips has plenty of shades to choose from, so no matter what undertone you are, or what shade you're looking for, they've got it. Click HERE to see them all.
City Lips Matte – It's tough to find a matte lip color that won't dry out your lips. In fact, I've never really been able to find one! It makes sense, right? Without the creaminess, where's the moisture? So I was all kinds of skeptical when I tried City Lips Matte in the Pink Taupe shade in the above photo. I don't know what to tell you, except that it didn't dry out my lips! Now, if you're not used to wearing a matte lipstick, it does feel kind of different that you don't have the creamier texture of a regular lipstick or gloss. The biggest thing I noticed? There was no bleeding into the lines around my lips! Also, it stayed on for hours. City Lips suggests that you apply it on clean, dry lips and that you outline your lips with the pointy end of the applicator tip, and then fill in your lips with the color. There are ten highly-pigmented shades in the line. I adored Pink Taupe, and I got several DMs on Instagram asking what color it was when I wore it during one of my Instastories! For more on the formula and how in the world City Beauty managed to make a matte lipstick that won't dry out your lips, scroll down to the bottom of this page on their website.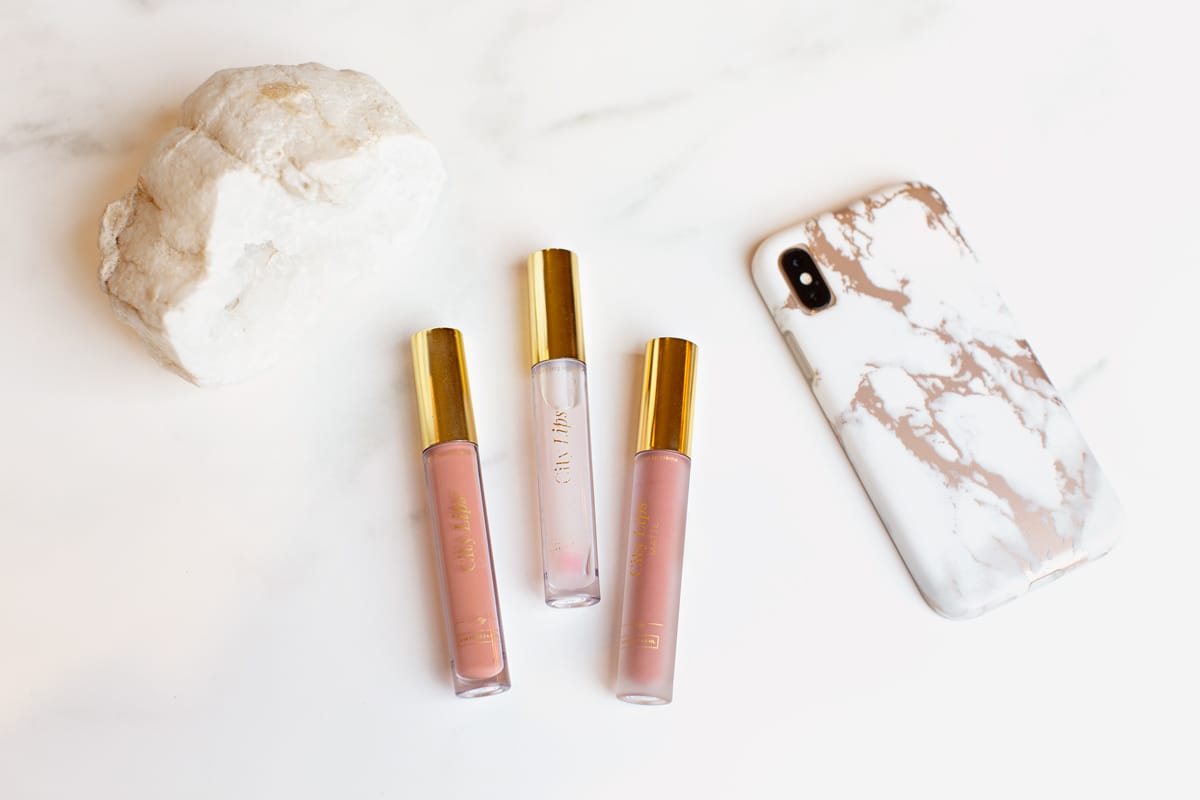 City Beauty offers a 60-day money-back guarantee and free shipping on orders over $50. For a limited time, they are also offering an exclusive discount to Empty Nest Blessed readers! You can take 10% off your order with the promo code EMPTYNESTBLESSED at checkout. Also, you can follow City Beauty on Facebook, Instagram, or Twitter to stay up-to-date on their latest offerings. Their website is full of great information. While you're there, be sure to check out the BLOG section of their site for some excellent articles on a wide variety of beauty topics.
Pink Bow V-Neck Sweater (sold out) | City Lips Pink Taupe Matte | Nail Polish
I want to be sure you know that this is not a sponsored post. I was gifted products by this company in exchange for an honest review. BTW, for a company, that takes a lot of confidence, just sayin'. There have definitely been brands in the past that I have had to turn down after trying their products and not reaping the benefits they told me I would. That didn't happen with City Beauty!
I've been so excited to share this product line with y'all! (And big apologies to all of those who's Instagram DMs I didn't answer because I was still trying these products out and I didn't want to recommend them until I'd made up my mind about them!)
Blessings,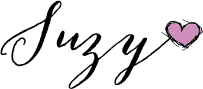 Photos of me by Megan Weaver.
Some additional photos provided by City Beauty.