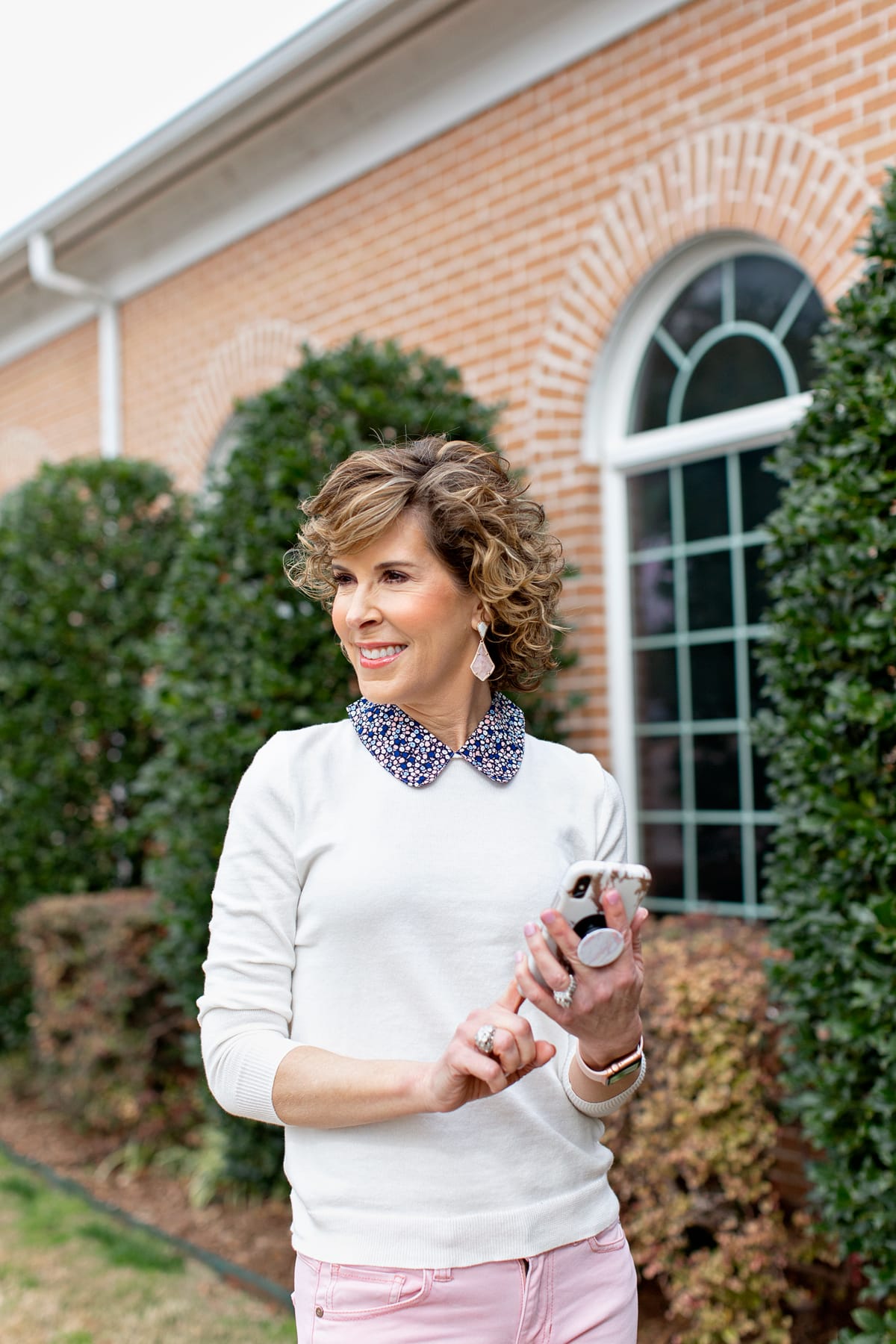 I'm so grateful to each of you for reading Empty Nest Blessed! Thank you for following me on social media, shopping with my links, and for leaving me comments—both here and on Facebook and Instagram. I love writing posts each week, but I also spend a lot of time working on my website. I want to make it easy to navigate, helpful, and a bright and happy site that you enjoy! I know from my Google analytics that in the past seven days, 56.6% of you viewed my site on mobile (phone), 23.3% used a tablet, and 20.1 % viewed it on a laptop or desktop. That's helpful info for me, as it lets me know how best to tailor my site to make it user-friendly for you. I've gotten some questions lately about how some things work on the Empty Nest Blessed website, so I thought it might be fun to take you on a little tour today!
Note: If the screenshots in this post don't look like the images on your device screens, you might need to clear your cache and then try again. A cache is a place in the storage part of your device (called the hard drive) where the browser keeps things it downloaded once in case they're needed again. That's how your device remembers where you left off when you go back to a website after being gone for a while. The cache has a size limit, and when it gets full, it can cause your device to run more slowly and images to be distorted. To clear the cache on an iPhone or iPad, go to settings. Scroll down to Safari and tap it. Then, scroll down to where you see "Clear History and Website Data" in blue. Tap it. That clears your cache! To clear the cache on your computer, Google instructions for your particular browser (i.e., Chrome, Firefox, or Internet Explorer).
But first, COOKIES! Let's talk about the cookies notification that you'll see on the bottom of your screen if you haven't been to my site in a while. A cookie is a small file of letters and numbers downloaded on to your computer when you access a website. A cookie itself does not contain information, but when it's read by a browser, it can help a website improve user experience or keep track of the pages you navigate to within a site. Cookies explain why, if you're on my website and you click on a shoppable link for a cute top from Nordstrom, for instance, later in the day, you may see that same top pop up in an ad when you're on another website! Cookies usually don't contain much information except for the URL (that's the computer "address") of the website that created the cookie. It usually can't be used to reveal your identity or personal information.
The Empty Nest Blessed Website on MOBILE
When you're viewing the Empty Nest Blessed website on your mobile phone, it will look the same whether you turn your phone vertically or horizontally.
Logo
Up in the top left corner, you'll see my logo! Did you know that I've trademarked "Empty Nest Blessed?" Yep, it's true! The name Empty Nest Blessed might be my most important business asset—it tells people who I am and what I represent. A registered trademark gives me the right to prevent others from using Empty Nest Blessed—potentially confusing people or diluting my brand.
Menu
In the upper right corner, you'll see my menu/navigation bar. It's like a guide to everything on my site! The HOME button (obviously!) will get you back to the home page, no matter where you are. The TOPICS button is helpful if you're looking for articles I've written on a particular topic, like marriage, parenting adult kids, travel, health & fitness, etc.  Every time I write a post, I assign it to a topic category so that you can easily access posts on those topics right in one spot. To access the list of topics, touch the TOPICS button. A dropdown menu will appear below it. Touch the topic you want to access. (See below.)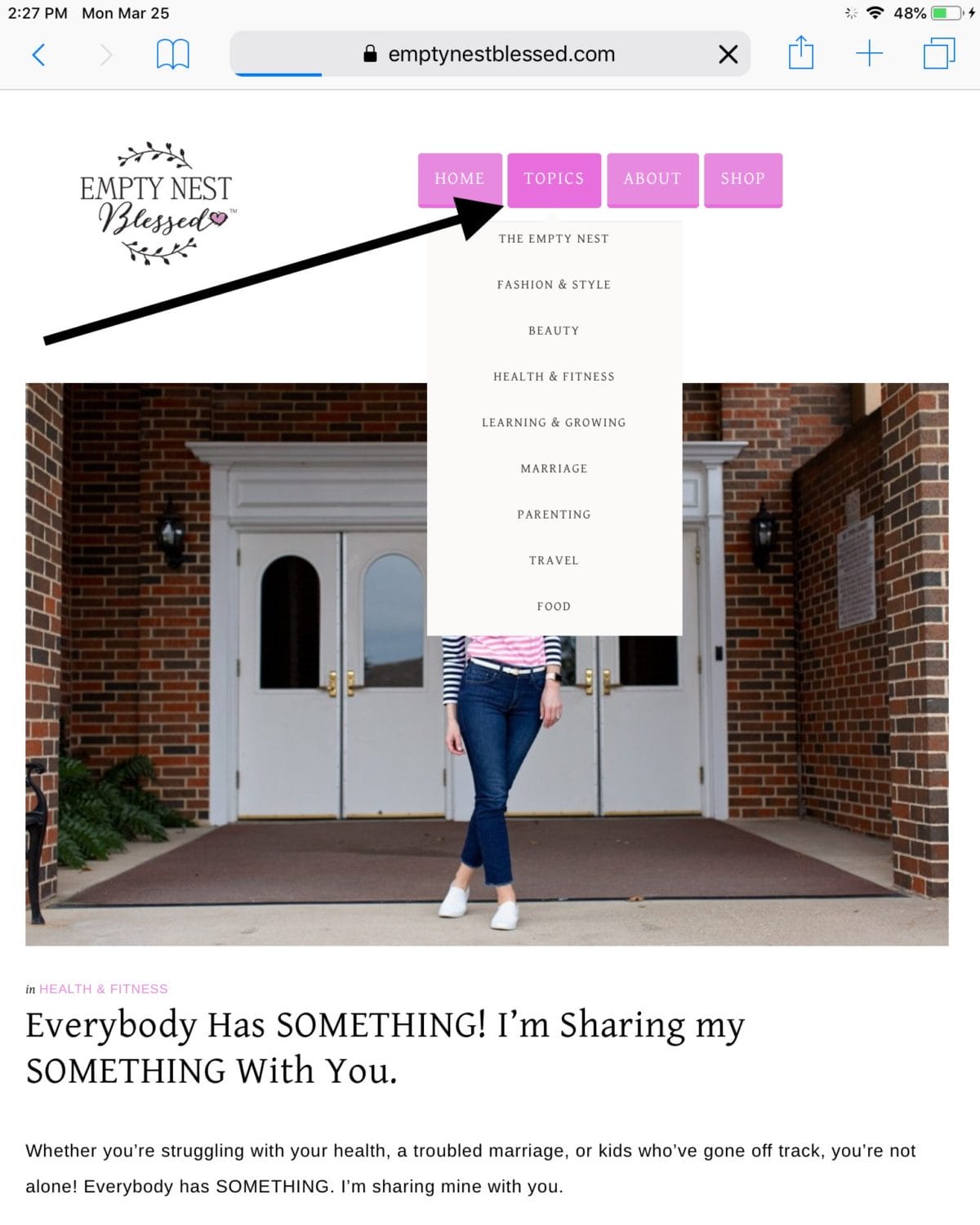 To the right of the TOPICS button, you'll find the ABOUT button. It takes you to my ABOUT page (Duh! Hahaha!). If you've never looked at that page before, you might want to check it out! It gives an overview of why I started Empty Nest Blessed, the topics I cover, and some of the resources I have available on my site.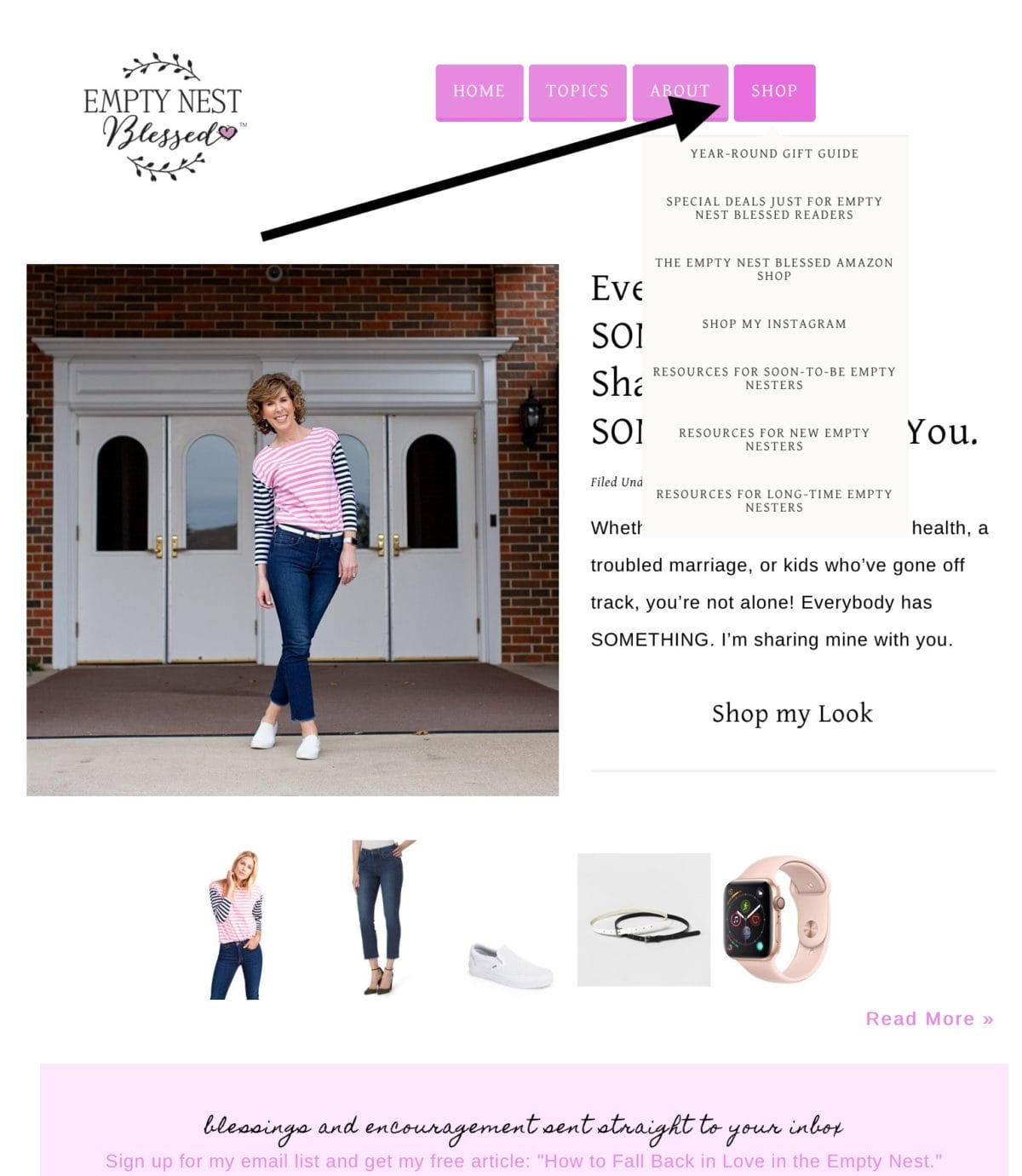 To the right of the ABOUT button is the SHOP button. I want Empty Nest Blessed to be full of "shopportunities" to make your life easier and more convenient! Under the SHOP button, you'll find a drop-down menu of helpful resources for Soon-to-be Empty Nesters, New Empty Nesters, and even Long-Time Empty Nesters. You'll also see links to the Empty Nest Blessed page on Amazon, a page with some exclusive deals I've negotiated with some of my favorite brands just for my readers, a way to shop my Instagram posts, and even a link to my year-round gift guide (Coming soon!).
Search Engine
Just below the menu/navigation bar, you'll find the search engine. (See above.) It's handy if you're looking for an older post on a specific topic, or a post that mentioned a certain product. When you touch it, your keyboard will pop up on the bottom of your screen. Type in the keyword you want to search, and press the blue button that says SEARCH at the bottom right of your keyboard. The results will show up, and hopefully, you'll find what you're looking for! If not, please know you can always email me and ask! 🙂
Latest Post
Right under the SEARCH bar, you'll find my most recent post. (See above.) You'll also find a widget underneath that either says "Shop the Post" or "Shop my Look" (depending on what is shoppable in the post itself). (BTW, the term widget refers to an application on a website that will let you quickly perform a specific function—in this case, shop.) If you like the look of something in that widget, you can tap the item to shop. If you want to read the post, you can click the photo, the title of the post, or the READ MORE button below the widget. (See below.)
Subscriber Form
Below the first post, you'll find a subscriber form. If you're not an Empty Nest Blessed subscriber, I'd like to encourage you to subscribe! I send out newsletters on Mondays, Wednesdays, and Fridays when I publish my new posts. Those newsletters contain info about the new post, links to a couple of older posts you may have missed, and a few links to some awesome items I've come across on the interwebs lately. (Things like cute earrings or a book that I'm reading.) Being a subscriber guarantees you'll never miss a post, and occasionally I give my subscribers early access to special posts like my gift guides and such. You can unsubscribe at any time if you get sick of me! 🙂
Carousel
The revolving carousel underneath the Subscriber Form features eight older posts that are still relevant and continue to be popular. I change these out every week or so. You'll want to check it frequently to see if there's some good content that you may have missed the first time around!
Ads
I have a few places where I place ads on my website. These ads are passive ways to bring in income for Empty Nest Blessed. I select and place the one below the carousel and at the very bottom of the right sidebar myself, taking care to place ads that I think are relevant and helpful, from brands that I trust and you like. These are clickable and will often advertise current sales! The ad near the top on the right sidebar is placed by Google, along with the one at the top of a post when you click through to read it. They are clickable, and the content should be relevant because Google uses cookies on your computer to customize them for you! That's right! Everyone sees a different ad based on their browsing history. I think that's pretty cool, I must say!
Recent Posts
The remainder of my homepage features clickable intros and links to my last five posts, in the order that they were published. That way, it's easy for you to go back and read one that you may have missed within the last two weeks.

Older Posts
To see older posts in the order that they were published, page through to older posts using this widget. (See above.)
Shop My Instagram
If you're interested in shopping the style looks I feature on Empty Nest Blessed or social media, this is the easiest way to do it! Simply tap the photo you're interested in, and shoppable links will pop right up on your screen. (See above.)
The Empty Nest Blessed Website on TABLET
Did you know that if you hold your tablet vertically, your view of the Empty Nest Blessed website will be exactly like the mobile version I just took you through in detail? But if you turn your tablet horizontally, your view of the website will look exactly like it does on a computer!
The Empty Nest Blessed Website on (Horizontal) TABLET & COMPUTER
The two most significant differences you're going to see on the horizontal tablet and computer versions are that the menu/navigation bar looks different and that there's the addition of a sidebar.

(Horizontal) TABLET & COMPUTER Version Menu/Navigation Bar
I will always write about THE EMPTY NEST on Empty Nest Blessed, and lots of new followers find me by Googling things like "empty nester" or "empty nest syndrome," so it gets its own category on the navigation bar on my website. If you click on it, you'll find things like articles on Getting Real About Empty Nest Grief | What's Normal, What's Not, or How to Chase Meaning in the Empty Nest | Thriving in Your Third Act. In blogger-speak, those articles are called "evergreen content," because they contain information that stays relevant over time.
The next section leads to my ABOUT page, which is the same as the one on my mobile site. When someone discovers Empty Nest Blessed via a Google search or by following a link on social media, it's typically the first place they go. (No surprise there! They want to know who's writing this blog and what their perspective is on the empty nest. I welcome that!)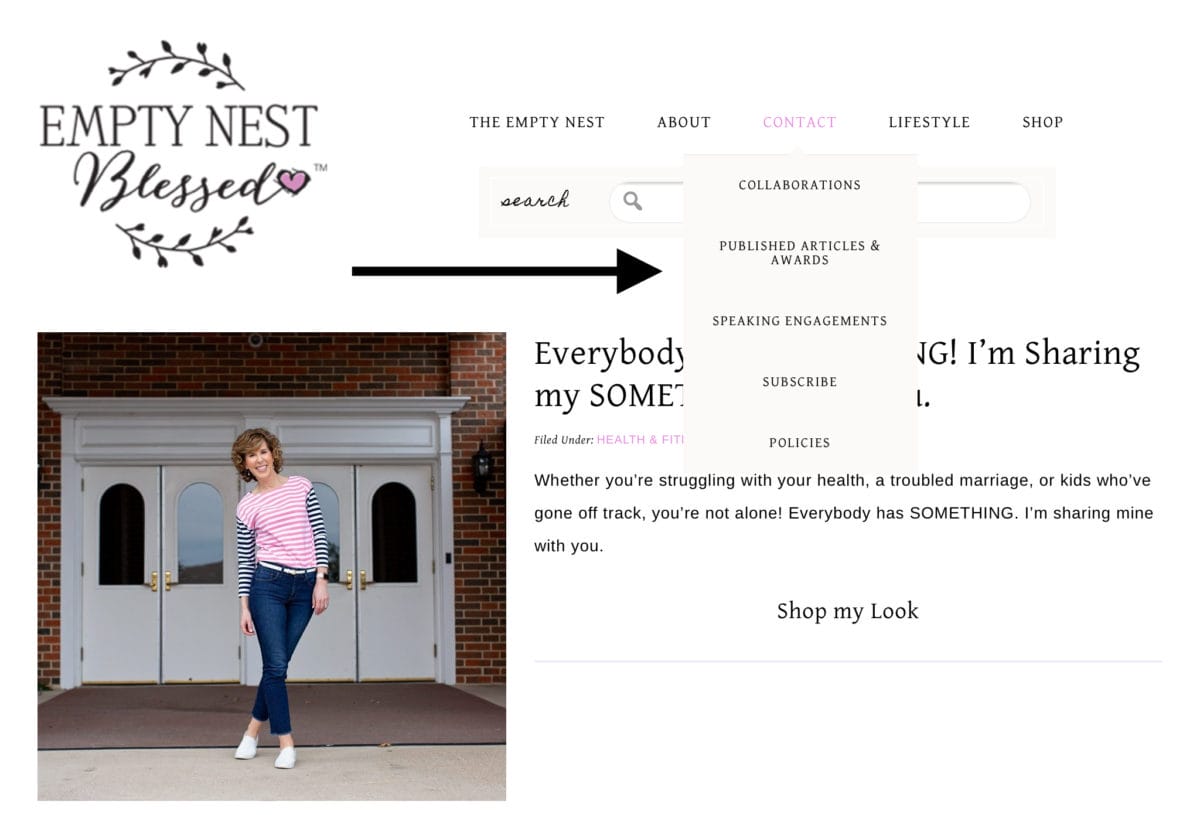 To the right of the ABOUT category is the CONTACT page. If you touch it,  you'll see a dropdown menu (see above) with some pretty cool info in it. You might enjoy taking a quick look some time!
Adjacent to the CONTACT entry on the menu/navigation bar, you'll find the LIFESTYLE menu. That contains the same information as the TOPICS menu on my mobile site. Empty Nest Blessed is a "lifestyle" blog, meaning I cover topics from fashion and beauty to travel, marriage, parenting, and more, and this is where you'll find the various categories that I cover. We had to use the word TOPICS on the menu/navigation bar on my mobile site because space is at a premium there and the word LIFESTYLE wouldn't fit! Hahaha!
The SHOP tab on the menu/navigation bar is the same as on my mobile site.
SIDEBAR
The sidebar is the section on the right of my website that I use for a few specific purposes. You cannot see it if you view my site on a mobile device or if you turn your tablet vertically, which is too bad because you're missing out on some fun stuff! (So if you view my site on a tablet, I highly recommend you turn your device horizontally to get the full view of my complete website!)
The photo on the top part of my sidebar is something I change seasonally. When people come to my site for the first time, I want them to see a photo that represents who I really am, so I'm always very picky about this picture! It's the first impression people see, and like it or not, I am Empty Nest Blessed. My brand is me! When I meet followers for the first time, lots of them tell me that they call me "Empty Nest Blessed" instead of "Suzy" when they talk to other people about me. I love that! Over Christmas break, my daughter and I were shopping, and we walked into a J.Crew store. From across the store, someone yelled out, "Empty Nest Blessed!" It was one of my readers, and I was thrilled to meet her! (Not to mention, my daughter was super impressed! Hahaha!) But I digress…sorry! If you click on my photo on the sidebar, it goes to my ABOUT page.
Just below the photo, you'll see what website designers call "social share buttons." Not surprisingly, when you click on them, they take you right to the Empty Nest Blessed page on each of those social media sites. I hope you follow me on your favorite social media site(s) because I share exclusive content on each of them that doesn't appear anywhere else!
Below the social share buttons, you'll see one of my Google ads. As I said before, the ads are customized by Google using the cookies on your computer. Google uses your browsing history to display ads that are relevant to the content you've been looking at as you browse the internet.
Just below the Google ad, you'll find a little list of the most popular posts that people are currently viewing on Empty Nest Blessed. It updates automatically.
Below the Popular Posts & Pages section of my sidebar, you'll find a shoppable widget that I change out from time to time. Sometimes I'll put the book I'm currently reading, but right now it features my Everyday Makeup Essentials. If you tap the arrows to the right, you'll see each product and a comment about what I like about each of them. If you'd like more information or you'd like to shop any of the products, click on the images.
Whew! I hope you've enjoyed that very thorough tour of the Empty Nest Blessed website! Thanks for hanging in with me! Is there anything you didn't understand, or you need to have me clarify? If so, please leave me a comment below.
Thank you for reading Empty Nest Blessed, for sharing it with your friends, for shopping with my links, for following me on social media, and for your comments, DMs, and emails. You mean the world to me, and I wish I could give each of you a giant hug and let you know how precious you are to me!
Peter Pan collar sweater | Blush NYDJ jeans | Peep-Toe Block Heel Suede Sandals (similar but almost an exact match) | Apple Watch | Kendra Scott Custom Earrings | Orly "Kiss the Bride" Nail Polish | Rose Gold White Marble Phone Case

I've featured this outfit in my March Coffee Talk post, so I don't want to bore you by going through it again! Suffice it to say:
This cotton sweater is the perfect weight for spring. 🙂
These NYDJ jeans will take an entire size off your frame and hold you in and lift you in all the right places!
These block-heel sandals are soooo comfy and easy to walk in.
I am just crazy about my Apple Watch! Bob gave it to me for Christmas, and now I don't know what I'd do without it! #obsessed
I've gotten so many questions about my Kendra Scott custom earrings, that I'm going to do an entire post on them next week!
Get fired up for Friday! It's the ever-popular March SO in the KNOW post! (And I've got some fantastic things to share with you!)
Blessings,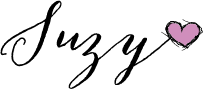 Photos by Megan Weaver.