Let me clear something up right here at the beginning. I mean, I wouldn't want you to think for a hot sec that this post is about how to pack the essentials for your 31-day cruise in a carry-on suitcase or something. I mean, maybe people like that actually exist, but they don't live at my house. Nope. This post is about what you need to pack in your carry-on tote, assuming that you checked your luggage like a normal person.  Seriously, I wouldn't want you to think that I am one of those people. No siree. ????
Bob and I are about to head out on a long-haul flight. (I shared where we're going in this post.) We'll be gone long enough that we're each taking a large, and a medium suitcase. See, I told you I wasn't one of those people. In fact, one of the best purchases we made as new empty nesters was to invest in the best luggage we could afford. We chose Briggs & Riley luggage because it had incredible ratings on the top travel sites, and it comes with a lifetime guarantee! If we were going to spend that much, we wanted it to be the last luggage we were ever going to purchase! Last year, that lifetime guarantee was put to the test when my suitcase was completely destroyed (we think it was run over by a luggage cart) on a trip to Florida. Briggs & Riley replaced the entire suitcase, no questions asked, even though the line we own is discontinued! (Although it's discontinued, I did find it on Amazon—always a great place to look for discontinued merchandise—for substantially less than we paid! (Click the images below or HERE for the large size and HERE for the medium.)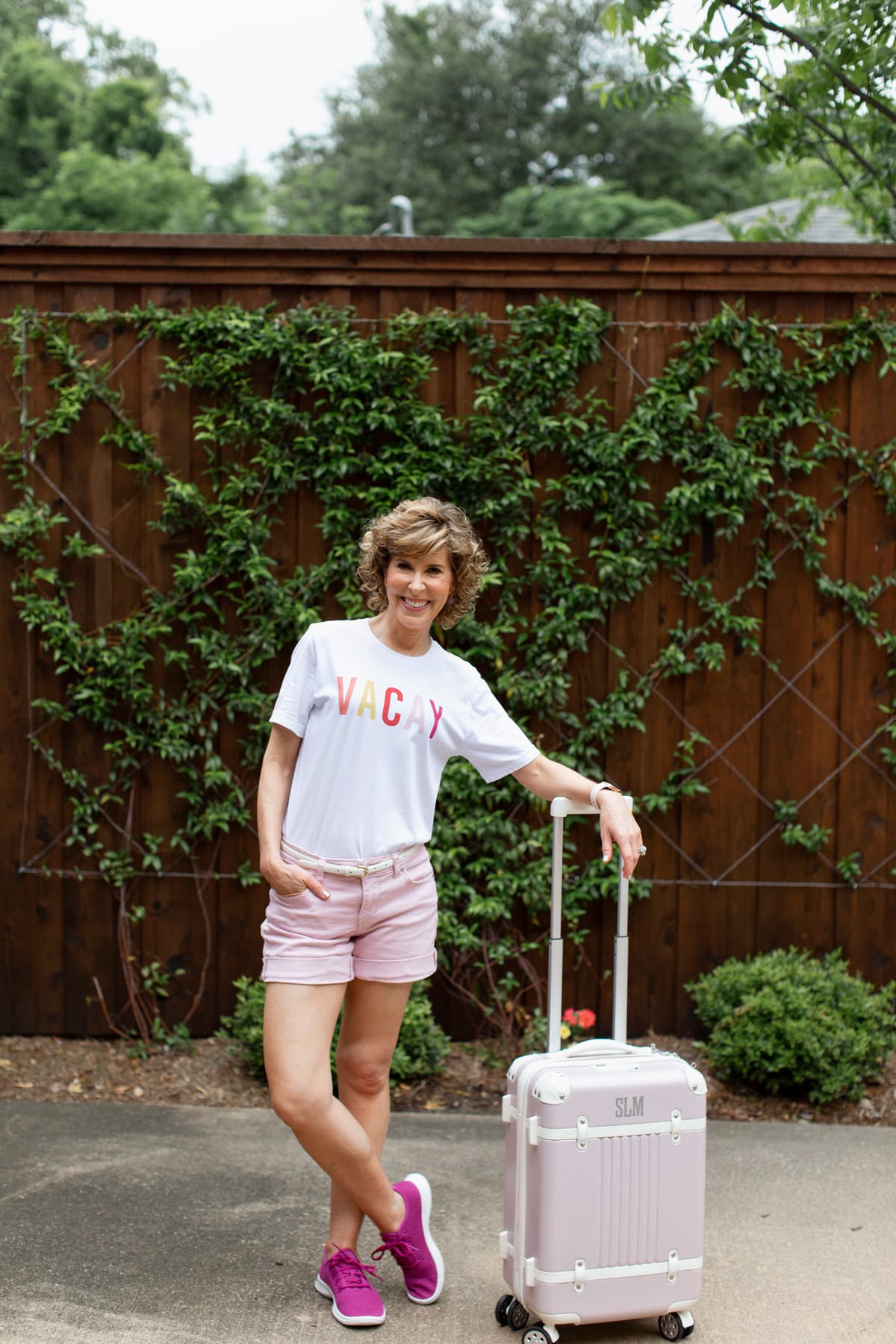 But I digress! I realize that the photos in this post are somewhat misleading because this little blush carry-on suitcase is not coming on our adventure! I ordered it this spring because I needed a new carry-on suitcase for some shorter trips I'm taking this summer, and I wanted something adorable! ????????
Carry-on Tote
Today's post is about what to pack in your carry-on, and this is the carry-on I'm taking. I'd wanted a custom tote from Barrington Gifts for as long as I can remember, and this year, Bob gave me one for Mother's Day! Y'all, I had the most fun designing it! There were so many options to choose from, and I'm convinced that no one else in the world has one exactly like mine! It's made of water-resistant nylon canvas, and at 20″L x 13″H x 5″D, it can hold my laptop, as well as everything else on the list below. It's open at the top. (Translation – you can really stuff it full!)

Essentials
√ Passport
√ Cash & Credit Cards
√ RFID-protected travel wallet.
√ OR, RFID credit card and passport sleeves
√ Phone + charging cords
√ A hard copy of your itinerary (In case of lost luggage.)
Travel experts say that all wallets and passport cases you use for travel need to be RFID protected. (RFID theft is a type of electronic pickpocketing whereby thieves use radio waves to read and capture embedded information on credit cards, passports, and driver's licenses.)



Snacks
√ Munchies
√ Refillable water bottle
Traveling messes with my normal eating schedule, and I find myself hungry at weird times! Does that happen to you too? Bob and I hit the jackpot when we found this healthy snack variety pack on Amazon. It's also important to me to have a refillable water bottle that is (1) sturdy; (2) insulated so I can use it for cold or hot drinks; (3) has a cover over the mouthpiece to keep it clean; (4) has a loop handle so I can attach it to my bag with a carabiner.

Rest
√ Pillow (inflatable)
√ Blanket (so soft and cozy!)
√ Eye Mask
√ Ear Plugs (These are specially-sized for women's smaller ears.)
√ Fuzzy Socks
I always freeze on airplanes! My travel blanket is plush and yummy, so no more worries about the temperature in the cabin! It comes with a carrying case, which you can use as a pillow, and at 60"L X 43"W, it's big enough to share! It has a loop on the pouch so that it can attach to the handle of my carry-on with a carabiner. The large eye mask I use for travel blocks all light, and it's made of breathable silk to protect your delicate eye area.



Entertainment
√ Kindle and case
√ iPad Mini
√ Compact Noise-cancelling Headphones
I love my Kindle! Unlike a tablet, there's no screen glare, even in bright sunlight, yet its built-in light means you can read just as comfortably in a dark room—or airplane! And the battery lasts forever! True confessions, though—I might love my cute case even more! I have an iPad Mini, which I use at home to watch Netflix while I fold laundry or make dinner, and to watch downloaded movies when we travel. Noise-canceling headphones are a must when you travel, and I always take these compact wired ones, so they're compatible with the plane's audio system.


Personal Care
√ Makeup remover wipes
√ Makeup
√ Tissues (For some reason, my nose always runs when I'm on a plane!)
√ Disinfecting wipes (I like the ones that are individually wrapped to save space! And, yes I buy 'em in bulk, and I am that person who disinfects her entire seat area!)
√ Prescription Meds (In case of lost luggage.)
√ Lip balm
√ Eye drops for dry eyes (I already have dry eyes, and the air on planes makes it worse!)
√ Moisturizer
√ Hand sanitizer (I like these with the jelly wrap so that I can attach them to the handle of my bag.)
√ Prepasted disposable toothbrush
My greatest find might be this well-priced little makeup kit! If you're one of those people, it may just be all you need for your entire trip. I'm a convert!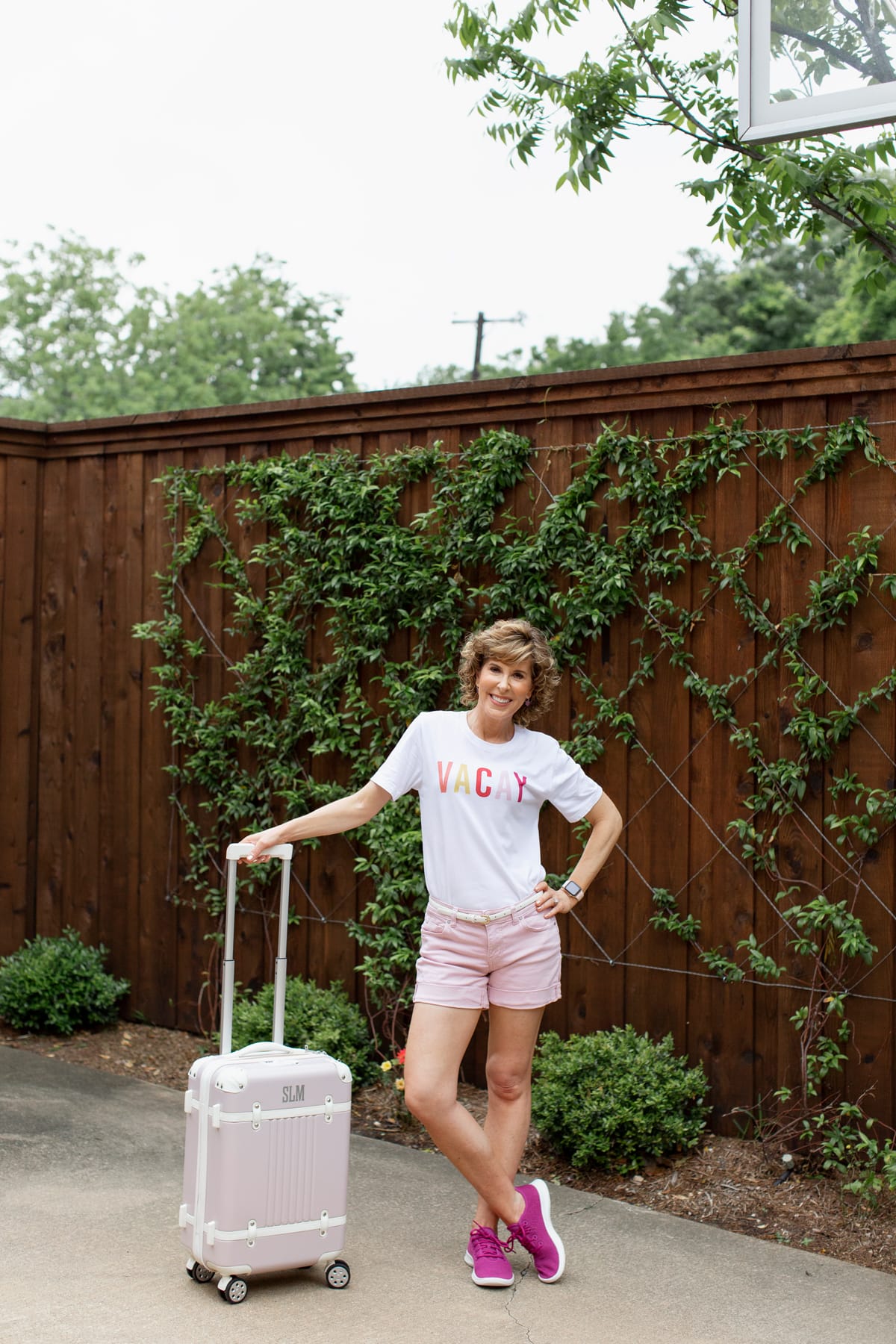 V A C A Y Tee | Blush Shorts | Pink Tennies (Mine sold out, linked to similar dupes!) | Belt (Similar and reversible to blush python print!) | Earrings | Pink Apple Watch | Blush Monogram Carry-on Suitcase | Barrington Custom Tote (Not pictured.)

What are your carry-on essentials? Let me know in the comments if I missed anything, okay? Also, I'd love to know where you're headed this summer!
Blessings,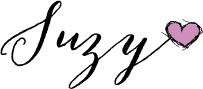 Photo by Megan Weaver.
P.S. Be sure to Pin this post for future reference! (And while you're on Pinterest, I'd love for you to follow Empty Nest Blessed!)