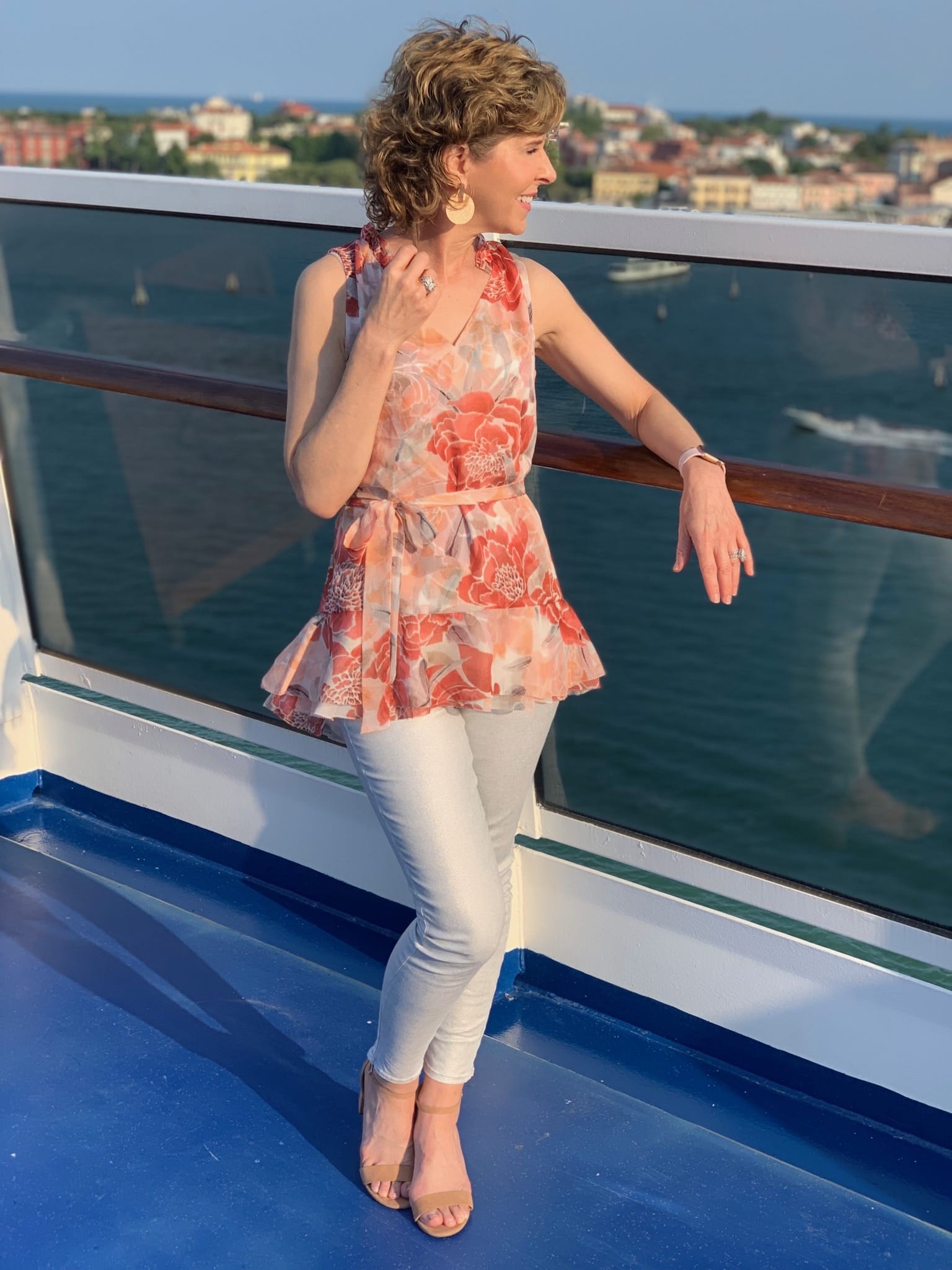 If you've been hanging out in my little corner of the interwebs, you know that Bob and I love a good cruise. In this hyperactive digital culture we live in, we've found it the best way to really get away from it all and relax. (Also, the WiFi is usually terrible, so there's that! ????) We took a few cruises with the kids when they were young, and they were great family vacations. There was always plenty to do, and lots to talk about at dinner! But we've found that cruising as empty nesters is so much different (read: better). For lots of reasons, it has become our very favorite way to see the world! Two years ago, we did a cruise to the Riviera, and last summer we did Alaska, and this year we went to Greece!
Y'all have been after me to write a post on all of my best cruise tips, and I'm finally doing it! I've already covered some of the basics in past posts, so let's review those first:
To read how we chose our cruise line and who helped us, click HERE.
To read about our cruise to Greece this year, click HERE for part one, and HERE for part two.
To read about our cruise to Alaska, click HERE.
To read about our cruise to the Riviera, click HERE.
What to Bring on Your Cruise
Start thinking and planning far in advance to avoid scrambling at the last minute!
Clothes
Read up on your ship's dress code. On Oceania, the cruise line we prefer, the dress code ship-wide is "country club casual," and there are no shorts or flip flops allowed in the dining room.
Watch the weather! Google average highs and lows during the months you will be traveling at the various ports of call.
Find out if there are laundry facilities. 
Check out my recent post What to Pack for an Empty Nester Getaway, for packing tips from me, and my pal Suzanne Stavert, the expert behind the popular travel blog AdventuresofEmptyNesters.com.
Decide on a color scheme and shop/pack according to that. Sometimes I keep it basic with black or navy and some colorful accent pieces, but when we went to Greece, I went a little crazy and chose coral! You can check out all of my outfits HERE and HERE.
Be sure to pack a good sun hat. I'm not talking about one from the discount store, people. If you haven't invested in a sturdy one that blocks UV rays, it might be time. This is the one I own. It wasn't cheap, but it's lasted for years (and it's cute!). (Free shipping/returns, so if you don't like it you can send it right back.)
A shawl-like wrap for over-air-conditioned spots on the ship. I have a black one with ruffle trim that I always take. I like it because it comes in multiple colors, and it's inexpensive acrylic, so if it gets stained or snagged, it's no biggie.

Other Things to Bring
I highly recommend packing in packing cubes to keep you organized and to allow you to fit more into your luggage. 🙌
This travel steamer is the one I have. It's perfect for getting wrinkles out of everything from Bob's blazers to my cotton tees.
Dermatologists say that to maintain effectiveness, sunscreen needs to be reapplied every two hours. When you're on excursions and touring historic sites, museums, castles, churches, etc., that can be difficult to do! We slathered the SPF on before we left the ship and even brought it with us on our excursions, but when I saw how many people were carrying these UPF 50+UV Protection Travel Umbrellas, I so wanted one! Not only do they keep you in the shade, so you stay cooler, but they also keep the damaging rays off. Jetlagged as I was, I bought one the day after we got home so I'd have it for next time!
While it's not a necessity, I was so glad to have this compact but powerful travel blow dryer that has a concentrator and a diffuser attachment to keep my curls looking their best! Just like hotels, the cruise line does provide blow dryers, but they're not the best. (BTW, most cruise ships are equipped with standard plugs, so all of your U.S. appliances will work without an adapter.)
Don't forget sanitizing wipes. Ideally, you want ones that work on both surfaces and hands. When we get on a plane, in a hotel room, and even in our cruise cabin, Bob and I always swab down the place. (Yes, we're those people!) My friend, Tricia, turned me on to these PDI wipes and I like that they're medical-grade and individually wrapped.
An RFID blocking wallet or RFID blocking credit card and passport sleeves are a must when traveling overseas. For more on RFID waves, click HERE.
An ultra-lightweight packable backpack is a must for excursions. This one folds up into a built-in pocket for storage.
While not a necessity, we always take highlighters! We use them to mark the activities that we want to attend in the daily onboard newsletter. (Shuffleboard, anyone? ????) We like the retractible, click-top ones so that you don't have to keep up with the lid. We take a pink one for me and a blue one for Bob to be sure he doesn't' end up at cooking class and I end up at putt-putt!
A pair of compact, light-weight binoculars are an excellent investment, and they'll last a lifetime! This summer we loved using ours for everything from checking out local fishing vessels that floated by our ship to looking down at the beautiful city of Athens from high atop the Parthenon. These only weigh 9.3 oz!
Finally, be sure to pack a digital luggage scale to make sure all of your purchases won't overload your luggage and cost you a bundle in baggage fees on the way home. This is the one we have, which we like because the strap that attaches your suitcase to the scale has a buckle clasp to ensure it won't fall off when you lift it to weigh. (True story: I have a friend who had to cancel a trip after breaking her foot because her suitcase fell off her luggage scale and landed on her when she weighed it! 😖 She had a scale that had a clip like this one, instead of one with a buckle clasp like the one we have.)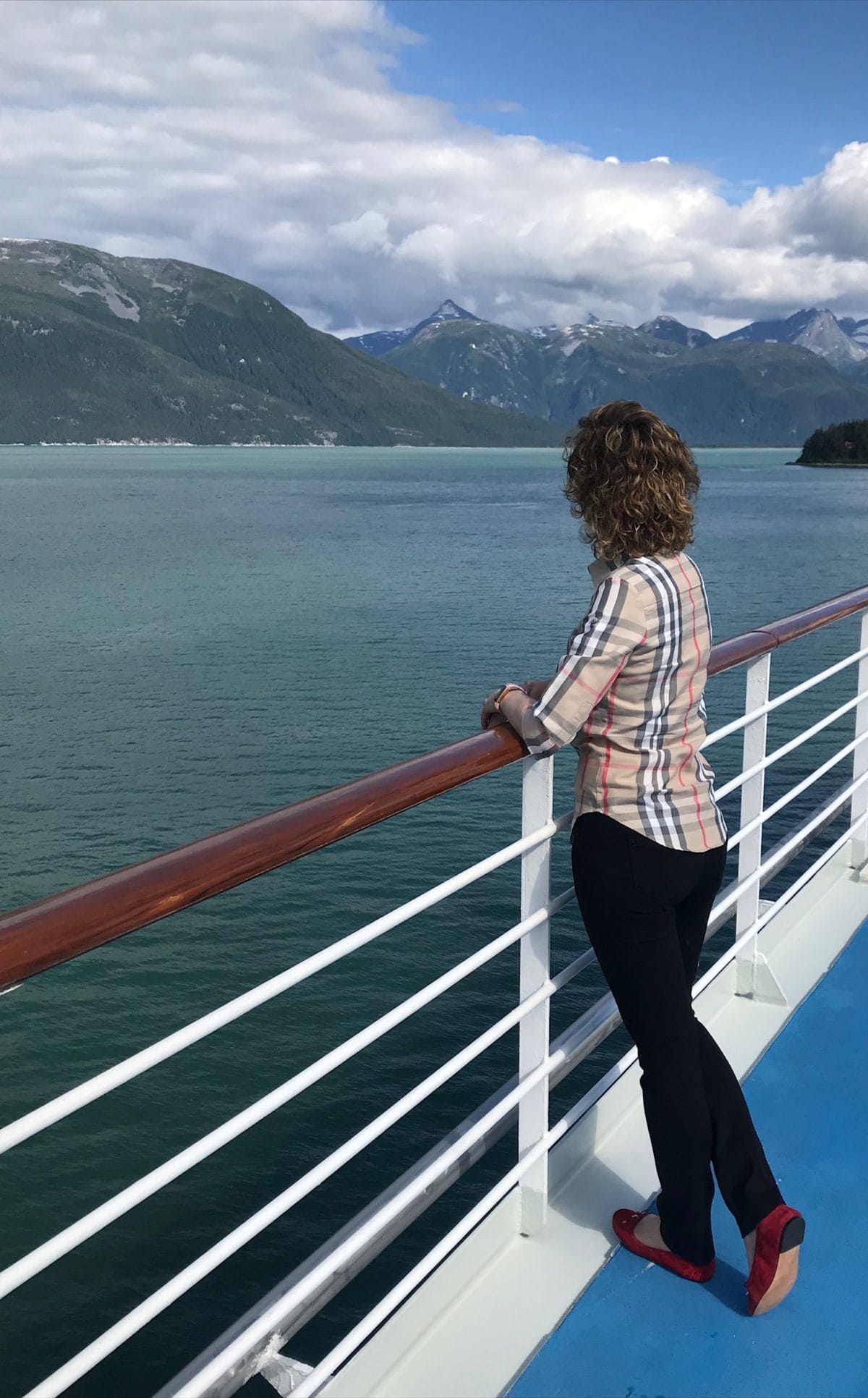 Burberry Plaid Shirt | Black NYDJ Jeans | Red Sam Edelman Suede Ballet Flats

How to Combat Seasickness 🤢
If you're prone to motion sickness, as I am, here are a few things you can do that will help or even eliminate it.
Book a cabin midship, on a lower deck, with a window or balcony. (Note: these will be the most sought after, and possibly the most expensive cabins.)
Consider asking your doctor for a prescription for the Transderm Scop patch. You wear it behind your ear, and it works for up to three days. It does cause drowsiness in some patients. I'm one of them! I'm super sensitive to medicines, and it puts me right to sleep!
Buy Dramamine. It comes in original formula, less-drowsy formula, or natural formula (made with Ginger). I'm so pitiful, even the less-drowsy formula, 😴 puts me to sleep, so I take the natural formula.
Consider a homeopathic patch like the MQ Motion Sickness Patch. This is what I use, and it works! (Check out the fantastic ratings and reviews on Amazon.)
Buy Sea-Bands. These also work, but you have to be accurate when you're placing them on your wrists. Read the directions carefully! I actually carry an extra pair of these in my purse for those times when Bob drives a little crazy when we're headed somewhere! 😂
Choose your itinerary accordingly! When we went to Alaska last summer, I did the natural formula Dramamine AND the MQ Motion Sickness Patch, AND the Sea-Bands because the seas were pretty rough some nights. But in the Mediterranean this summer, the water was like glass and I only needed my Sea-Bands one day when we tendered into port instead of docking.


Black Monogrammed Wind & Rain Jacket (Comes in six colors!) | Black NYDJ Jeans

How to Avoid Gaining Weight on Your Cruise
Did you know that the average weight gain on a 7-day cruise ranges from 5 to 10 pounds? Don't worry! It's not inevitable. Here's what you can do to prevent it.
Food
Watch your consumption of alcohol and sugary drinks.
Do not partake of the bread and rolls at every meal.
Limit yourself to dessert at either lunch or dinner, but not both.
Activity
Get in good shape before your cruise. Like, literally, put yourself on a training program. Last summer Bob and I decided to sign up to hike up the Mendenhall glacier in Alaska. As we worked out before our cruise, it was so helpful to have that goal before us!
Take the stairs on the ship — every time. Bob and I have yet to set foot on a cruise ship elevator, and now it's become a thing with us!
Sign up for the most active excursions offered. Good ones include walking and biking tours, hikes, and snorkeling.
If you're on more sedentary excursions, go to the ship's gym or take advantage of the on-deck walking track. (Every ship has them!)
How to Snag a Seat at the Captain's Table
Shockingly, we've been invited to dine with either the Captain or the Cruise Director on every cruise we've taken! (Now, snagging an invite has become a thing for us! Hahaha!) Last summer, when we were cruising Alaska, well-known sports broadcaster Verne Lundquist and his wife, Nancy were on our cruise. The night we were asked to dine with the Cruise Director, he and his wife were at the table too. We had the most amazing time listening to all of his stories and getting to know the two of them. In fact, when he came through Dallas last year on his book tour, we met up with him and reminisced! (BTW, his book is awesome! In it, he shares things like his early days as a radio show host in Dallas when President John F. Kennedy was shot, and Tonya Harding's attack on Nancy Kerrigan at the 1994 Olympics. He's called some of the most remarkable sports moments in the last 50+ years! If you're a sports lover, or if you need a gift for your husband, son, or dad, I highly recommend it!)
Black Dress (similar) | Black Bolero Cardigan (Such a flattering and affordable classic wardrobe staple!)

What You Can Do to (Hopefully) Get Invited
Be Friendly
Day one of your cruise, read the bios of all of the officers, and especially the Cruise Director. Make a note of anything you might have in common, like the same hometown, or the same college major.
The first time you meet each officer, and especially the Cruise Director, introduce yourselves, tell them where you're from, mention what you have in common, or ask them a question about something you read in their bio.
Don't be shy! As you're walking through the ship, whenever you see an officer, greet them, introduce yourselves, and say something nice like, "We are having the best time! Thank you for all you're doing to make this vacation so special for us." These people hear lots of complaints and "suggestions" from passengers, but they don't get a lot of thank yous! Trust me, they'll remember you.
Dress Well
Follow the cruise lines dress code, even if other people don't. This is your vacation! Wear your cute clothes! This is no time to look schlubby, people!
Be an Engaged Passenger
Attend every evening show, which the Cruise Director will probably emcee. Be early and sit in the first or second row of the theater and smile. (Most people are tired and won't bother to make an effort to smile and look engaged.) Laugh at all of the Cruise Director's jokes! Stop and speak to the Cruise Director after every show, reintroducing yourself and ask something about the next day's port, like a recommendation for a restaurant, shop, or place to visit. (Everyone likes to give recommendations!)
Get to know the Cruise Director's staff by attending events like Trivia, Shuffleboard contests, Putt-Putt contests, etc. Be friendly; ask questions; give compliments, and be enthusiastic.
Be positive about the cruise line, the wonderful time you're having, the food, the service, etc. Give sincere compliments about staff to their superiors and to officers.
Be authentic! If you aren't having a wonderful time, obviously, don't say that you are! (You'll have an opportunity to share any bad experiences on the end-of-cruise survey.) People can see through inauthenticity in a millisecond.
Cruising is our favorite type of vacation because we love to unpack once, sleep in the same bed, and make the ship our home base. The ship becomes like a little city, with familiar faces, cozy spots to hang out, food and drinks available 24/7, and lots to do! Have you cruised? What was your experience like? What are your cruise must haves? I'd love to know your best cruise tips!
Blessings,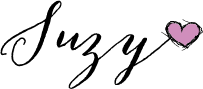 SHOP MY LOOK AT THE TOP OF THIS POST

P.S. Don't forget to Pin this post for future reference!