I don't know about y'all, but I find August the most challenging time to figure out what to wear! If I pay attention to our triple-digit heat here in Dallas, I would wear nothing but shorts and Lilly Pulitzer everything! But alas, right around the 4th of July, stores start pumping in their fall merchandise. Then, the Nordstrom Anniversary Sale happens, and before you know it, everyone starts feeling pressure to dress in animal prints and put away their white jeans! Not this girl. 😀
We received an invitation to a wedding smack dab in the middle of August. It was a 2:30 p.m. church ceremony (call me old-fashioned, but those are my faves!), with the reception at the George W. Bush Presidential Center. We love this couple and were so honored to be included in their special day! But what to wear…hmmmm?
So I ordered four very different dresses that I loved for four very different reasons, and I took to my Instastory to let my Instagram followers help me decide which one I should wear! I stuck with two designers that I've worn before and I think design dresses that flatter a woman's body at a good price point: Eliza J and Antonio Melani. Let's meet the contenders!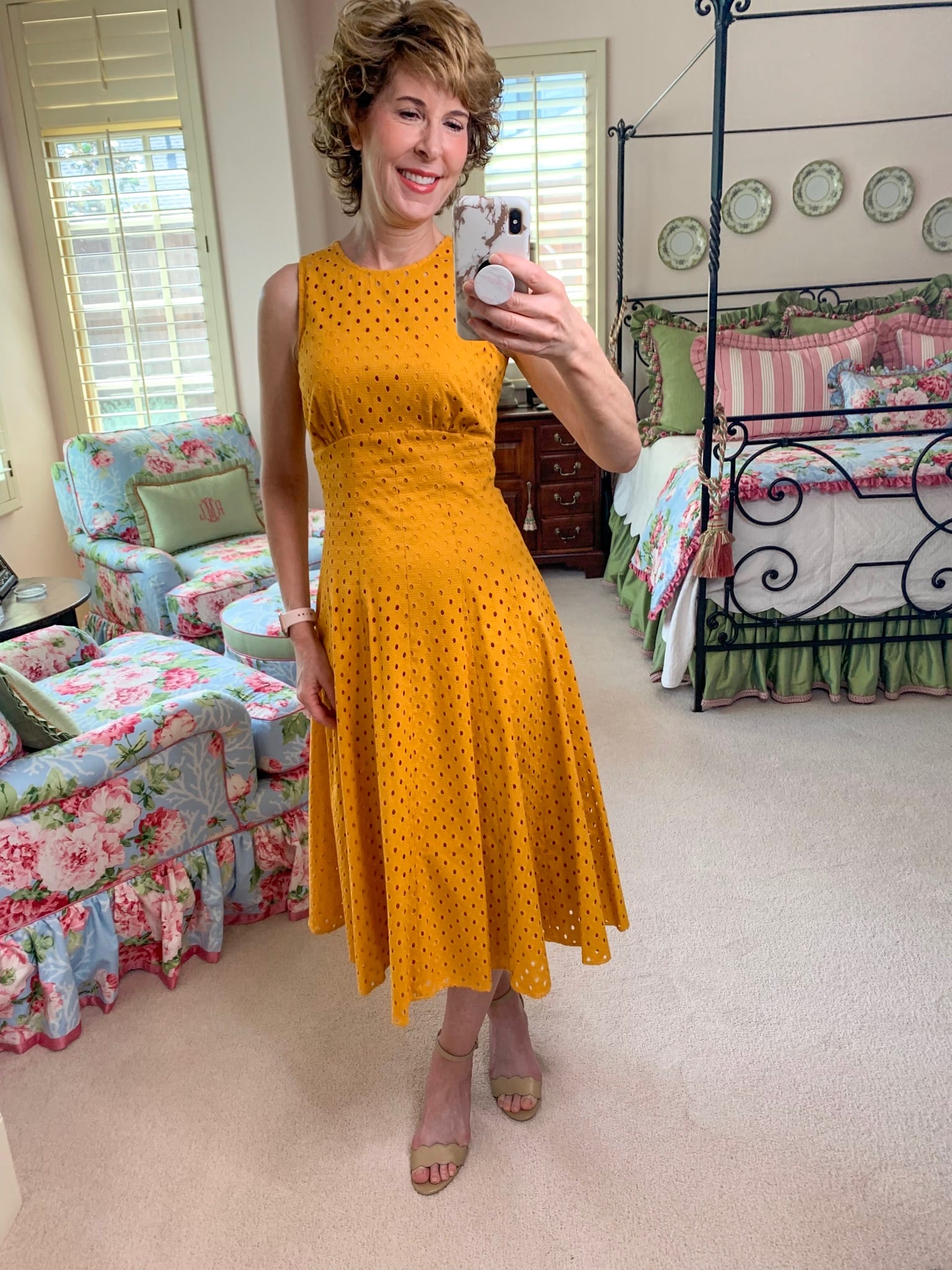 Antonio Melani Sierra Eyelet A-Line Midi Dress | Sam Edelman Odila Ankle Strap Sandals

I love that eyelet comes in all sizes now, don't you? The color of this dress is hot, hot, hot right now! I love gold, and to marry it with eyelet…genius! This dress is the of-the-moment midi-length with a flattering A-line style and an empire waist. As I told my Instagram audience on Stories, this dress is all summer, but the color beckons fall.
Eliza J Jacquard Knit Fit & Flare Dress |  Sam Edelman Odila Ankle Strap Sandals

This knit dress felt like a comfy tee! It was definitely the most versatile of all four dresses. It featured a drop waist and a fun flippy hemline. It was a good buy because I could easily see it with a denim jacket and tennies for a date night or a grocery grab.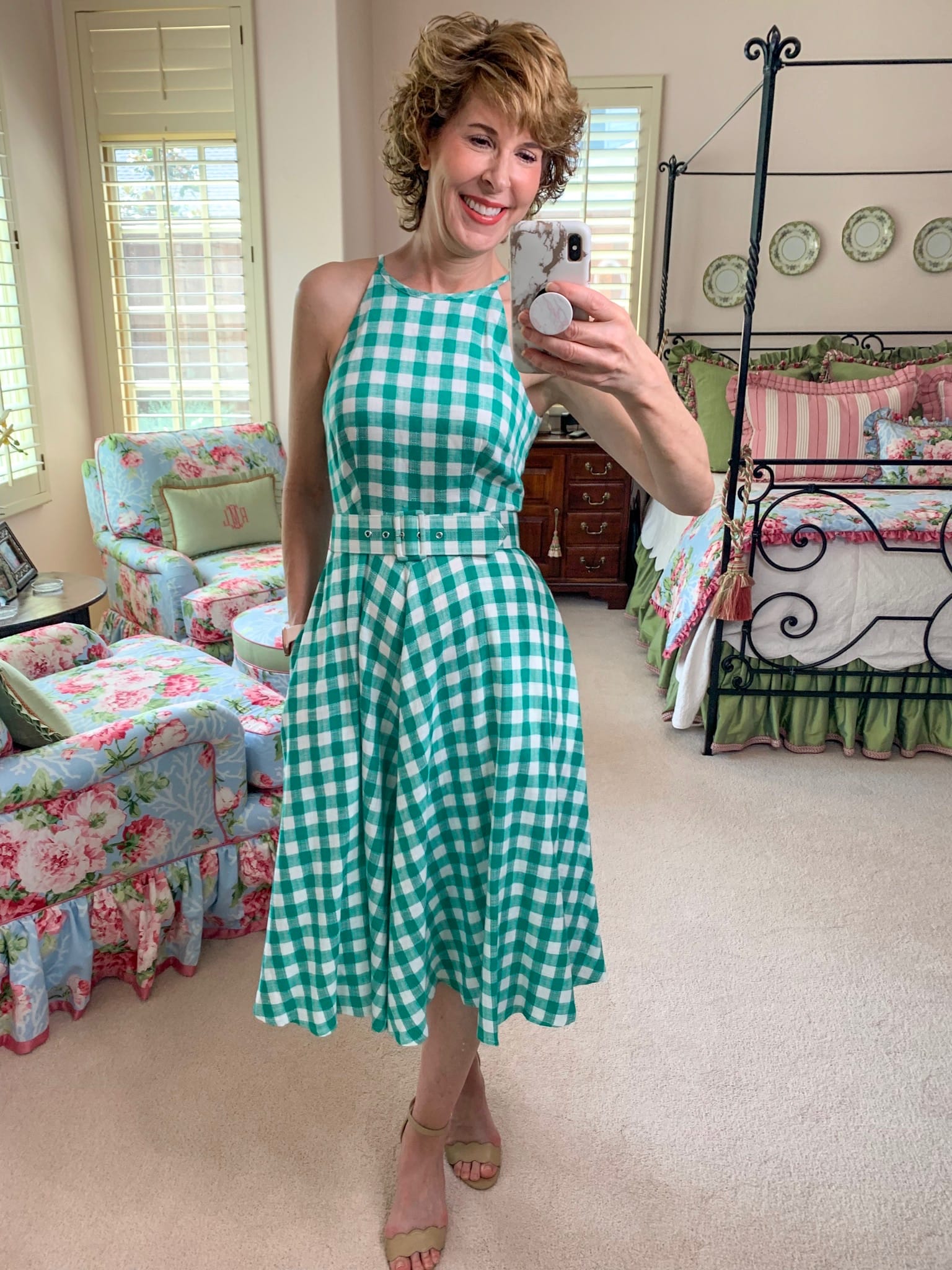 Eliza J Halter Neck Gingham Fit & Flare Dress | Sam Edelman Odila Ankle Strap Sandals

This happy little picnic print dress was a hit with my Instagram followers, but we all agreed that it was probably too casual for the wedding since the attire was "Daytime Formal." Lots of people urged me to buy it, even if I decided not to wear it to the wedding!
Nyla Embroidered Cotton Blend Sleeveless A-Line Midi Dress | Sam Edelman Odila Ankle Strap Sandals

This dress was absolutely stunning in person. It had a nude underlay and embroidered appliques. My Instagram followers loved the scalloped hem and classic look of this beauty. Unfortunately, it ran large up top, even when I was wearing my best bra! I simply didn't have enough time to get it tailored to fit. If you decide to order it, know that it runs a little big!
Drumroll, Please…AND THE WINNING DRESS WAS…
With 50% of the vote, the Neutral Classic Embroidered dress won! The Marigold Eyelet dress came in second with 34%, with the Knit Fuschia pulling 10% and the Green & White Gingham bringing up the rear with 6%. Ultimately, I went with the Marigold Eyelet dress for the wedding. I got a lot of sweet compliments and I felt good in it. (Which, after all, is what matters the most, amirite?) 💛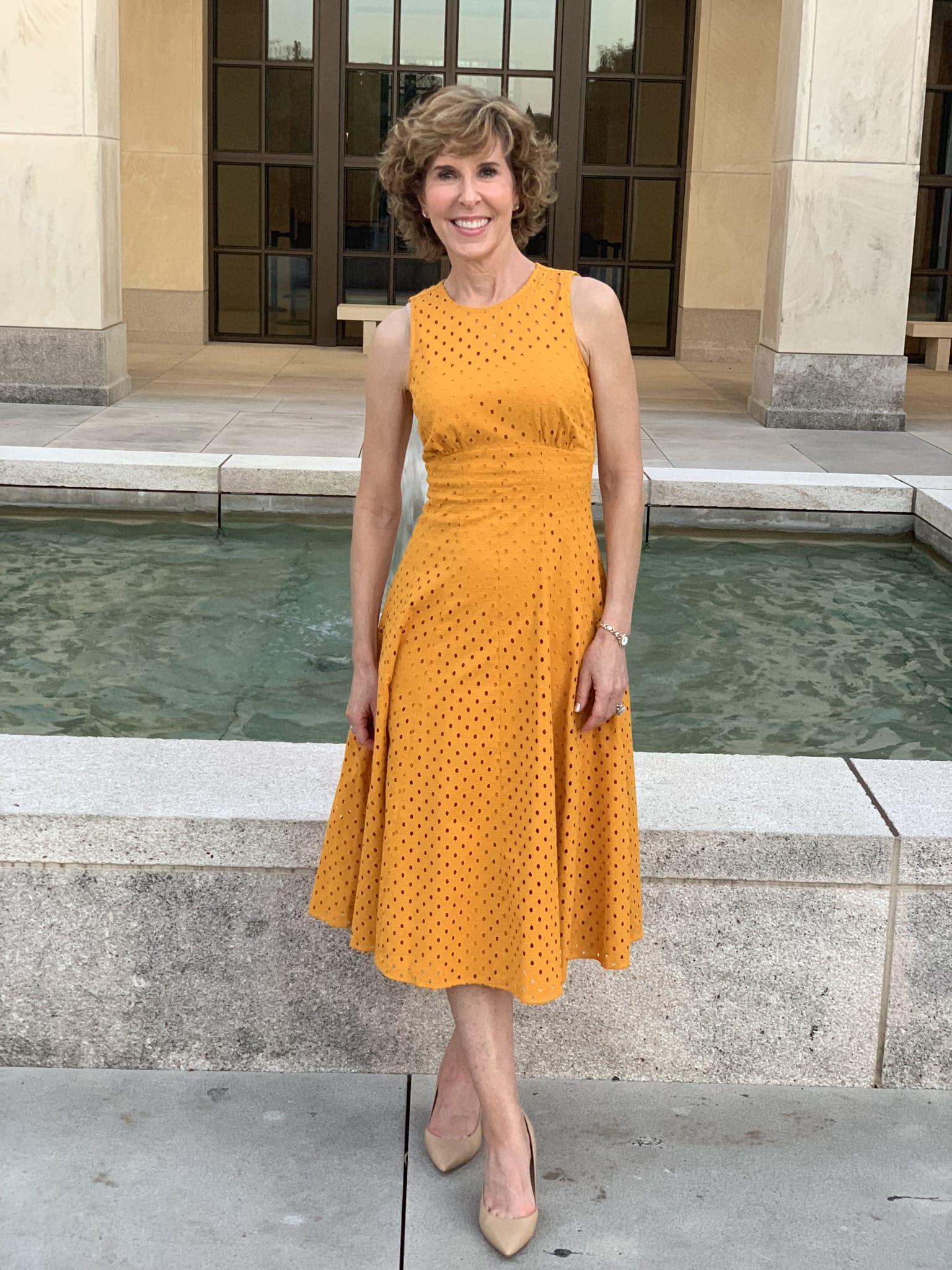 Antonio Melani Sierra Eyelet A-Line Midi Dress | Sam Edelman Nude Pumps | Bulova Bracelet Watch | CZ Gold Stud Earrings

It was a precious afternoon and evening celebrating this beautiful couple. They were college friends of our son, and we were honored to be included in the joy of their wedding. They're a couple who knows how to make everyone around them feel loved and cherished! I have truly never attended a wedding where there was so much attention to every detail. Above all, it was their desire that the Lord would be honored and that their faith would be evident to all. It so was. 
After the ceremony, all of the guests headed over to the George W. Bush Presidential Center, and we got to enjoy the exhibits for about 45 minutes before cocktails and the cutest flavored popcorn bar you've ever seen. Then we were treated to a seated dinner, toasts, and dancing. We had a blast!
Did y'all enjoy this fun and light little post? All of the photos were taken with my iPhone, so I hope the quality didn't make your toes curl! Let me know if you'd like to see more like this, okay?
Blessings,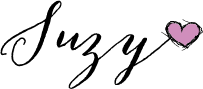 SHOP THE POST