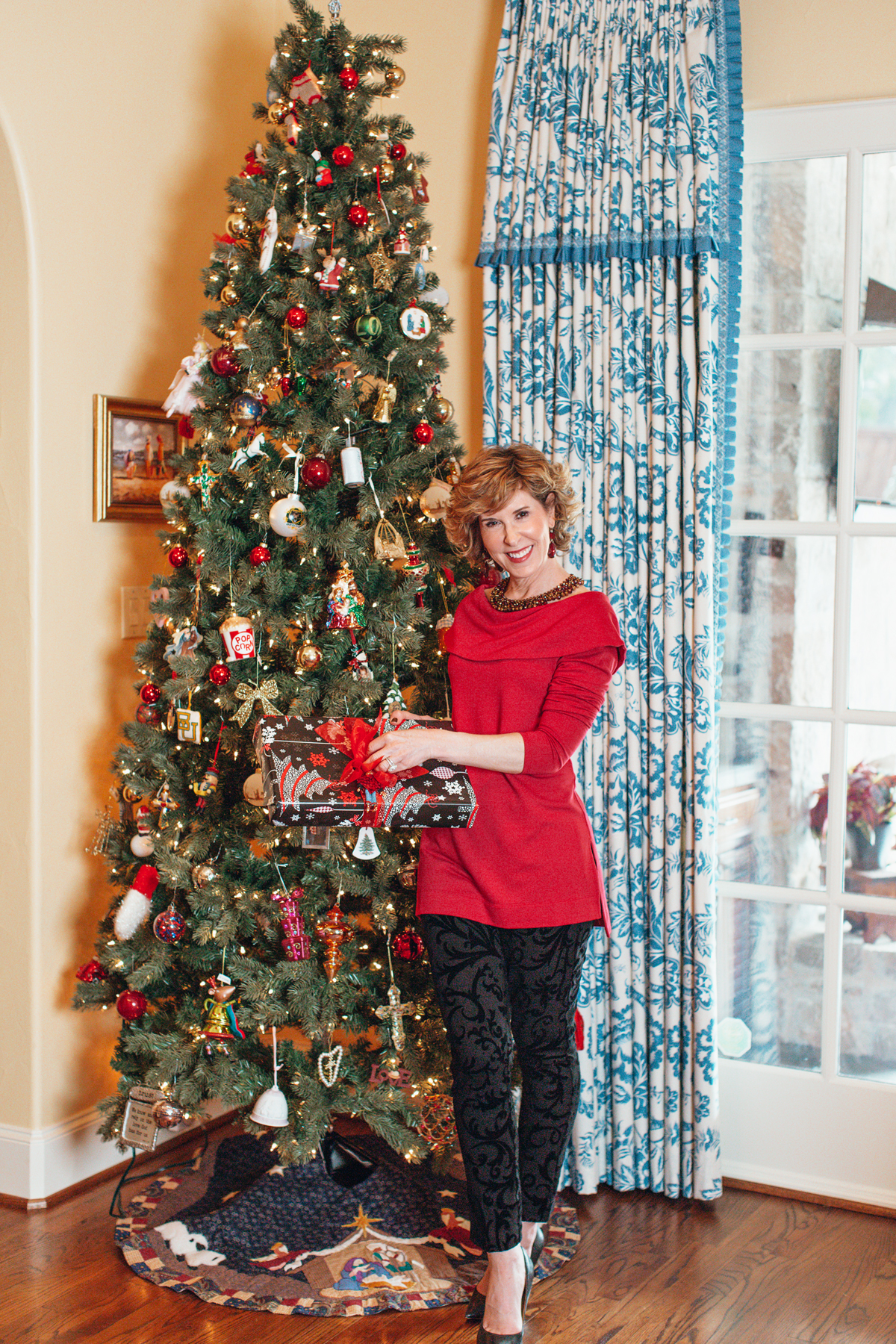 This post is sponsored by Chico's. The product selections are my own, and I only highlight and promote pieces that I genuinely love. Thank you for supporting the brands that support Empty Nest Blessed!
'Tis the season for gift-giving! I've told you all before that one of my love languages is gift-giving. I'm one of those weird people who really does look for gift ideas all year long! Like, if I find the perfect holiday gift for someone in April, I'll buy it and save it until December! 😏 That's just how I holiday, friends!
I'm always looking for fresh and original gifts that I can pass along to you. Honestly, I spend hours browsing the web! It's a little addictive! 😂 This year, I discovered a new place I hadn't considered for gifts: Chico's! Their gift guide is epic! In addition to the typical "$25 and Under" and "$50 and Under" -type categories, you can also find categories like "Cozy Gifts," and "Luxe Gifts." In fact, you can even shop by personality-type! #sofun
Here are a few of my favorite finds!

The prettiest thing I found? A gorgeous red velvet makeup bag that is so stunning, it's versatile enough to carry as a clutch. I'm not even kidding you! I decided to give it to a family member, who I think will love it! (I can't say who because don't want to ruin any surprises!) 😊
Gift-giving traditions are a really big deal in our family! The first one: wrap everything! Like if you give a pearl necklace with matching pearl earrings, wrap them separately. If you give a faux-fur headband and matching faux-fur pom-pom scarf, wrap them separately! It draws out Christmas morning, and we're all about making it last as long as possible! 🎁 Hey, it's just how we holiday!
Another tradition is that we all watch everyone open everything. No exceptions! We started this when the kids were little—as we were trying to teach them to be happy for one another, and to remind them of the joy in giving.
But my favorite gift-giving tradition, by far, is something we like to call "embellishment." 😁 Simply put, it means that we like to embellish every beautifully-wrapped gift with something extra. It might be a piece of greenery, a pinecone, or even a jingle bell. But the best embellishment by far? A beautiful ornament!
Enter Chico's—again! Their limited-edition ornament collection is darling! I chose this adorable red-sequin poncho-clad doll to embellish my gift. (But I had a challenging time choosing because there were so many cute options!) Truly, their ornaments would make lovely gifts on their own! Here's what I mean:

How do you holiday? What special gift giving traditions do you have in your family? I'd love to know! Leave me a comment and share, okay?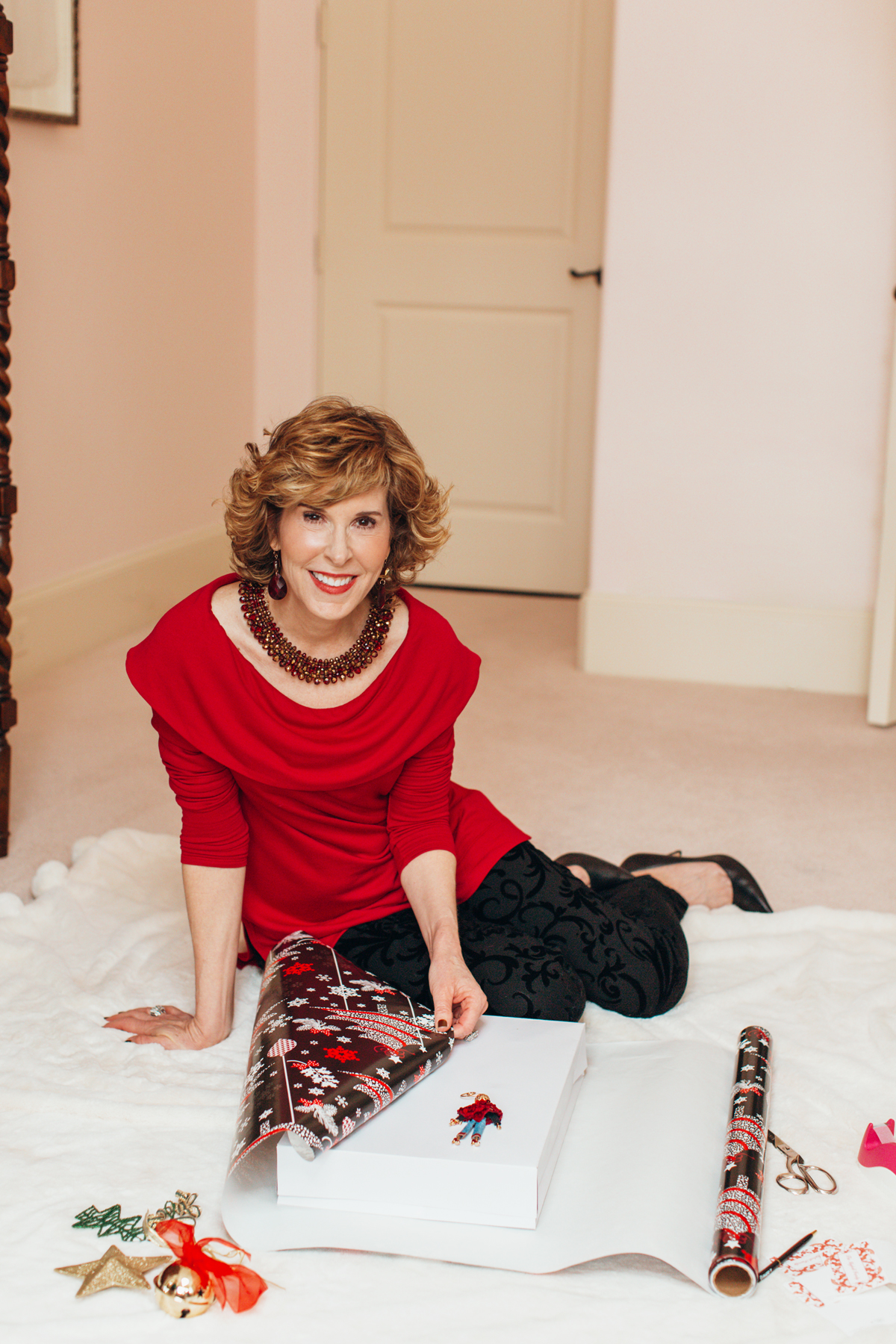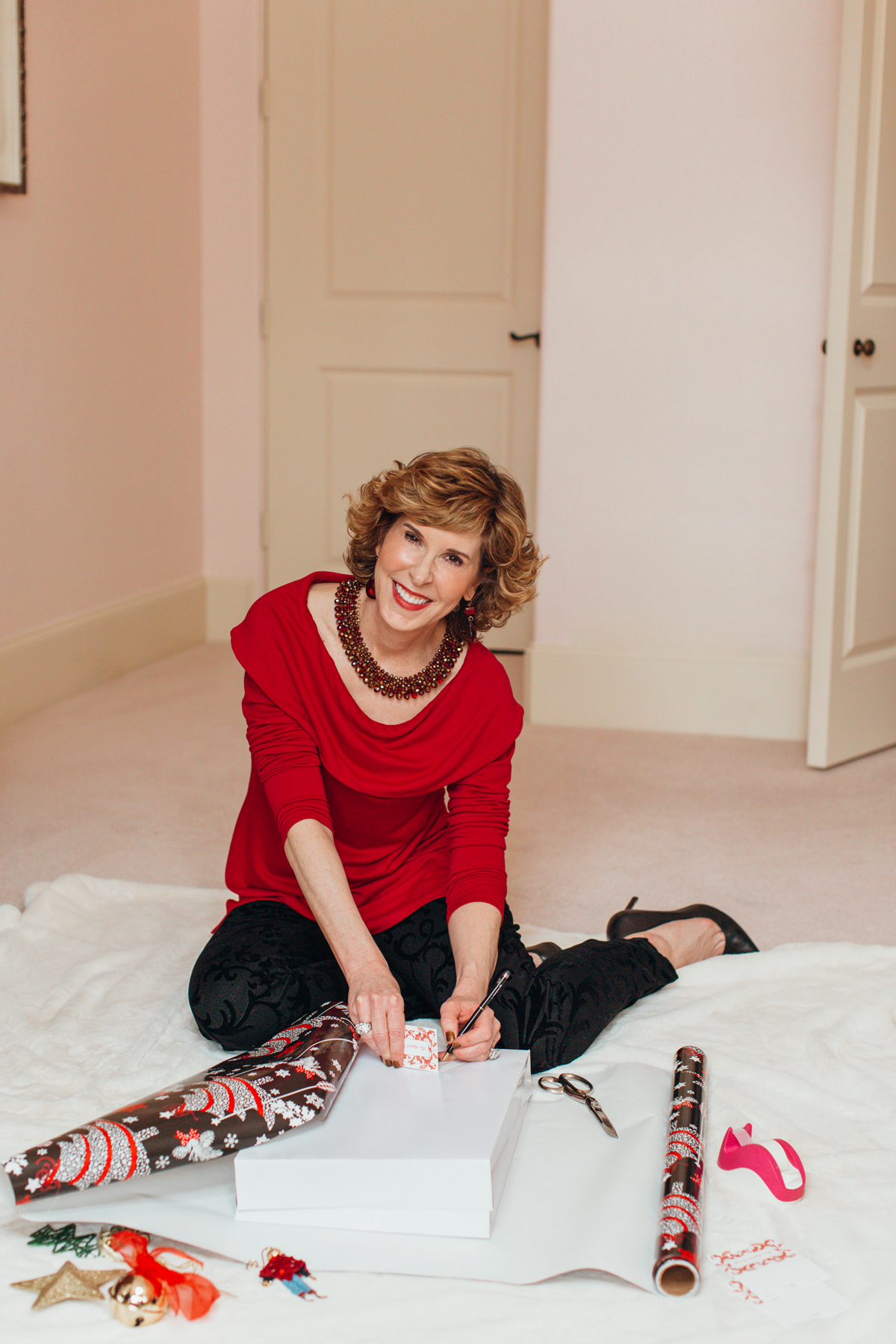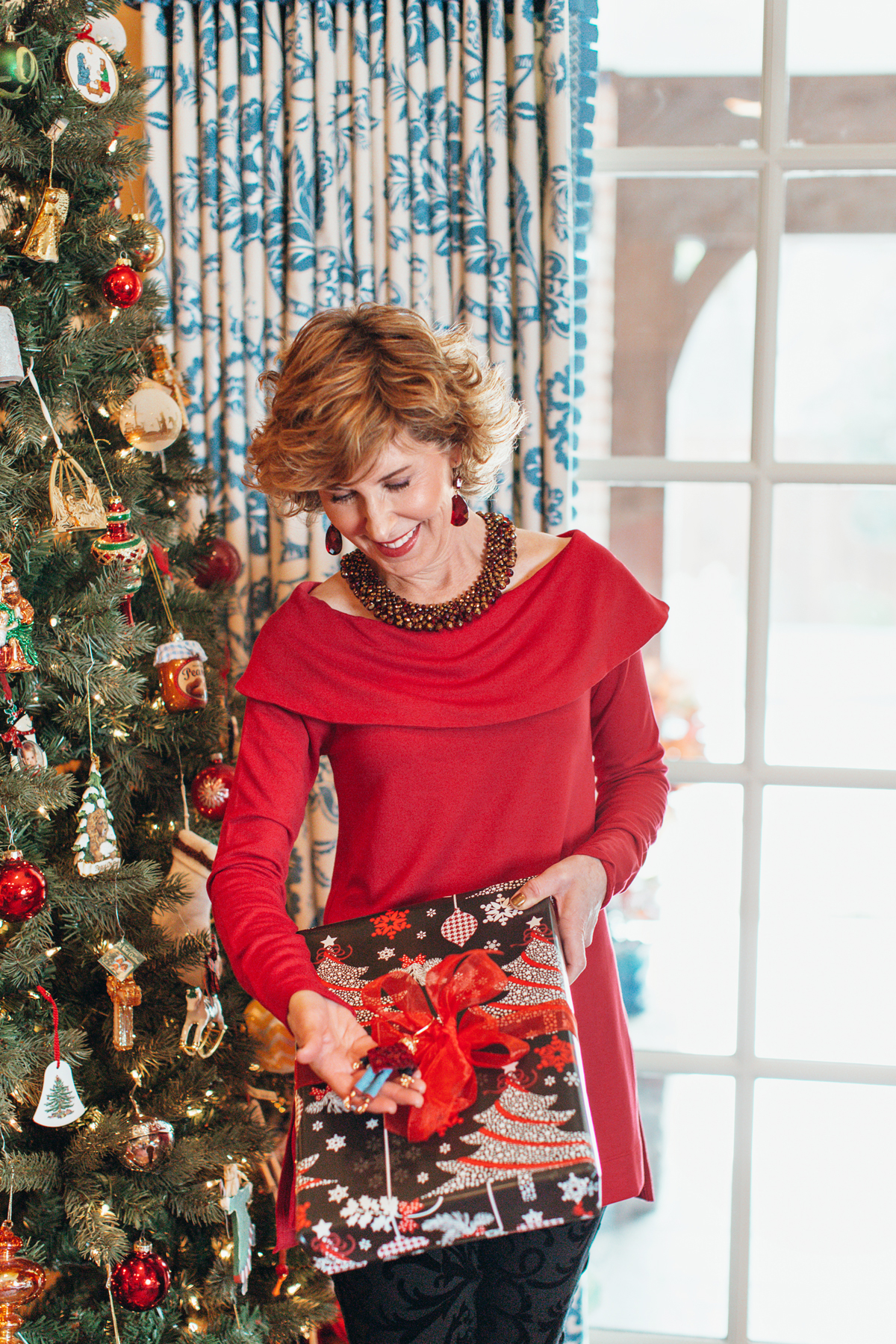 I've always thought of Chico's as a brand known for bold elegance, chic styles, and attention to detail, but I had no idea that it was a fantastic place to find gifts. I added so many things from Chico's to the Empty Nest Blessed Holiday Gift Guide that I finally had to make myself stop!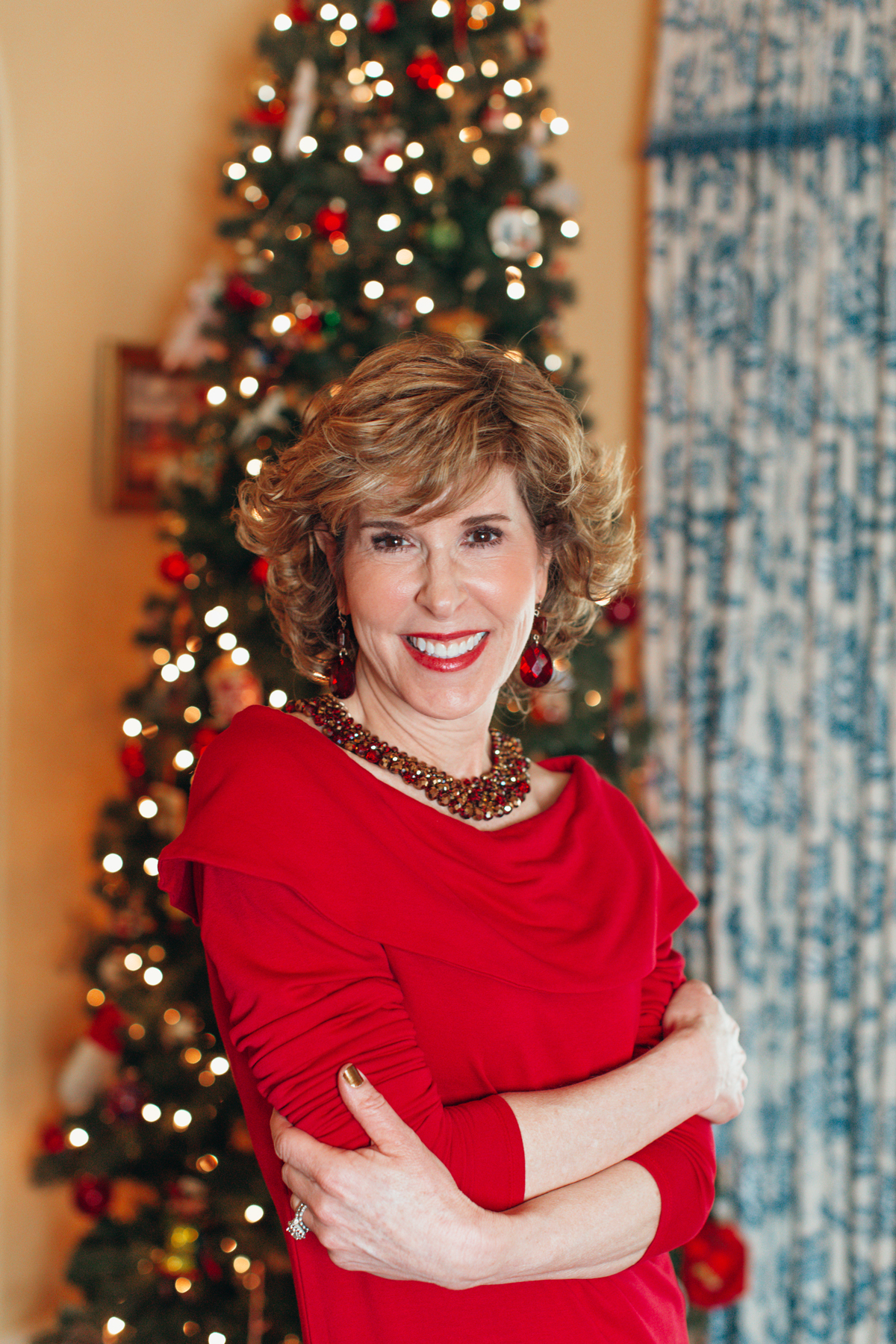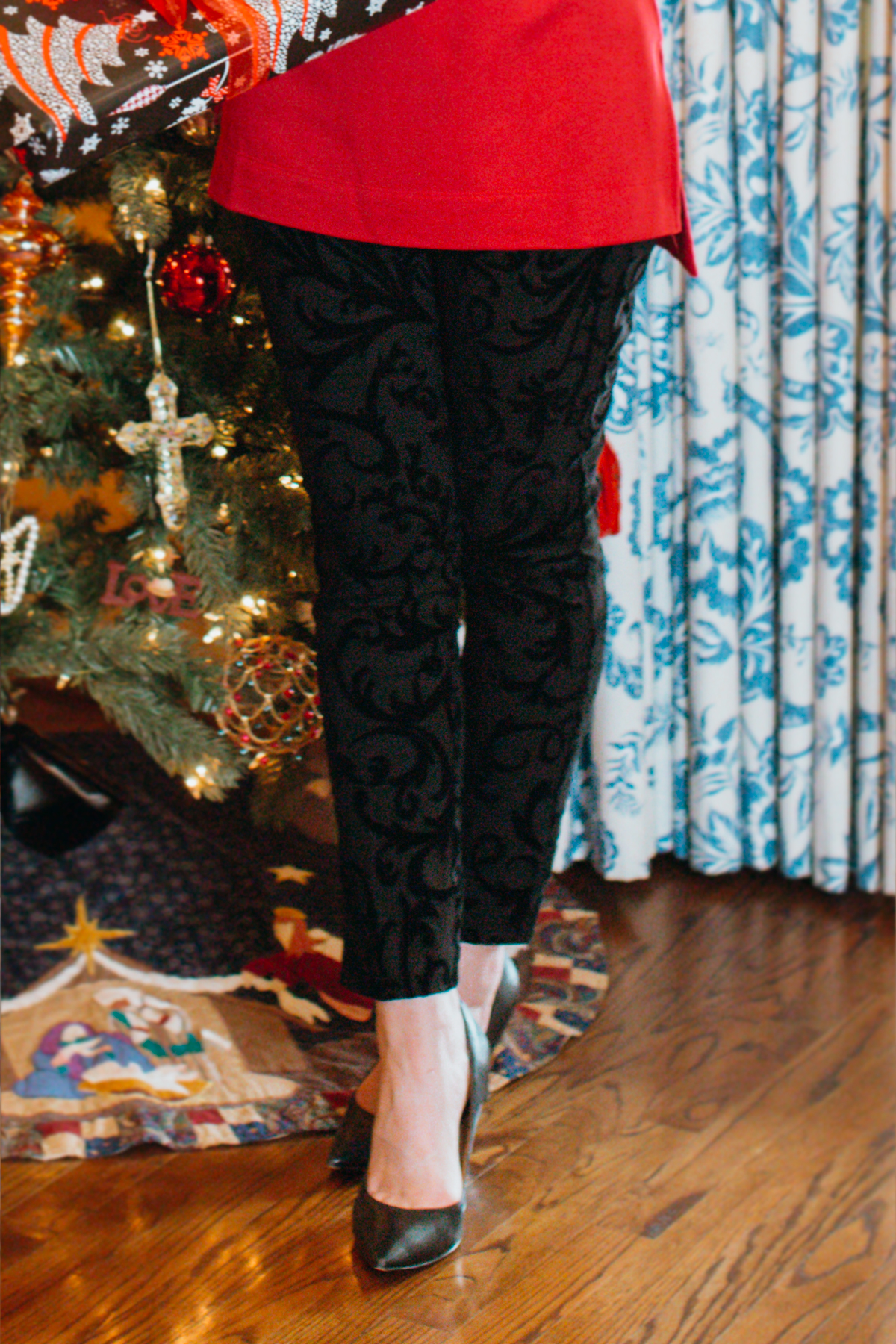 Cozy Brushed Fleece Tunic | Flocked Scroll Ankle Pants | Red Sparkle Bib Necklace | Red Drop Earrings | PurseN Red Velvet Makeup Bag | Ruby Poncho Doll Ornament

This versatile bateau neckline tunic is from Chico's Zenergy collection. It's a line of comfortable, casual looks made up of mix-and-match pieces designed for travel and leisure-wear, with four-way stretch, wrinkle-free fabric, and UPF 50+. How do we holiday? We do it in comfort and style! Hey, if you can make it work for party-wear, why not, right? 🙌 This yummy tunic comes in five colors.

The universally-flattering bateau neckline of the tunic makes it perfect to pair with a stunning statement bib necklace! I added a pair of sophisticated red drop earrings for the perfect amount of holiday sparkle.
Honestly, though, what made the outfit for me was this pair of flocked scroll ankle pants. They feature Chico's So Slimming® hidden fit technology, with a smoothing front tummy panel and all the stretch you need to move around comfortably. They have a pull-on waist, so there's no zipper to create lumps and bumps under your top. #lovethat
If you're looking for the perfect place for unique and chic holiday gifts (and outfits) this year, look no further than the beautiful styles at Chico's. And the best news of all? Everything at Chico's is 40% off through 12/2 with the code 55748! #itshowweholiday
Blessings,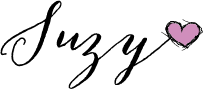 Photos by Megan Weaver.
P.S. You might want to Pin this post on Pinterest for future reference! And if you'd like to share it with others, use the social media icons below.