This post is sponsored by Maelove Skincare. I only highlight and share products that I use and truly love. Thank you for supporting the brands that support Empty Nest Blessed!
One of the things I've loved the most during these past several weeks at home has been slowing down and taking more time to care for my skin. You all know how picky I am about skincare products! You also know how picky I am about collaborating with brands and sharing their products with you. I have high standards, and if I don't truly love a product, I won't share it with you.
Right before we all started staying home to do our part and flatten the curve, Maelove Skincare approached me and asked me if I would be willing to try their products. Typically, when brands do that, the first thing I do is check out their website and research their products. I never respond to them one way or another until I've done that! Lemme tell ya', Maelove impressed me from the very beginning.
Their tag line is "Luxury Skincare Without Luxury Prices." That immediately caught my attention! Probably just like you, I've often wondered if those high-end, high-priced "luxury" skincare lines were legitimate. Is it really worth spending hundreds on a specific skin cream that claims miraculous results? It's confusing!
Today I'm going to share my experience with the simple and effective products from Maelove Skincare. I'm going to tell you about my favorite products and how I used them. The only makeup I'm wearing in these unfiltered photos is mascara and clear lip gloss. As you can see, my skin has never looked better!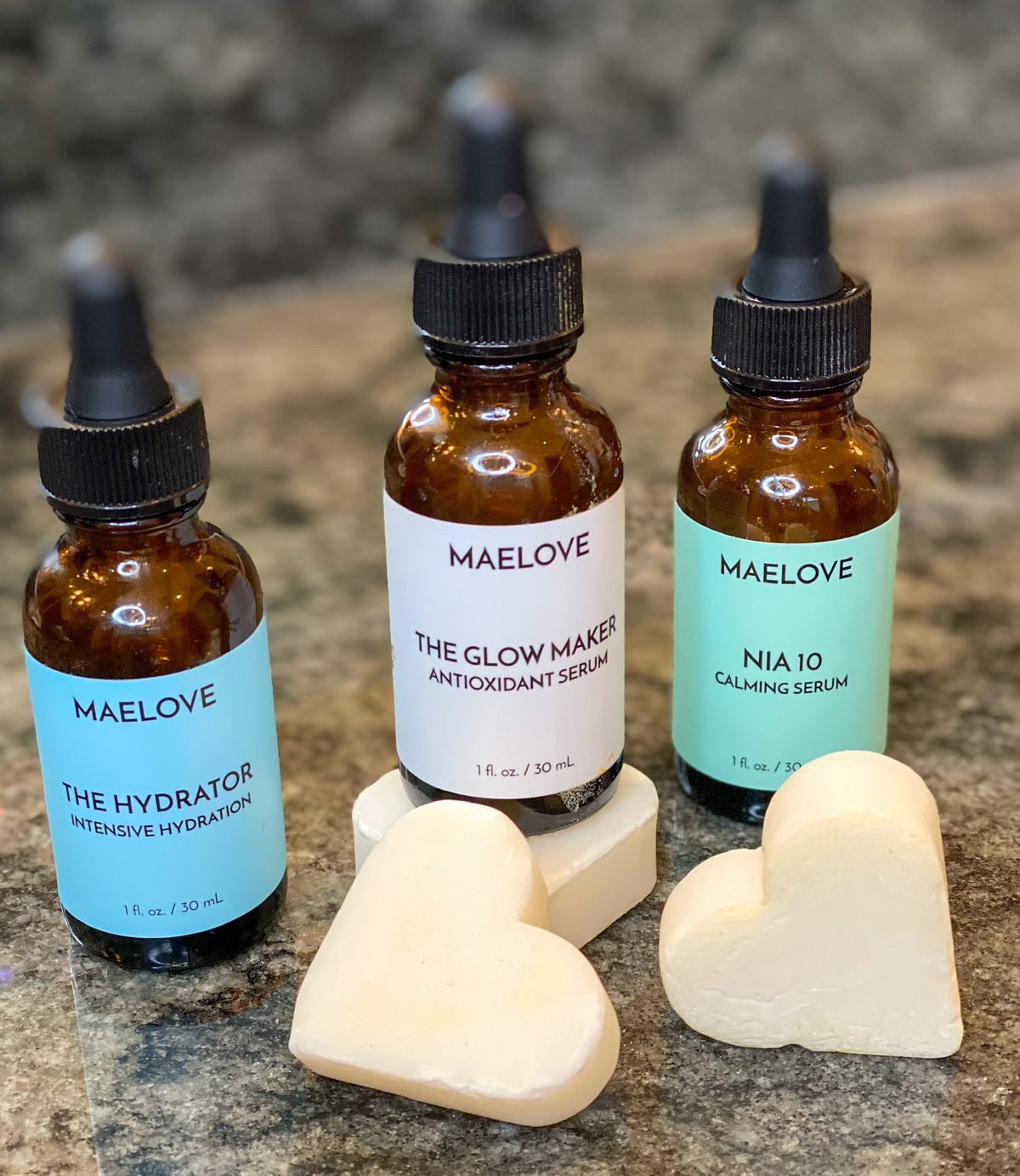 Why should we use serums? What are the must-have ingredients? And why is it so hard to find a good one at a reasonable price? I've been on the search for a good serum that's affordable for a long, long time!
You probably already know that your skincare products need to contain things like antioxidants to prevent and protect against free-radical damage, as well as other replenishing and skin-nourishing ingredients. Serums are formulated to address specific skincare needs in a more advanced, concentrated delivery system.
The way to pick the right one is to start by evaluating your skin care needs. Is your skin parched? Is it uneven due to heredity or years of sun damage? Is it sensitive or easily irritated?
The Glow Maker serum is one of the best-reviewed serums on the market! It's been featured in Allure, Harper's Bazaar, and Refinery 29. It's oil-free and full of Vitamins C, E, Ferulic Acid, and Hyaluronic Acid.
Vitamin C (15% L-ascorbic acid) helps reduce free-radical damage. Free radicals are minuscule reactive oxygen molecules that can cause damage to our skin. We produce some internally as cells turn over, but most of them come from UV rays and pollution. They can damage our skin cells, DNA, and collagen production. Over time, this shows up in our skin as wrinkles, sagging, and roughness. Vitamin C is the powerful antioxidant that helps your body repair damaged skin cells by assisting in the skin's natural regeneration process, thus helping with pesky problems like uneven skin tone, fine lines, and red marks.
Vitamin E is another antioxidant that neutralizes free-radical damage. But whereas Vitamin C works optimally on the surface level, Vitamin E is oil-soluble, so it goes deeper. Ferulic Acid is also an antioxidant, and it works best when paired with Vitamins C and E. Hyaluronic acid uses the skin's natural moisture to plump up wrinkles from the inside out and help your skin to retain the moisture that you already have inside your body. (So drink your water, friends! 🥛)

I use The Glow Maker serum first thing every morning when I get out of the shower. I've been amazed at how my uneven skin tone has improved, and I've started using a few drops on the back of my hands to help diminish unevenness there as well!
NIA 10 serum contains Niacinamide (Vit B3), Zinc, and White Tea extract to calm and nourish inflamed, acne-prone, or sensitive skin. It adds moisture, corrects redness, and improves elasticity.
I wasn't familiar with Niacinamide (Vitamin B3) as a skincare ingredient, but when I started researching it, I was amazed! When it comes to this powerhouse vitamin, it's not so much what it can do for your skin, but more of what it can't do. The answer: Not much!
It increases the production of ceramides (which protect the skin barrier and lock in moisture).
It improves discoloration by inhibiting pigment transfer to cells.
It helps inhibit acne by decreasing oil production and keeping pores from getting clogged.
It has an anti-inflammatory effect to calm down irritation.
It repairs damage and neutralizes free radicals that can cause skin cancer and break down collagen and elastin.
Zinc is an acne-inhibitor, thanks to the fact that it regulates oil production. It keeps skin looking younger and healthier by assisting with collagen production and DNA repair. It reduces inflammation and calms the skin. White Tea extract is a powerful antioxidant, which keeps skin youthful by protecting the skin from cellular breakdown and oxidative stress.

I used this serum some but eventually handed it over to my daughter (!), who had some hormonal acne and irritation. She found it reduced her inflammation and calmed her skin. (Thereby making me look like a genius! 🙌🏻)
We're all on a quest for dewy, moist skin, amirite? (Especially if we're over 50!) This hydrating serum goes on like a lightweight, non-greasy gel. It contains the key ingredients that thirsty skin needs for adequate hydration: Hyaluronic Acid, Panthenol (Vitamin B5), and Resveratrol.
Hyaluronic acid permeates the skin's top layers, plumping, lifting, firming, and hydrating skin. Panthenol (Vitamin B5) attracts and holds moisture, helps defend skin against environmental stressors, and reduces inflammation. Resveratrol contains skin-calming properties that help minimize redness, defend against environmental pollutants, and brighten the skin.

I apply this serum after The Glow Maker serum, and before my daily moisturizer, and (because my skin is so thirsty), I use it before bed too!
The Glow Maker, the NIA 10 Serum, and the Hydrator Gel can each be ordered separately, or you can bundle all three serums together and save $20 on the bundle.

The three creams included in the Creams Trio Set are a well-rounded group with an impressive assortment of ingredients designed to fight aging and improve the look of skin immediately, with even more improvement over time.
It's no secret that the delicate skin around our eyes lacks oil glands, making that area more prone to dryness. Since the skin around your eyes is fragile, it's more susceptible to break down, more prone to laxity, and more apt to develop fine lines and wrinkles.
Maelove's Eye Enhancer Cream utilizes the antioxidants and polyphenols in cold-pressed Robusta Coffee seed extract to combat water retention and reduce puffiness. It also has a triple-dose of collagen and elastin-building peptides to promote younger-looking, bouncier skin.

I use this amber-colored cream both above and below my eyes. Typically at this time of year, I get dark circles under my eyes from seasonal allergies, but this cream nixed those this year! It brightened up my undereye area and eliminated any puffiness.
I love the idea that one all-inclusive moisturizing cream is all you really need for all-day hydration and nourishment! Maelove's One Cream is made with squalane, coconut extract, and glycerin and infused with prebiotics (fructooligosaccharides) to support the good bacteria on your skin.
Squalane was historically used in the medical field to treat wounds and skin problems. It gained favor as a skincare additive when users noticed that it also reduced wrinkles, eliminated scars, lightened freckles caused by UV damage, and erased skin pigmentation. Coconut extract is highly-absorbent. It's taken from the meat of the coconut plant. Both coconut extract and glycerin are humectants, which pulls water from deeper levels of your skin and the air into the outer layer of your skin.

I use this quickly-absorbing, lightweight moisturizer in the morning after my serums and right before makeup.
This was one of my favorite products in the Maelove line! It's a Glycolic Acid cream that is formulated for sensitive skin. (Translation: No irritation or peeling!) The Night Renewer cream contains 10% medical-grade Glycolic Acid.
Glycolic acid is a type of alpha-hydroxy acid (or AHA) that's derived from sugar cane. It's primarily an exfoliator that helps skin shed dead cells to reveal the newer, brighter layers underneath. Thanks to its small molecular weight, it easily penetrates the skin, thus treating hyperpigmentation, dullness, and lines and wrinkles. Maelove balances the potentially irritating glycolic acid by infusing this cream with calming agents like vitamin E, squalane, shea butter, arnica, and aloe, along with hyaluronic acid to help with hydration.

I noticed a tingly sensation the first time I used this cream, which scared me a little bit! But the next morning, my skin looked refreshed and renewed. I initially used the Night Renewer cream every other night, but now I use it every night.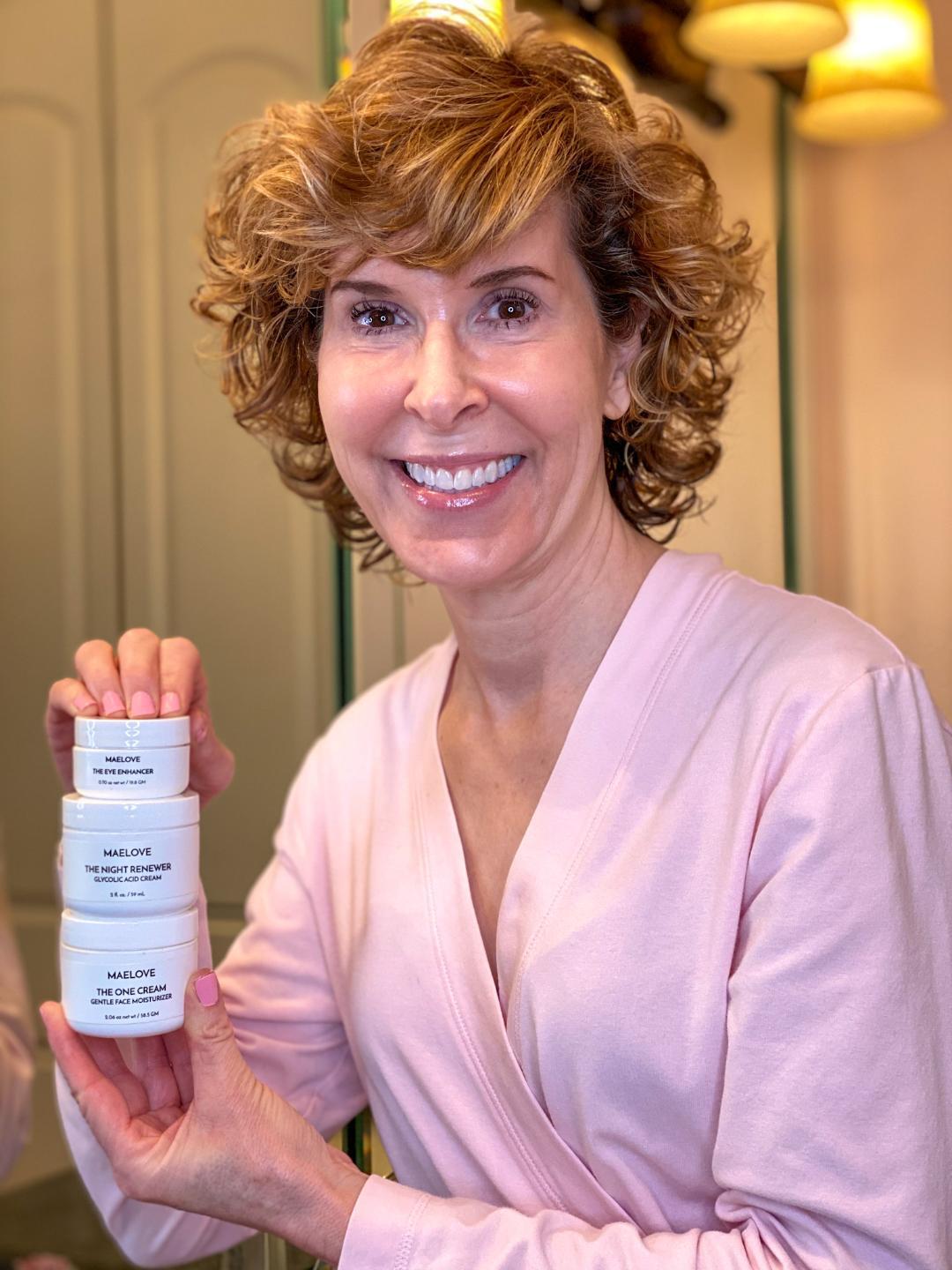 The Eye Enhancer, the One Cream, and the Night Renewer can each be ordered separately, or you can bundle all three creams together and save $20 on the bundle.

When you find a brand you love, I'm a big believer in using as many of the products in the line as possible. After all, they were made to go together and complement one another! When I really dug down deep into the Maelove Skincare line, I was so impressed at the high-quality of their ingredients at an affordable price. Their products are made in the USA, and are vegan, cruelty-free, and made without parabens, SLS, dyes, and fragrances. They offer free shipping and returns, and a 100-day guarantee on all of their products.
Luxury skincare without luxury prices? Yep! I'm a believer.
Blessings,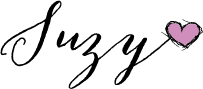 SHOP THE POST