This post is sponsored by Hair Biology. I only highlight and share products that I use and truly love. All opinions are my own.
It's no secret that as we age, our hair ages too! We talk a lot about the biological changes aging brings to our skin, but we don't talk a lot about what happens to our hair as we get older. Just like skincare over fifty needs to specifically deal with things like dark spots and fine lines, haircare over fifty has to deal with the biological issues that come with getting older as well! I use different products on my skin than I did when I was in my thirties, so it only makes sense that I would use different products on my hair as well! (Spoiler alert: I wasn't doing that!)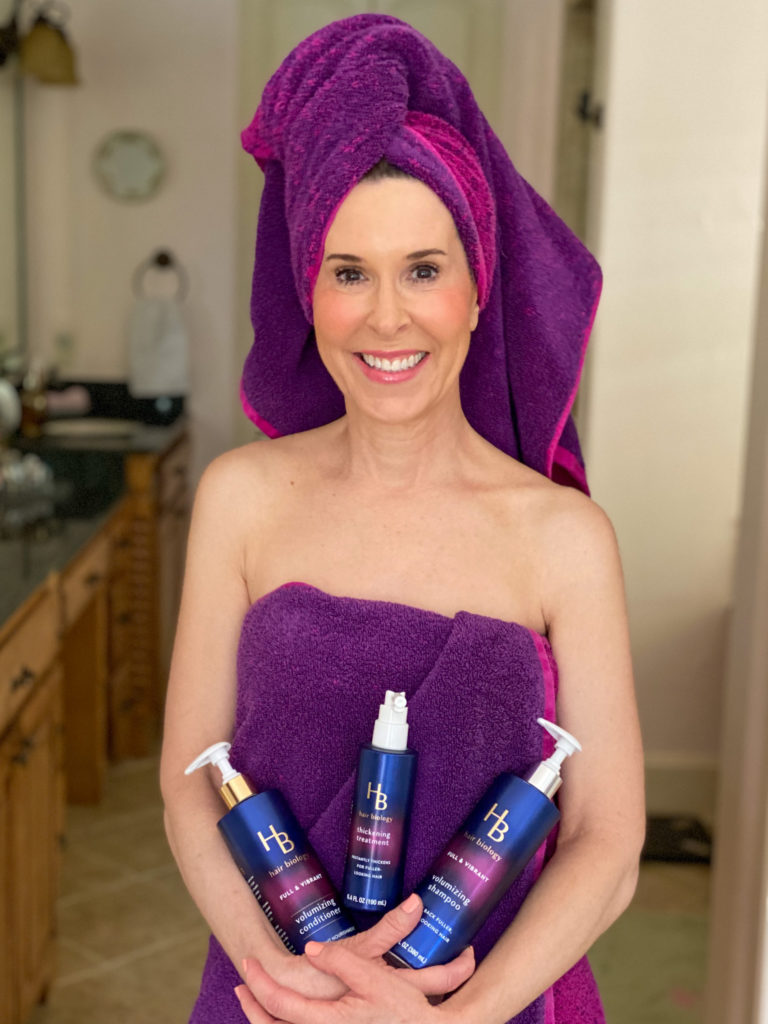 What Happens to Hair As We Age?
Most obviously, as we age, hair turns gray. It's caused by decreasing amounts of melanin, the pigment that gives hair its color. Not to get too technical, but melanin is produced in special protein-filled cells called melanocytes. So as we get older we basically have hair without color, and without protein! (And that means hair isn't really gray, it's basically colorless!)
Some people embrace the gray, but they notice that, thanks to the lack of protein, their hair has changed texture! The change in texture and loss of protein can cause additional signs of aging, like dullness, lack of shine, and dryness, which leads to more breakage. (Also, gray hair doesn't reflect light as well, which can lead to a flat, dull look.)
Those that choose to color their hair may notice that their gray hair takes color differently than more pigmented hair. I've been highlighting my hair to camouflage the stray grays since my early 40s, and some of my friends with more gray have opted for allover color.
For me, the biggest issue has been thinning hair. Hair grows more slowly as we age, and it grows in finer, which can make it look and feel thinner. As we age, we also tend to shed more hair, causing thinning at the scalp as those hairs are replaced more slowly. (Not to mention health issues, which can exacerbate hair loss.) Here's a fun look at my hair down through the years. The first image is from college—look at all that hair!
Although our haircare needs change through the years, many of us continue to use the same haircare products we were using in our 30s! I was guilty of this, my friends! But aging happens. The best thing we can do for ourselves is to maintain our hair's health and give it the nutrients it needs to be strong. As we age, it's critical that we use haircare that works with our changing hair biology! We need to replenish the nutrients and protein our hair loses as we age and infuse it with things like biotin, well-known to support strong, healthy hair.
Special Help for Hair Over 50
Hair Biology is a brand new haircare collection formulated for the unique hair needs of women over 45. It's available exclusively on Target.com, and at Target stores nationwide. Since my biggest haircare issue is thinning hair, for the past two months I've been using Hair Biology's Full & Vibrant Collection. It's specifically designed to weightlessly nourish my hair for more volume, and it's safe for my colored hair, with no parabens.
Hair Biology's mission is to empower women to be 'Bolder not Older.' I love that, because I definitely feel that way! Don't you? The entire Hair Biology collection is was made to help women combat the key haircare challenges that come with aging. It features collections with specific product benefits for the various needs of aging hair:
Full & Vibrant Collection – Designed to provide weightlessly nourish and thicken.
Silver & Glowing Collection – Designed to combat yellow tones, allowing true silver tones to shine through.
Soft & Hydrated Collection – Designed to hydrate and restore shine.
Styling Collection – Designed to help with flyaways and frizzies.
My Hair Biology Results
Hair Biology's Full & Vibrant Collection consists of a volumizing shampoo and conditioner, along with a hair thickening treatment that can be used on wet or dry hair. This collection is designed to weightlessly cleanse, nourish and moisturize hair to combat breakage, add fullness, and add volume.
I work out five days a week, so I've always washed my hair daily. Unfortunately, that was making my color-treated hair dry and brittle, which contributed to the lack of fullness. Enter Hair Biology's Volumizing Shampoo! This paraben-free shampoo lathers up really well (which I love!), and gently and weightlessly cleanses my hair, for fullness. The Volumizing Conditioner nourishes my hair, restoring moisture, softness, and volume.
The Thickening Treatment is designed to be used on wet or dry hair. (I liked using it on dry hair better than wet.) It's made with caffeine, which helps the thickener attach to each strand, for instant fullness and volume.
I have seen a big difference in my hair since I started using Hair Biology! You may have even noticed the difference in my photos over the past few months! The photos above are a great example. Even without a fresh cut or color, my hair is fuller, shinier, and healthier! I can't believe I waited so long to adjust my haircare to the needs of my aging hair. Please, don't make the same mistake! No matter what the needs of your aging hair are, Hair Biology has a line that can help, and it's so easy and accessible at Target online and in stores nationwide. This line has the best shampoo and conditioner for fine hair!
A Few Final Thoughts
I'm so thrilled with my hair's health and fullness since I started using Hair Biology, and I have to say, I think it's awesome that this haircare line is specifically designed for women in our age group! At 54, I'm celebrating my age and stage in life, and I definitely feel bolder, not older!
As women, whether we choose to go gray, highlight, or use allover color, we know who we are, and we can make choices that reflect that. Now there's a haircare line that can help! I love that.
Blessings,