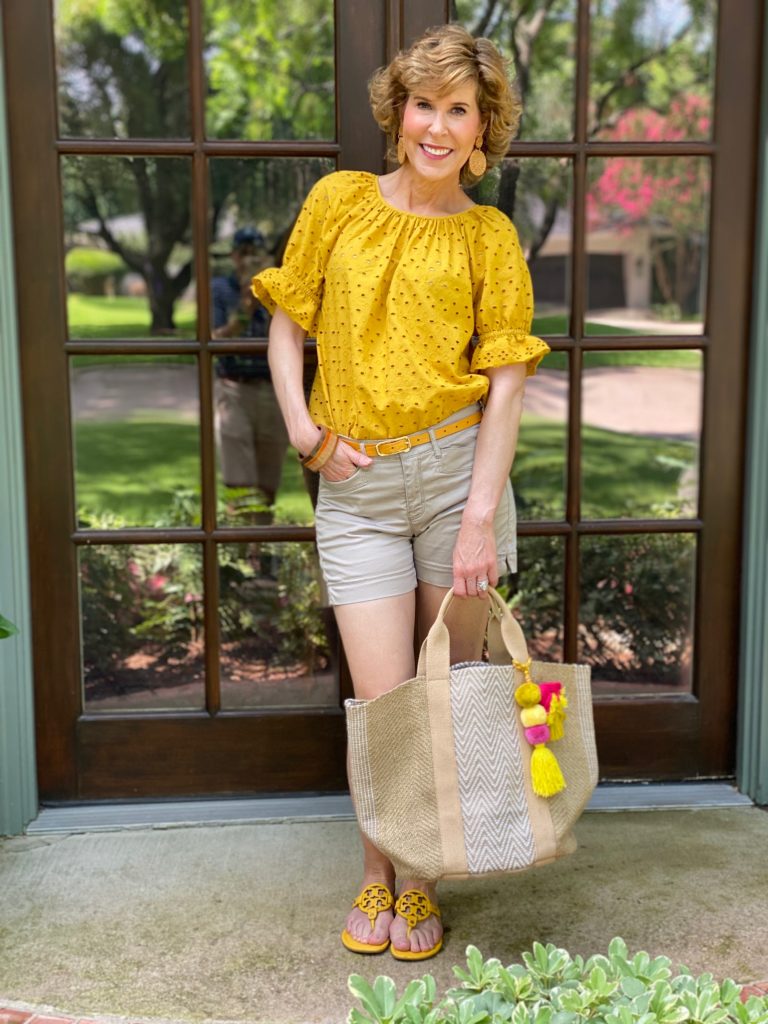 Happy Weekend, sweet friends! It's been a busy but fun week over here at Empty Nest Blessed! With no travel on the horizon until late August, Bob and I are settling back into our empty nest routine (and kinda loving it!).
I was talking to my pal Nancy (give her a follow on Instagram!) about how having her two adult kids home the past few months has changed her life. I know a lot of you are in that position as well. I was too, until our daughter left for her summer contract. How's it going in your (formerly) empty nest?
If you're struggling, I may have some past posts on parenting adult kids that you'll find helpful. You can check them out HERE. I'm especially thinking of my recent post What Your 20-Something Wants to Tell You (and Needs to Hear From You). I was so thankful to get such great feedback on it from you all—and from lots of sweet 20-somethings that somehow found it! Wow! That is why I do what I do, y'all. 😍 Here's one DM that made me cry. 😥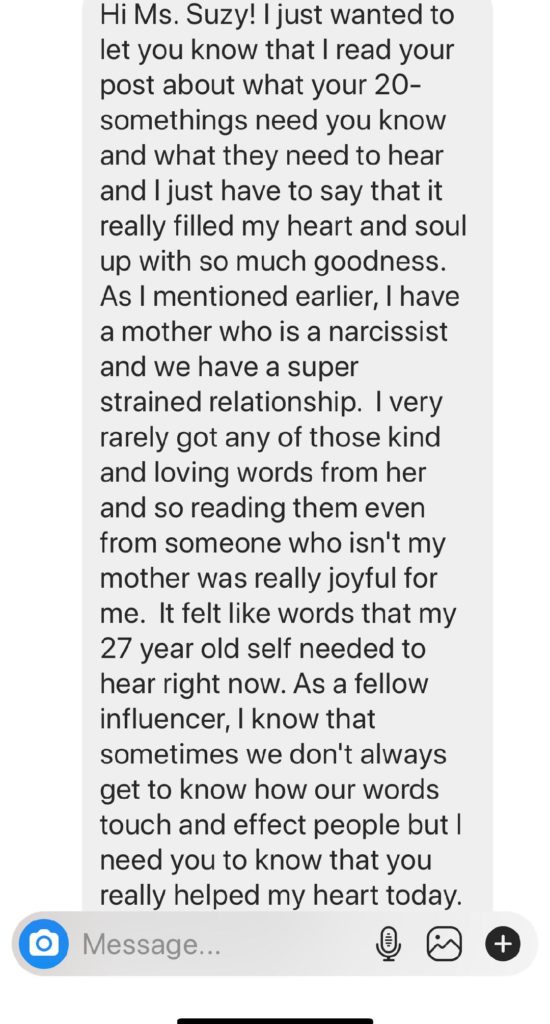 Here's What's On My Radar
Podcast Heaven
I've been listening and loving two podcasts this summer!
How'd She Do That? with Emily Landers – Every week, Emily talks with women from a wide variety of industries and stages of life, and asks them to talk about their respective life and career trajectories. This podcast is fun and encouraging! (You might remember Emily as the author of Take Flight, one of my most recommended resources for college students.) This week's guest was entrepreneur, author, speaker, and business coach Rachel Proctor, and it was so good, I listened to it twice AND took notes!
That Sounds Fun with Annie F. Downs – Every summer, Christian author and speaker Annie F. Downs spends a month on Enneasummer, where she deep-dives into the Enneagram with guests who are friends. Bob and I have found the Enneagram to be such a helpful tool in our marriage, our parenting, and our other relationships as well, and this podcast makes it fun, easy to understand, and relatable! Want to learn more about the Enneagram? THIS is the website I recommend.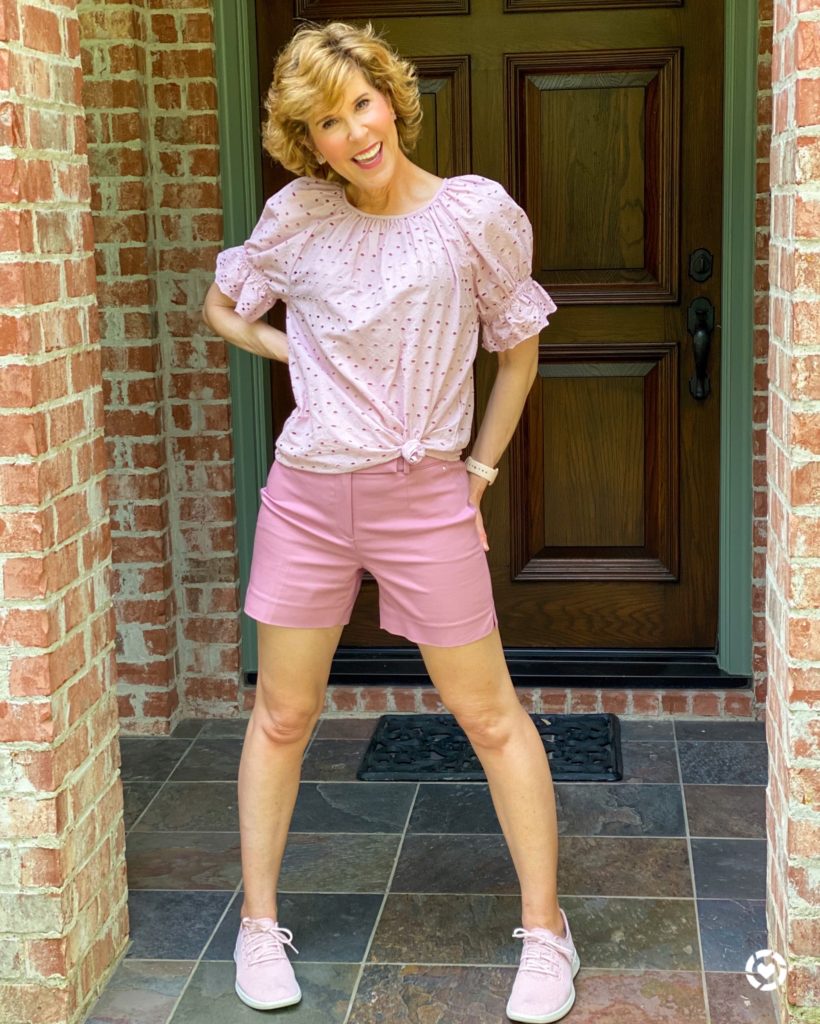 Pink Eyelet Top ($17.49 on clearance!) | Pink 5-inch Smooth Stretch Shorts | Pink Tennis Shoes (SOLD OUT) Amazon Alternatives HERE and HERE | Earrings

What Happened to Our Laughter?
I get it that things are tough right now in our world. There's a lot that we can't control. But (as I used to tell my kids), one thing you do always have control over is your attitude. It's important to remember to laugh sometimes! 🤣
Did you know that children laugh 🤣 up to 400 times a day? But for adults, that frequency dwindles to barely 15 times a day. Yikes! Where'd our laughter go? 🤔
Do something that makes you laugh this weekend! Bob and I love Jim Gaffigan's YouTube Channel, and Jerry Seinfeld's Netflix series Comedians in Cars Getting Coffee for guaranteed laughs! If all else fails, there's always funny animal videos! What makes you laugh? Please share with me in the comments!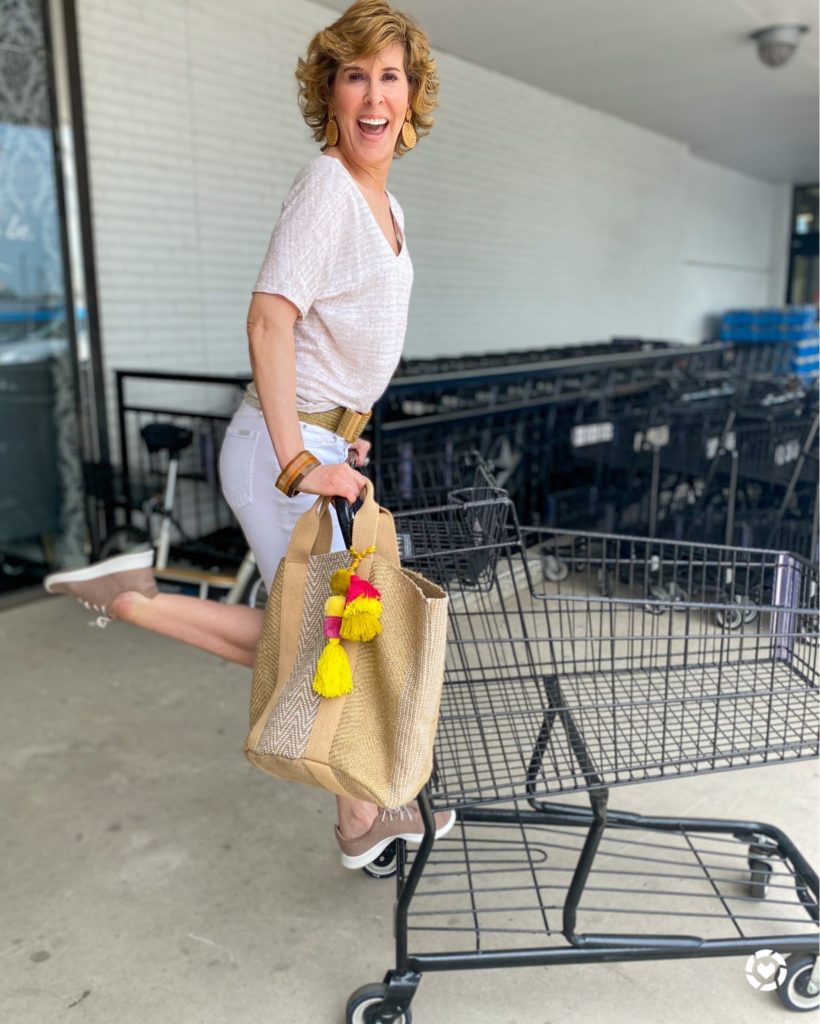 V-Neck Linen Tee (50% off – comes in 5 colors) | White High Rise 9″ Shorts | Tan Tennis Shoes (SOLD OUT) Amazon Alternative HERE | Straw Stretch Belt | Jute Tote Bag (50% off) |Raffia Earrings

Cane We Do It? Yes! We Cane!
Mark "Cane Master Shuey, 73, is a martial arts champion who teaches "Cane Fu" self-defense classes to seniors through his website, canemasters.com. (You can't make this stuff up, people!) There are even Cane Fu tees and canes made specifically for personal protection! Interested in learning the basics of cane self-defense? Click HERE. #ilovethissomuch
Did you know that you can carry a cane anywhere? It's considered an approved medical device, so you can always take it on airplanes or anywhere else you go! #goodtoknow
Check the Source
We live in a world where there is almost too much information out there! It's hard to know what to believe any more, and it seems like information changes so quickly.
Always remember to check the source! There's a lot of fake information out there, friends. Remember you don't have to take someone's word for it! If your only source is your hair stylist's cousin who knows somebody who knows somebody in the health care field, you may want to look into things further! 😂 The Centers for Disease Control and Prevention is the best source, and you can go straight to their website to check things out. Another great source for cross-checking is fact-checking website Snopes .com.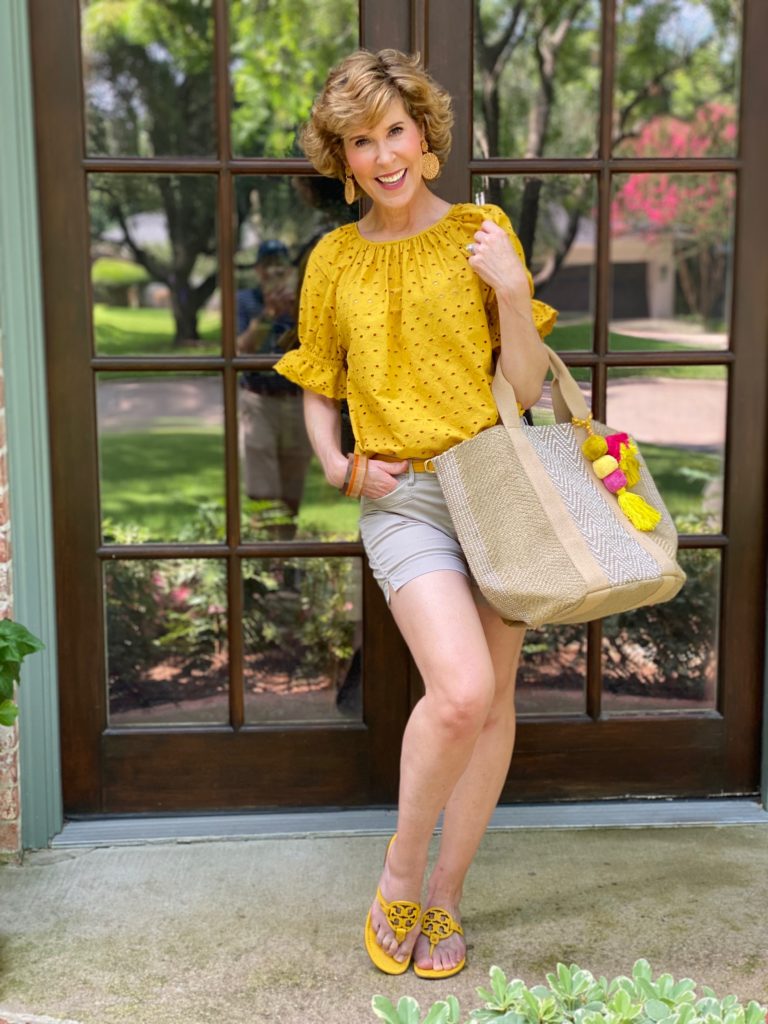 Yellow Eyelet Top ($17.49 on clearance!) | Light Khaki Shorts | Yellow Tory Burch Flip Flops | Wooden Octagonal Bangle Bracelet (50% off) | Jute Tote Bag (50% off) |Raffia Earrings

What's up for you this weekend? Don't faint, but Bob and I are actually going to venture out to the movies on Saturday night! 😷😳😯 Be sure to follow along on my Instastory!
Blessings,