Bob and I love hot weather. That's a good thing, since our residences are in Texas and Florida, right? In both places, we live on our back porches. The big difference between the two? The view of course!
When we decided to do an empty nest refresh on the back patio of our Texas home, we had two main objectives:
Create a visual transition from the family room to the back yard.
Create a space that reminded us of our beloved beach in Florida.
Updated Back Patio: First Things First!
The Furniture
We bought our sturdy iron patio furniture when we built the house in 2004 from now-defunct brand Smith & Hawken. It was a big investment at the time, but we made the decision to go for high-quality furniture that would last. We haven't regretted it for a moment! I've never seen anything that I like as much as ours, but if you're in the market and you're going for well-made, high-quality furniture, I would recommend Frontgate.
The Fabric
When we purchased the cushions that came with the furniture, we opted for a very plain taupe outdoor Sunbrella fabric that wouldn't show the dirt! After all, we had three young children in the house back then!
When we decided it was time for an update, I shared our vision with the interior designer, and she helped me select the outdoor fabric, and arranged for reupholstery. Since I wanted to use the space to visually transition from indoors to out, I selected a fabric that had plenty of the blue I used in my family room decor and green that mirrored the grass in our backyard!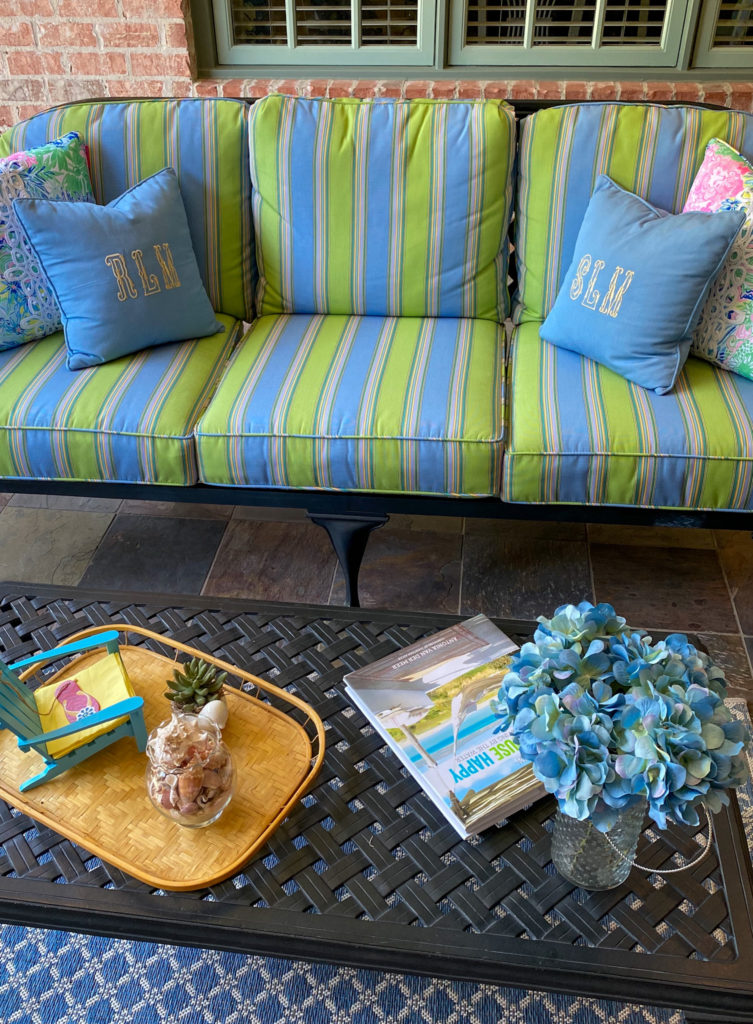 After years of wear and tear, the cushions themselves were pretty flat and pitiful-looking😬, so our upholsterer had to actually come out to the house, make a template of the furniture, and take the old cushions back to the workroom. He wanted to be certain the new ones would fit!
The Rug
Although it's fairly common, I still really love the slate tile we selected for the outdoor spaces when we built our home, and I knew I didn't want to cover too much of it with a large rug! I opted for a smaller blue/cream indoor/outdoor rug from Frontgate. It also comes in taupe/cream and black/cream. They're all on sale right now!

Updated Back Patio: Before
Updated Back Patio: The Decor
Once I decided on a beach theme, it was pretty easy!
Throw Pillows
I love throw pillows! I think they make a space look cozy and inviting! I wanted square his and hers monogrammed pillows, and also a bolster pillow monogrammed with an "M" for our last name.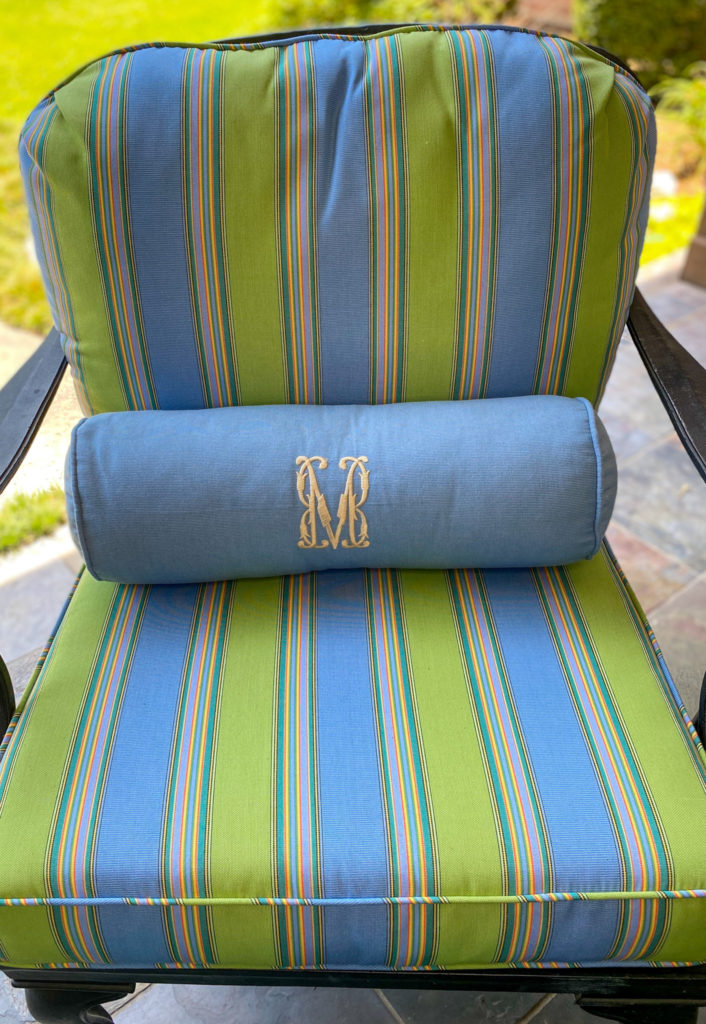 I ordered the pillows in a shade called "Air Blue" from Frontgate and had them monogrammed in pale yellow. Since our main fabric is so busy, I selected pillows with simple piping, but you can also opt for fringe or cording for a customized look. Frontgate has a fantastic selection of Sunbrella outdoor pillows in tons of colors and patterns! You can browse the entire pillow collection HERE.

I loved the blue pillows, but when I put them in the corners of the sofa, I thought it looked a little boring! (Suzy, always the color-lover!🌈) So, to add a little bit of extra fun, I added two square Lilly Pulitzer pillows behind the blue ones! They feature a multicolored pattern called "Cheek to Cheek" with fabric lace detailing on one side, and a pretty pink striped design on the opposite side. (Ah, options! 🙌🏻)

Wreath
I absolutely adore blue hydrangeas, and I knew I wanted a great wreath as a part of our updated back patio decor!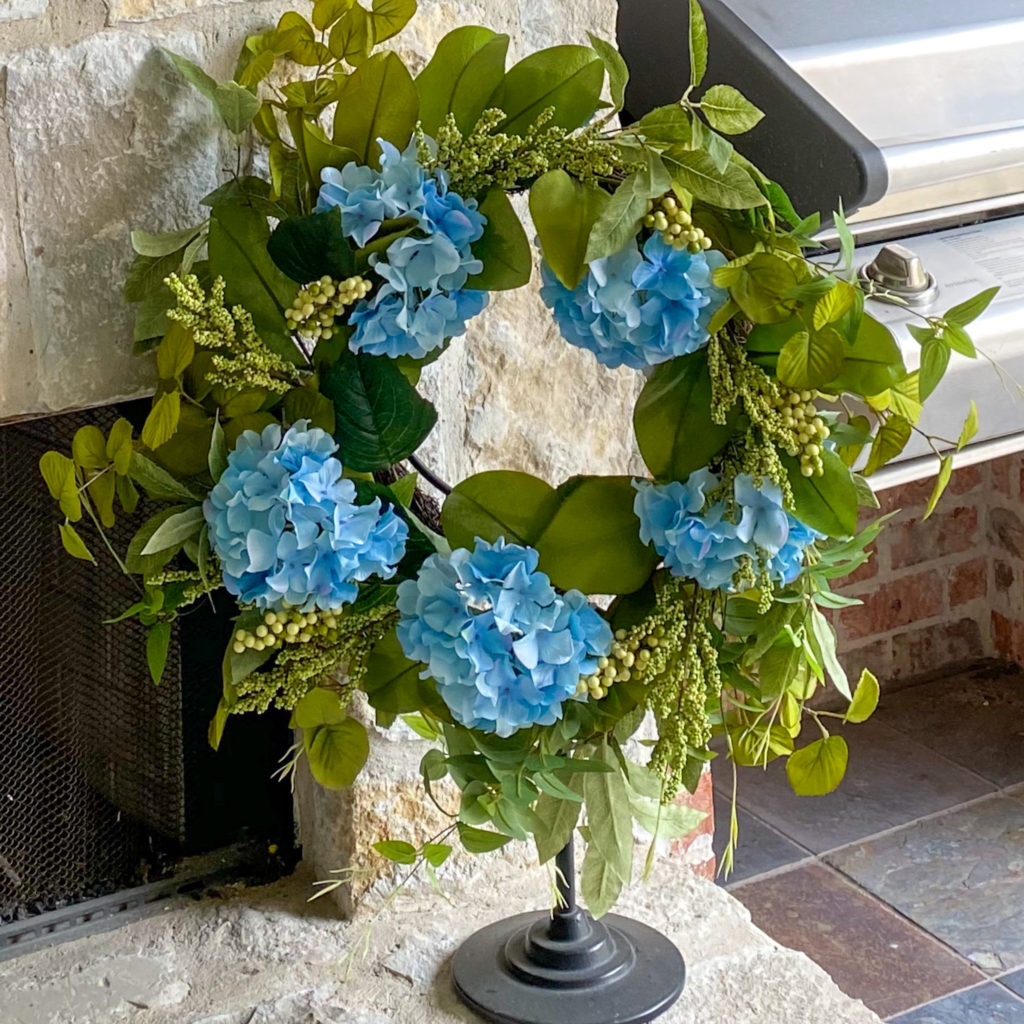 I found mine at Frontgate, but it has since sold out 👎🏼😬. I looked high and low, and found lots of beautiful, similar choices for you! My metal wreath stand is something I've had for years, but I found a similar one HERE.

Coffee Table Books
I knew I wanted to work in some beachy coffee table books into our updated back patio. I ordered those first and had so much fun looking through them for inspiration!

Surface Decor
Over in the corner nearest the house, just above the mini-fridge, was a place I really was excited to decorate! I knew I could put more delicate items there since there wasn't a danger that they might get knocked over or destroyed.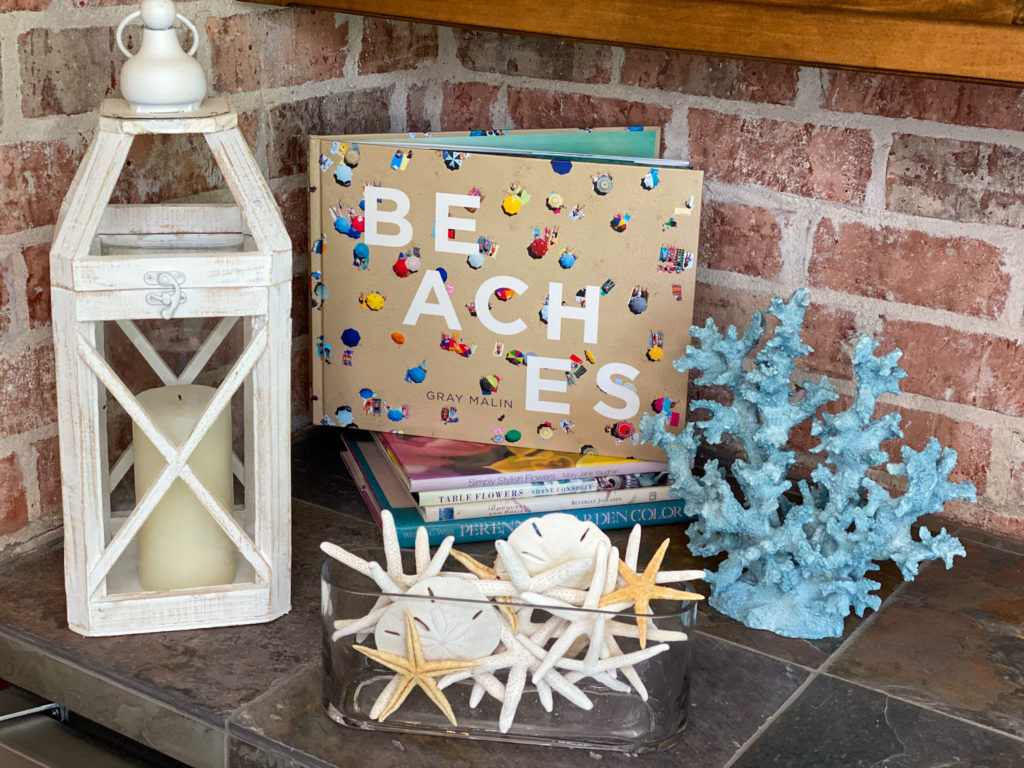 Since we've gone to Sanibel Island for most of our lives, Bob and I have a pretty impressive shell collection, if I do say so myself! (Sanibel Island, Florida is known as one of the best shelling islands in the world. In fact, the National Shell Museum is located on the island!) One of the things that was really important to me when it came to updating the back patio was to find lots of opportunities to display our collection! First, I added a 10″ oblong glass jar. Then I ordered this 30-piece preserved starfish set (less expensive 20-piece all-white set HERE) to add in with some of our sand dollars. (If you don't have sand dollars, but love them, you can order them HERE.)

Coral
What's a beach-themed room without a beautiful piece of coral? I wanted to pull in the blue, if possible, so that's what I looked for first! I found THIS one on Walmart.com (of all places!), and I loved the fact that it was realistic-looking resin. At 9.84″L x 6.50″W x 10.63″H, it was also the right size! As I was searching for just the right thing, I pulled some others that might inspire you!

Lanterns
I knew I wanted some white lanterns to add height in a couple of spots on our patio, so I started searching! I ended up deciding on THIS set of two, but there were so many good options, I had a tough time making a choice! I added some flameless candles, and I was good to go!

Coffee Table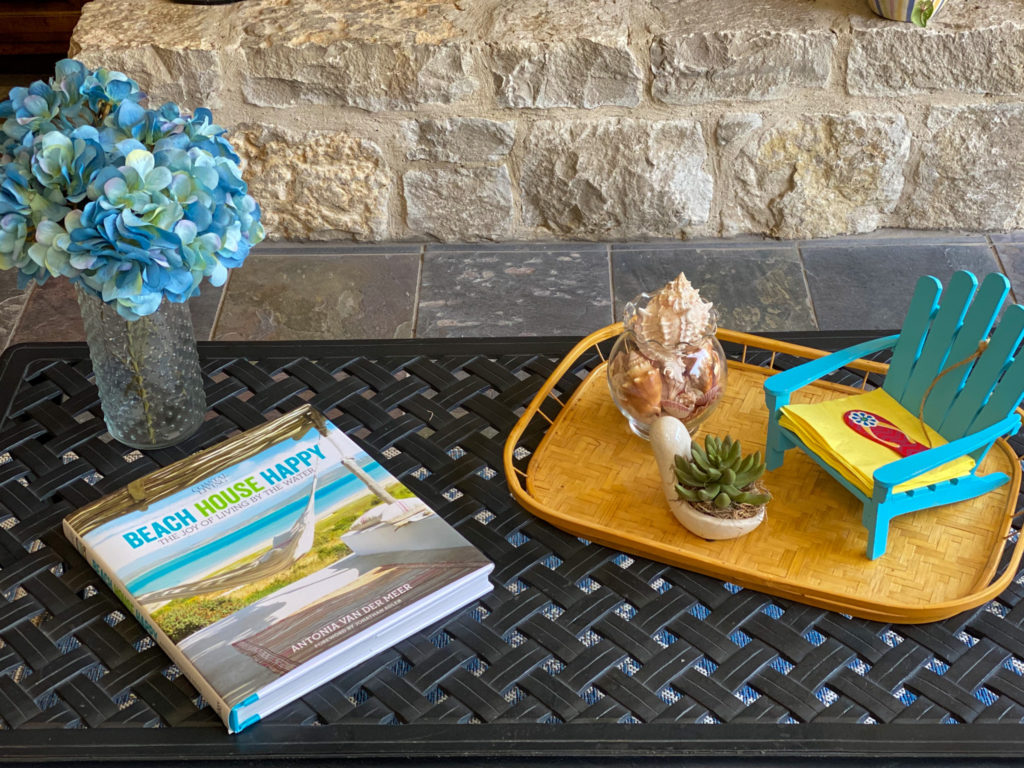 The coffee table was a fun combination of new things and things I already owned! I already had the handled bamboo serving tray, but I found similar for you HERE. The white ceramic bird planter was a gift from a friend, and I found similar for you HERE.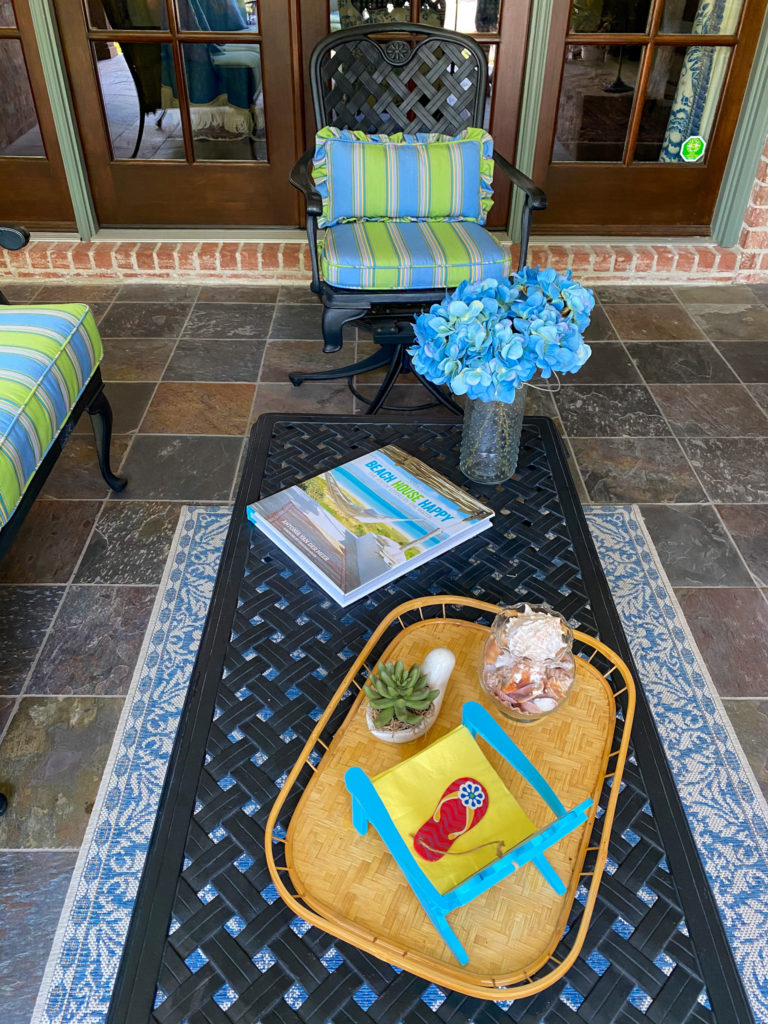 About a year ago, I bought a variety-pack of artificial succulents, and they've been a great buy! I've used them in various places throughout my home.
Next, I grabbed a short clear vase I already owned (similar HERE) and added a few pieces from our (vast!) shell 🐚collection to it. The cute Adirondack chair that holds cocktail napkins is something I bought for a party I hosted about ten years ago (!), but I did find similar (although smaller) HERE.

I grabbed a tall glass vase with a metal handle (similar HERE) that I already owned, and ordered these blue silk hydrangeas to go inside. (The quality is outstanding! 👍🏻) Once the blue hydrangea wreath came, I didn't really need them on the table, so I've been playing with them in different locations!

End Table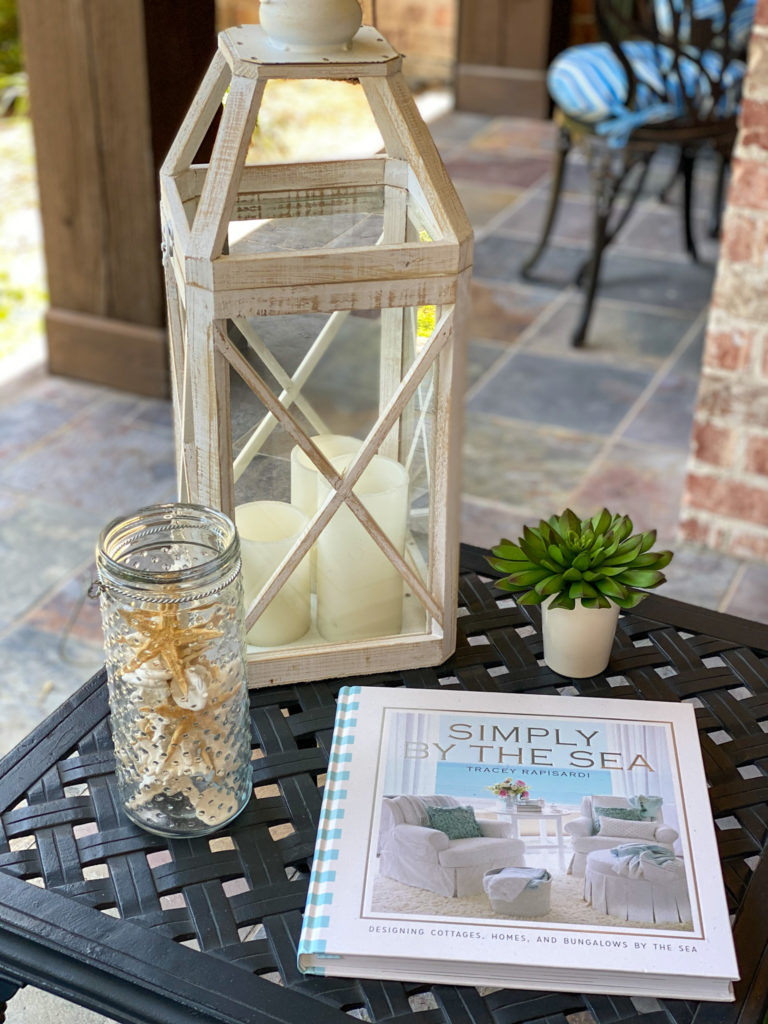 On the end table, I put the taller of the two lanterns filled with flameless candles. Then I filled another tall glass jar with starfish and sand dollars, added another succulent in a white ceramic planter, and finished it off with a beautiful coffee table book.

Bistro Table & Chair Set
Right after our nest emptied, Bob and I decided it would be fun to have the option to eat out on our porch, at a cozy little table.
I found this lightweight aluminum bistro table & chair set, and surprised him with it for our anniversary! I bought a set of four round chair pads, since this table sits near the edge of the patio and I knew it would be exposed to the elements. It's good to know I have replacements right on hand! (Similar set of two on Amazon HERE.)

Updated Back Patio: The Finished Room
We love our updated back patio! Thank you for letting me share it with you! In case you missed anything, I added a boutique at the end of this post to give you another look at all of my decor. Click on anything you see for more information!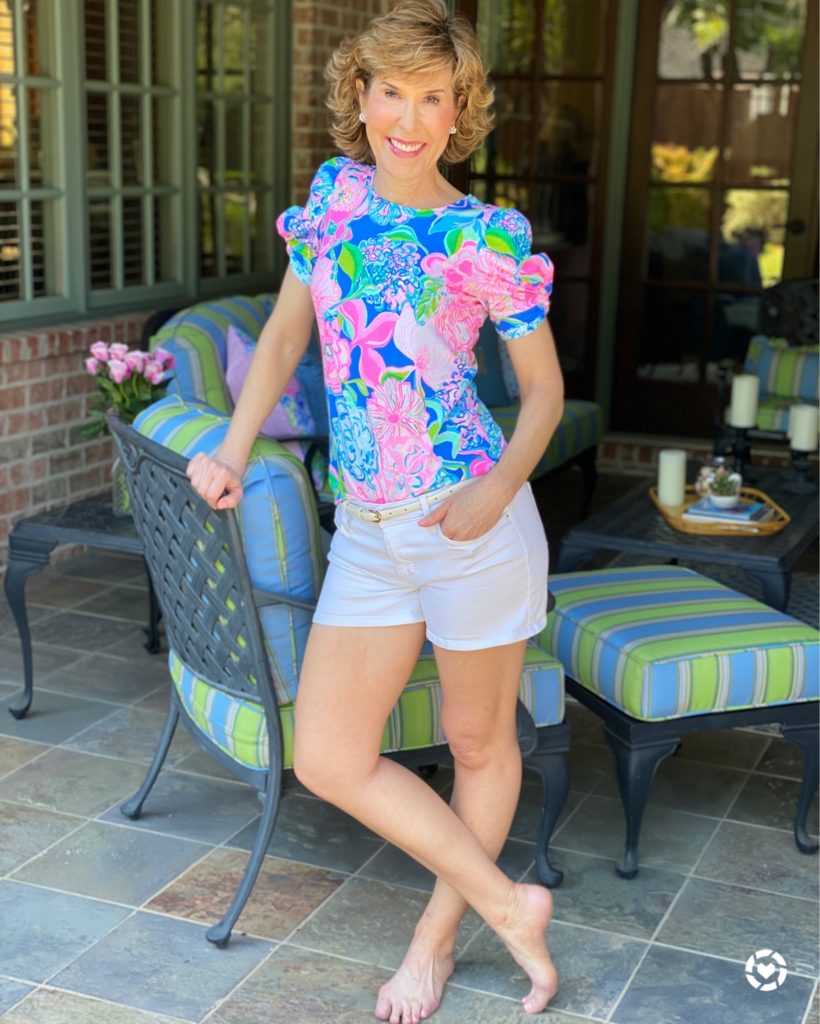 Floral Top (Also comes in pink.) | White Denim Shorts | White Belt | Faux Pearl Cluster Earrings | Plumping Lip Gloss in "Watermelon" (Use code EMPTYNESTBLESSED for 25% off your entire order!)

Next up, we're embarking on an even bigger remodeling and redecorating project! After three years of actively exploring our options, we finally made the decision to stay in the home we built, updating and renovating it for our empty nester years.🎉🤸🏻‍♀️💃🏻
We'll be remodeling a bathroom, redoing Bob's office, renovating the pool, and turning our formal dining room into the new international 🤣headquarters of Empty Nest Blessed! Yes, I'm finally expanding beyond my 3'9" x 6'6" office in a closet under the back stairs!!! 😄😄😄 Of course, I'll be taking you along every step of the way!
Have you taken on a remodel or a large redecorating project in the empty nest? I'd love your advice and tips! Please share them with me in the comments!
Blessings,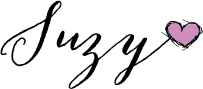 Feel free to Pin any image in this post or the image below on Pinterest! And be sure to follow Empty Nest Blessed while you're there!