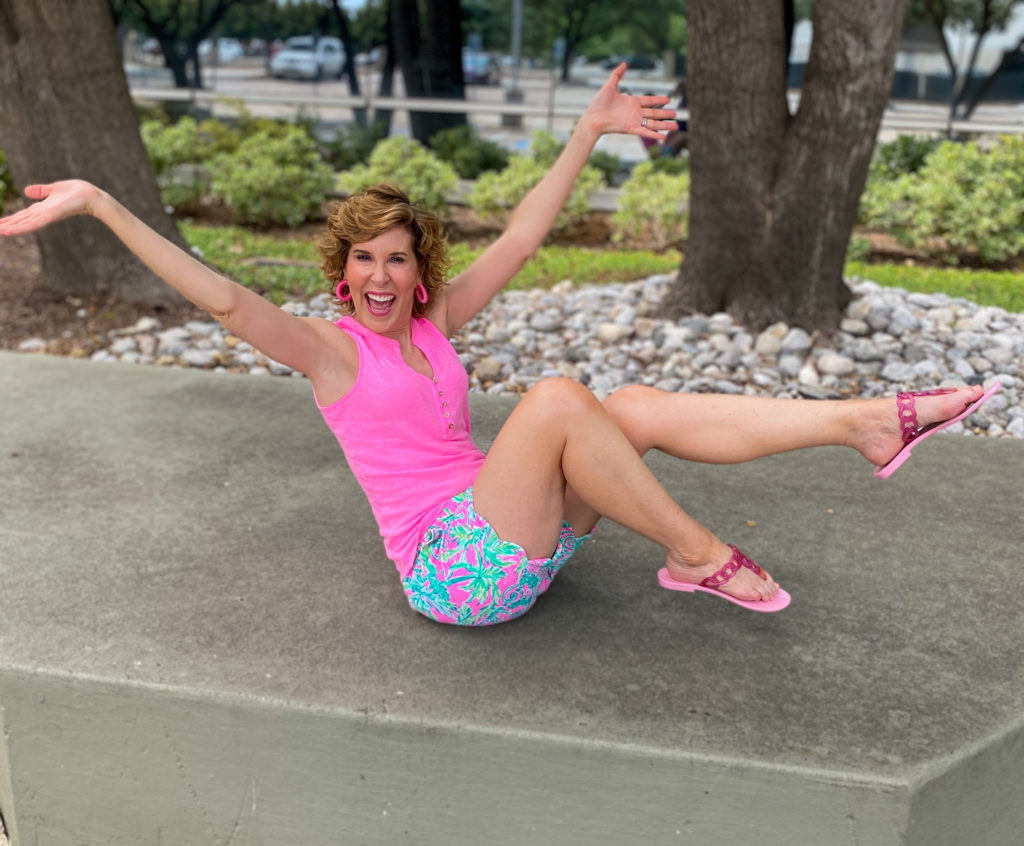 Happy Weekend! I hope you've got fun plans! Our oldest son is coming in from Austin this weekend to celebrate his 28th birthday! There will be golf 🏌🏼‍♂️, swimming🏊🏼‍♀️, granddogs🐶,burgers🍔& fries🍟, and cake🎂 & ice cream🍦, of course! We haven't seen him since the big multi-generational family trip to Idaho in June, so we can't wait!
Here at Empty Nest Blessed, one of my goals is to help empty nesters (myself included 🙋🏼‍♀️!) stay current on the newest trends. Even if you don't personally adopt every trend yourself, just your knowledge of the latest and greatest scoop lets you casually drop impressive tidbits into conversation with your kids! And that's worth something, right! 🤣
Today, I'm sharing ten hot new trends you need to know! (And guess what? Not all of them are fashion trends💟!) As always, click any PINK text link or image for more information.
Ten Hot New Trends
1. The Fanny Pack
I know you thought you'd never see the day, but the fanny pack is back, and it's not just for tourists anymore! It's called a "belt bag" now 😂, and it's being seen as a more hygienic hands-free alternative to the traditional handbag. I actually think THIS one is pretty chic! 😆

2. Matchy-Matchy Activewear
With everyone living in workout clothes these days, we were all bound to get sick of basic black after a while! The freshest look is coordinating your top with your bottom (imagine that!).

3. No-Touch Hand Tools
Don't touch the elevator button! Don't touch the doorknob! Carry a stylus for signing! Touchless tools are having a moment. Well, of course!

4. Birkenstocks
They're ugly. Wait! They're pretty! What? They're definitely IN. Iconic Birkenstocks have gotten kind of…wait for it…cute! And girly! Wait, what? Apparently the iconic comfort shoes that feel oh-so good on your feet (and your back!) have gotten a little makeover! Not only do they come in a wider variety of styles and colors, but they've also added a super-soft, foamy, shock-absorbing footbed🦶🛌🏼!

5. Easy, Breezy Dresses
Especially look for tiered styles, which are huge right now. Oh, and look for (slimming-even-in-a-tiered-dress) vertical stripes. Oh, and wear them with sneakers. Oh, and throw on a denim jacket to transition to fall 🍁🍂.

6. Paper Planners
Hey! No plans doesn't mean no planners! Despite our obsession with our phones, paper planners are back in a big way. Already making a resurgence before THE COVID, in this strange time we're living in, they're more popular than ever! Experts say they're a tangible way people have found to manage and maintain a little control over their lives at a time when everything seems out of control🤔.

7. Statement Tops
Call them the Zoom fashion trend. With video conferencing de rigueur these days, snag a few tops with dramatic necklines, shoulders and/or sleeves. You'll be oh-so chic! (At least on top!)

Look for "elevated beyond the norm" tanks or tees with interesting puffy or twist-detail sleeves or necklines. The smocked neck tank I'm wearing in this post is a great example of this hot new trend in a summer look.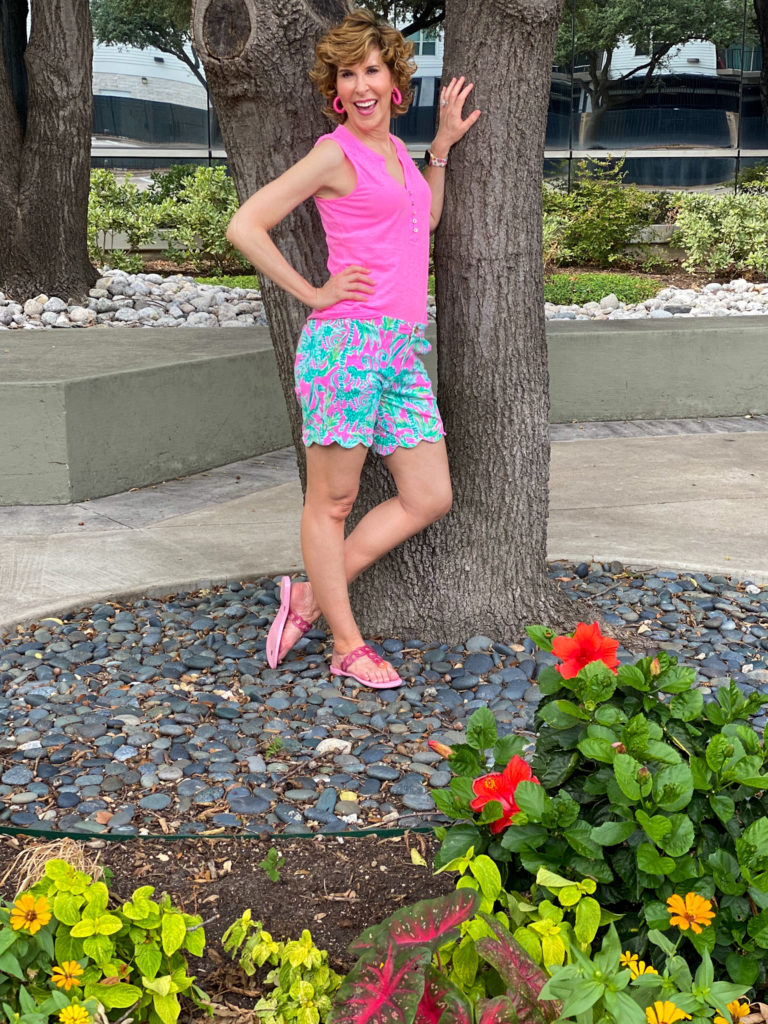 8. Bold & Beautiful Accessories
Whether we're talking headbands, scrunchies, earrings, ruanas, or scarves, these budget-friendly pieces will brighten your wardrobe (and your next Zoom call!) with ease! The fun pink hoop statement earrings I'm wearing in the photos in this post are a perfect example of this hot new trend.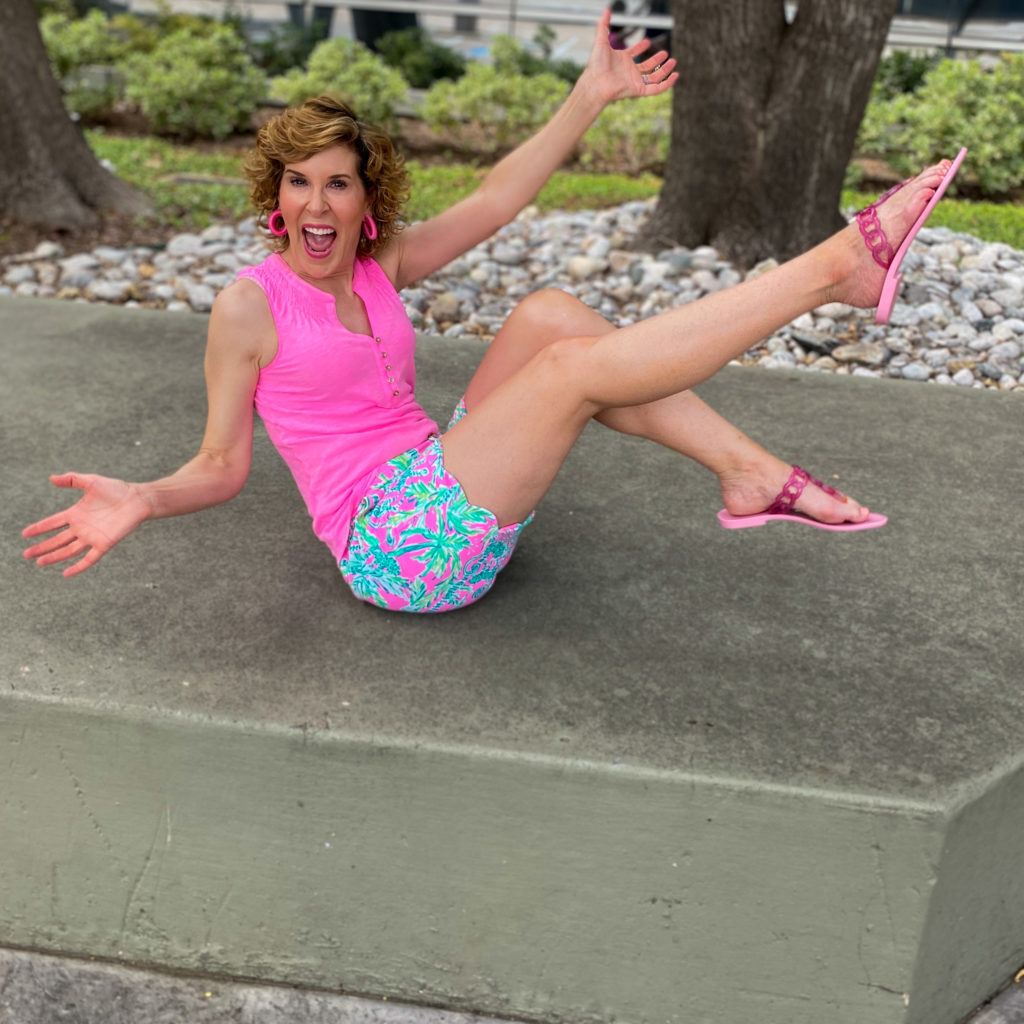 Smocked Sleeveless Tank Top | 7″ Stretchy Knit Shorts | Big Chain Sandal | Pink Hoop Earrings | Lip Gloss (Color 765)

9. Big Ole' Baskets
This hot new trend in home decor is due to everyone spending extra time at home and organizing up a storm! People are organizing, and they want their storage to work into their decor as well. Look for wicker, braided hyacinth, sturdy fabrics, and more. This is no time to opt for plastic, people!

10. Homes With 1 (or 2) Offices
Forget about those trends of yesteryear. (Um, by "yesteryear," I pretty much mean last year!) Nobody needs a media room, wine cellar, or home spa. Nope. The hot new trend for real estate: home offices.
Now, I'm not just talking about homes with one office. I'm talking homes with at least one office, preferably two. Realtors nationwide report that more than 60% of potential homebuyers say that working from home is influencing the kind of house they want to buy.
If you read my post on our empty nester back patio redo project, you know that we're about to embark on a little remodeling project ourselves. Oh, yes! We'll be updating the master bath, renovating the pool, repainting in and out and doing some retrofitting and redecorating. But the project I'm most excited about: turning our formal dining room into my new office😁.
After reading all of those hot new trends, dontcha just feel so current, so now, so trendy? 🤸🏻‍♀️💃🏻🎉
The Nordstrom Anniversary Sale
Watch for my definitive Nordstrom Anniversary Sale post next Tuesday! I'll be telling you:
What you might want to consider buying.
What typically sells out quickly.
What you should not buy during the sale, because it will be a better deal later.
How to be sure you don't get caught up in the hype and overspend!
This weekend, you might want to get on the Nordstrom Anniversary Sale Preview page and start making a wish list. To do that, click through from the preview, and click the button that says "Add to Wish List." It's located where the "Add to Cart" button typically is. I just added this Barefoot Dreams CozyChic Lite Circle Cardigan to my wishlist, because it typically sells out quickly and I love the "Spruce" color!
Have a terrific weekend, my friends! Be sure to watch my InstaStory this weekend to catch our weekend fun!
Blessings,