Happy Weekend! I hope you've had a good week! It's been a busy one around here. (I feel like I say that every week! 😂) I've got a big, top secret project I'm working on this Sunday afternoon and all day Monday that I can't wait to share with you! I wish I could tell you more, but suffice it to say, it's bigger than anything I've ever done before! 😮😁 I'll be sharing BTS photos and videos on my Instastory Sunday & Monday, but I can't share anything about brands, or, um, publications 😲😲😲!
Also, next week is my birthday week, so I'm looking forward to that! 🎉🥳 But that's all next week! Here's what happened this week! 👇🏼
IGTV/YouTube Videos
First of all, I uploaded two new videos to my YouTube Channel!
The first one is one I originally published to IGTV back on July 29, but I just now got around to uploading it to YouTube! It's full of tips for aging lips! Lips naturally thin as we age. If you're not ready for injections or other drastic measures, I'm with you! In the video, I share info on how lips age over time, what you can do about it, and the products I've been using that I think have really helped.
The other video is just a quick, under-two-minute look at how I make "Suzy's Super Smoothies!" A couple of times a week, I make one for either breakfast or lunch! It's a quick and healthy way to get lots of good-for-me ingredients in one yummy package!
I don't really give my YouTube channel the love it deserves! It only has 59 subscribers! 🤣 If you'd like to see me create more content specifically for YouTube, please let me know in the comments! (Also, if you'd "pity subscribe" to my channel, I'd really appreciate it! Hahaha!) If you subscribe, it just means you'll be notified when I post new videos. 🎥
Come BTS With Me!
In case you're wondering, the reason my videos have two black "wings" on either side of the frame is that I filmed them vertically. IGTV videos have to be shot that way, and it's impossible to get them switched to horizontal for YouTube without distortion. #andnowyouknow 😁
Tips and BTS (behind the scenes) info like that are fun for me to share, and next week, I'm going to be publishing a blogging BTS post! Whenever I tell people what I do, they always ask one of two things:
"How does that work, exactly?" – I'm pretty sure they want to know how I make money! 🤑😂
"Is that really a job?" – When you tell people you're an "Influencer" they immediately think Kardashian! 🤣
I took to my Instastory earlier this week to ask people what they wanted to know, and I got some great questions! If there is anything you want to be sure I cover in the post, please leave me a comment below!
Let me know if there is anything you've especially been wondering about, okay? I shared a lot of BTS info on my episode of the How'd She Do That? podcast (You can listen to it HERE.), but I'm excited to have the opportunity to answer your specific questions in this upcoming post!
Nordstrom Anniversary Sale
This week, after getting several questions from y'all, I posted about the categories in the Nordstrom Anniversary Sale that typically sell out first. I shared that this year, I expect the activewear & loungewear categories to sell out quicker than they have in past years. I shared my favorites in those two categories. (You can see that post HERE.)
Next week, I'll be bringing you a little bit more Nordstrom Sale content. I've got a post about my favorite handbags in the sale, because, just like activewear & loungewear, handbags and wallets are always a hot category that sells fast! (For a sneak peek of my favorites in that category, click HERE.)
I'm really trying to strike the right balance between posting too much, and posting just the "right" amount. (Which is probably different for everyone, let's be real! 😂) So, after getting several requests from y'all for a little more help and guidance with the sale, I put together a page of favorites for many of the most popular categories. (You can access those HERE.) I hope you find them helpful!
Finally, I've also asked my awesome 23-year-old assistant, Natalie, to put together a post of her sale favorites, because I thought you'd love to get your kids' perspective on the sale! So look for that next week as well.
This Week
With all of the Nordstrom Sale hype going strong, I decided to take a break from the Best Weekend Sales portion of my What's Up, Weekend posts! But then, as I was prepping this post, I got secret 🤫 advance notice from my friends at Soma about an incredible sale they're having this weekend!
Here's the scoop: Soma is having an exclusive online event where most products will be BOGO 50% OFF (with no coupon needed!) This is happening Saturday, August 8th through Sunday, August 9th. Oh, this is a good one, y'all!
Now back to regular programming! LOL! So, as I was saying, instead of sharing a bunch of weekend sales, I decided it would be fun to share this week's Empty Nest Blessed best-sellers and my looks of the week from Instagram!
This Week's Best-Sellers
Keeping up with what you're buying helps me know what type of content y'all enjoy! It guides me when I make decisions about what to include on my gift guides, and even what looks to share with you. Here's what was hot this week:
This Week's Instagram Looks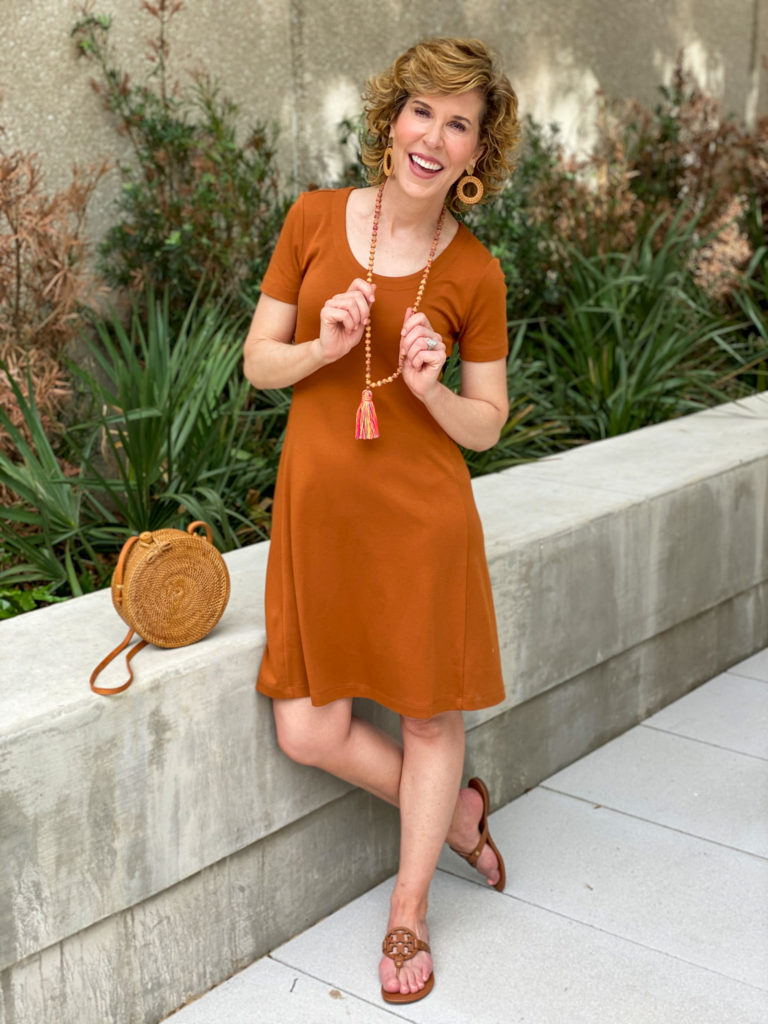 Caramel Dress | Caramel Flip Flops | RattanCircle Crossbody Bag | Earrings | Wooden Bead Tassel Necklace (sold out)

This tapered dress is amazing quality for the money! It will be perfect for fall! It's not lightweight or flimsy. It has more body to it. There are seven color options. It fits TTS and I'm wearing an XS.
Tapered Tee Shirt Dress (Comes in 18 color/patterns!) | Tie Dye Denim Jacket #gifted | Navy Ballet Flats (similar) | Earrings | Necklace

This dress is lightweight and tapered for a flattering fit! It has two pockets! #welovepockets It fits TTS, and for reference, I'm wearing an XS. The tie-dye jacket is boxy and runs large! It also comes in black/white and light blue/white tie dye. Order a size down! I'm wearing an XS. There are also fun tie dye jeans that match in all three options! The jeans fit TTS.
Crochet & Ruffle Detail Tee #gifted| White Denim Shorts | Pink Chain Link Jelly Sandals (bubble gum scented!)| Pink Opal Stud Earrings

I love an elevated tee! This one is 100% cotton and I washed it before I wore it so I could report to you! I put it in a delicates bag and machine washed and dried it. It did great! It fits TTS and also comes in black, white, and pale yellow.
Fold-Over Bikini Bottom (50% off + 15% off) | Bikini Top (Sold by cup size!🙌🏻 and 50% off + 15% off) | SAME One-Piece Suit (50% off + 15% off) | Hat (packable) | Sunglasses | Pool Lounger

I will go for a swimsuit that is sold by cup size any day of the week! This one is 50% off right now, plus an extra 15% off! If you're not a bikini girl, know that the one-piece version is so cute too! Fits TTS.
Drapey, Easy Top (15% off) #gifted | Black 9″ Denim Shorts #gifted | Pink Monogrammed Tumbler #gifted

This flattering top drapes so beautifully! The fit is somewhat loose, and for reference, I'm wearing an XXS. It's 15% off and it comes in six color/pattern options. I love that these 9″ shorts are a flattering Bermuda length, but can also be rolled up for variety! They're made with a special COOLMAX® technology that keeps you comfortable as the temperature rises as well as Lift Tuck® technology, so they lift and tuck you in all the right places! Order one size down for the perfect fit!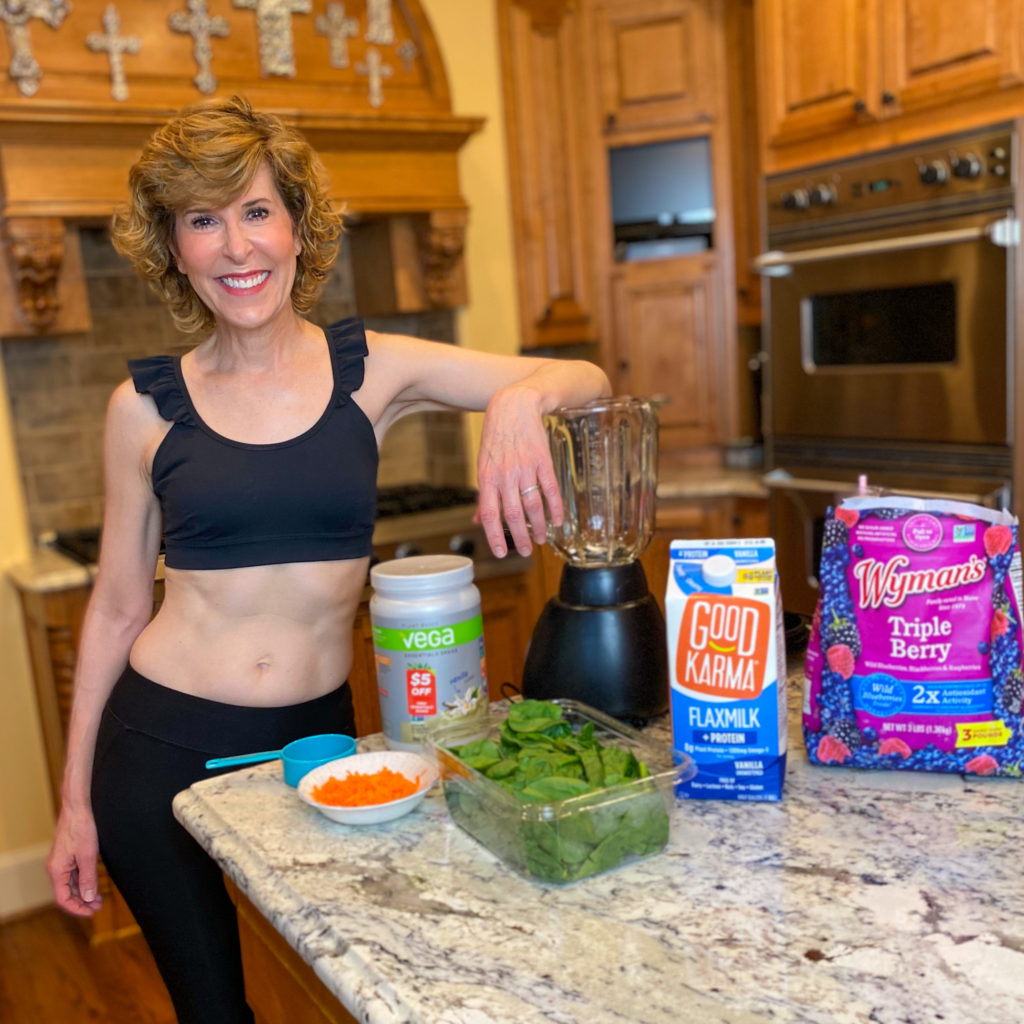 Ruffle Strap Sports Bra (almost sold out, but also comes in "fig" | Black Cropped Leggings

I'm currently obsessed with feminine sports bras! 🤷🏼‍♀️ I love 'em, and just ordered a bunch! Since this one is almost sold out in black (but still available in a pretty color called "fig"), I linked a couple of others for you! These cropped leggings have a handy-dandy cell phone pocket at the center of the back waistband! How clever is that? 👍🏻 Both the sports bra and the leggings fit TTS.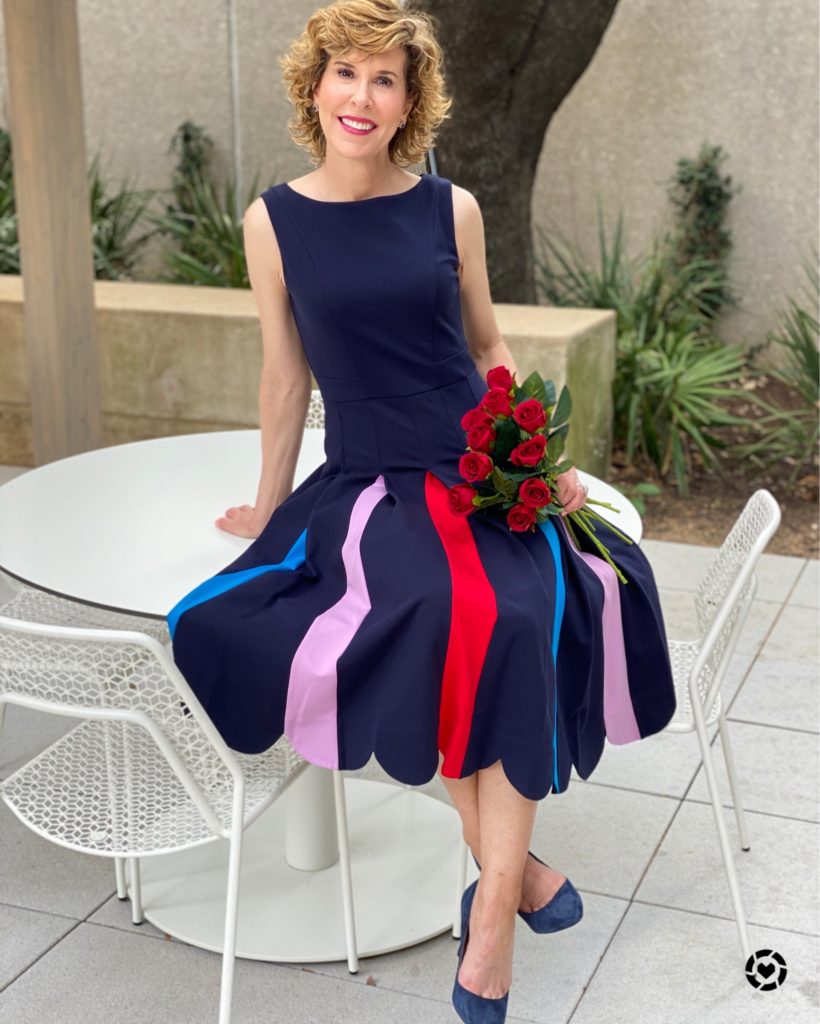 Navy Blue Ponte Pleated Dress (15% off)| Navy Suede Pumps | Earrings | Red Silk Roses | Lipstick "Rhubarb"

Every year, I buy myself a birthday present! 🎂🎉🎈 Do you do that too? This year it was this dress. It fits TTS, and it was a splurge, but I did get it on sale! It's really special (Just like a birthday dress should be, right?)🥳
Have a great weekend! Virtual hugs to you all 🤗!
Blessings,