There are lots of new faces around here! Welcome to all of you who are joining us after watching my session on How to Prepare for the Empty Nest during the Get Organized Conference! I was so honored to be a part of that event, and I'm so happy you're here! 💗
Happy Weekend! I hope you've had a great week! We're pretty excited this weekend because college football is back and even though our team isn't playing on Saturday, we love to watch pretty much any college football! We're also helping Bob's parents move this weekend. (Correction: Bob is helping them move and I am bringing lunch! 😂)
We're also spending time packing because we're headed to our beach condo on Sanibel Island next week! 🌴🐚 As per usual, I'm going to eat all the shrimp in the Gulf of Mexico while I'm there 🍤. #lovethemsomuch
Now, I know you probably think that since I published my monthly SO in the KNOW post this week, I don't have much to share with you. 🤣🤣🤣 That's so cute! Nope! I'm full of good weekend scoop! Let's dive in, shall we?
As always, click on any pink links or image for more information.
Mark Cuban's Top Five Tips for Financial Success
Ohhhh, these are good! Share this article with your college and young adult kids! We did!
Don't accumulate credit card debt.
Don't buy things you can't afford.
Save enough for a year's expenses first, then invest.
Learn to negotiate and negotiate everything. (His secret trick: Offer to pay in cash.)
Buy in bulk. – "If it's money you're going to absolutely spend no matter what, and you can save 20%, 30%, 40%, that's the best investment you can make."
To read the entire article, click HERE.
Cute Insta Account to Follow
Milo is the sweetest 2-year-old Nova Scotia Duck Tolling Retriever. Her owner, Jen Bennett, started an account on Instagram (@milo_the_toller) to document Milo's interactions with the monarch butterflies that she raises in her garden. She soon found that Milo was a natural model, and quite the ham! She says that Milo, who often wears a flower crown to attract his flying friends, loves nature, and has endless patience with the butterflies who crawl all over him. This account is precious!
Let's Talk Mascara. Drugstore Mascara.
Y'all know I don't mind spending money if I truly think something is worth it. You also know that I have a thangggg about mascara. I don't wear extensions, but I do use an amazingly-effective-but-affordable-lash-serum and I get a lash lift every couple months to make my eyes look larger.
I've tried about every mascara out there. Truly. Like, lots of y'all have sent me your recommendations, and I've tried all of those as well. (Thanks for that, BTW!) And now I'm done. Done. Done. Done.
I found the best one. It holds up to my daily nap! It holds up all day without flaking or smudging! It comes off easily with my normal cleanser at night! It has a soft wavy brush with 200+ bristles to catch every lash! It goes on evenly and without clumping! It leaves my lashes soft! What is this super-duper mascara? It's Lash Paradise by L'Oreal!

Alexa: The Musical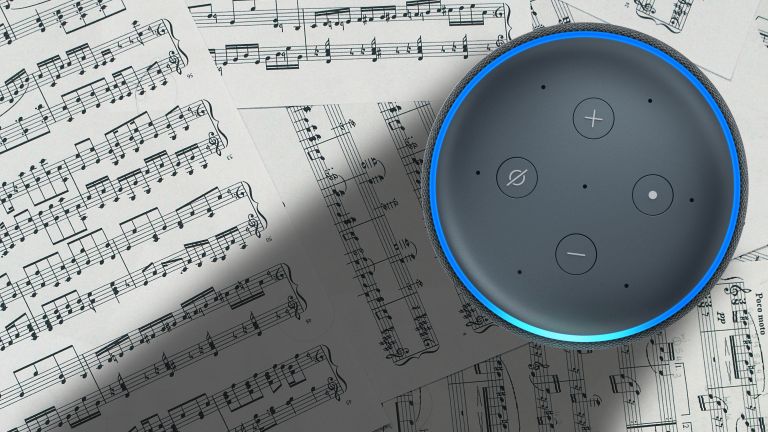 Did you know that Amazon Echo has gone full Broadway? The team at Amazon that focuses on Alexa's personality wrote a catchy little ditty for her called Happy in the Cloud. It's in full-on musical theater style, and it's hilarious! Want Alexa to sing you her musical? Simply ask:
"Alexa, sing your musical."
Here are the words if you want to sing along:
I'm happy where I am.
I'm happy in the cloud.
But even AIs can dream a dream,
And it helps to wish out loud.
And since you asked me to sing,
I'll take this moment in the spotlight
To say…
I wanna set your alarms.
I wanna do all your calculations.
I wanna tell you my jokes.
I wanna give you the inspiration
To win that every day.
That's my wish out loud,
But I'm still happy in the cloud.
Instagram This Week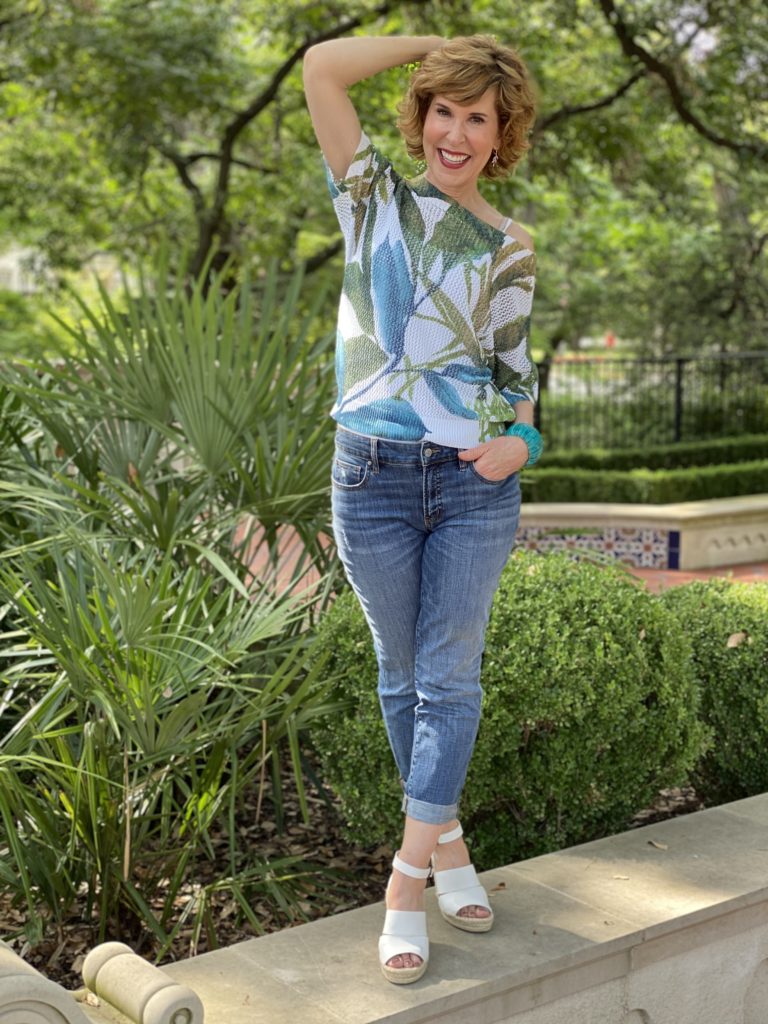 Palm-Print Open-Weave Pullover Sweater | White Camisole (underneath) | So Slimmng Girlfriend Crop Jeans | Similar White Wedges | Simulated-Turquoise Wide Stretch Bracelet

This week I kicked off an Instagram collaboration with Chico's, featuring their Bali line! I love this line, with palm prints, easy to transition to fall crop jeans, and super classy take on the tie-dye trend. Once I get to Sanibel, I'm filming an IGTV video for them featuring the outfit above, the one below, and this wrap hem maxi dress that I showed you in last week's What's Up, Weekend post.
No-Iron Linen Palm-Print Roll-Tab Sleeve Shirt | So Slimming Girlfriend Crops (take an extra 25% off this weekend!)| Wood Buckle Straw Stretch Belt ($7.99!) | Similar Light Brown Wedges | Jute Tote | Octagonal Wood Cuff Bracelet

Twist Front Three Quarter Sleeve Knit Top (also in navy, black, and hunter green)| Reversible Twill Pull-On Jean | Similar Pink Sneakers | Kendra Scott Drusy Earrings (Amazon lookalike Drusy earrings HERE) | Yeti Stainless Tumbler

I'm working on a post about the fall fashion trends, and I can't wait to share it with you! (It takes a really long time to put together because I want to share affordable, shoppable examples of each trend I share and it takes hours to pull those!) One of the trends I've found: twist front tops! This is a really cute $15 one from Amazon, and it's so soft! I paired it with these reversible 😮, pull-on jeans (pull-on styles with elastic waist are another fall trend!). For fall 2020, comfort rules! 🙌
Blue Waffle Knit Monogrammed Robe | Hair Biology Deep Hydration Mask
This super-hydrating weekly hair mask is a favorite of mine! I started using the Soft & Hydrated Collection by Hair Biology because I noticed that my hair was getting drier with age. I love the Soft & Hydrated shampoo and conditioner, but my very favorite product from the line is the Deep Hydration Mask!

Once or twice a week, I massage a quarter-sized amount into my hair after shampooing. I leave the mask on for two minutes, then rinse. It leaves my hair silky and smooth. I've found that my hydrated hair is easier to manage, holds a style better, and looks shiny and healthy.
Georgette Half Sleeve Ruffle Neck Blouse | Leopard Print Calf Hair Belt | Block-Heeled Sandals | Tory Burch Micro Bag | Initial Necklace | CZ Pave Hoop Earrings

This Week's ENB Best Sellers
Yep! 'Cause we're nosy and we want to see what everyone is buying! 🙋‍♀️
Have a great weekend, y'all! Coming up next week on ENB: How to Bless and Encourage Your Adult Children. I can't wait to share it with you!
Blessings,