We're here in Sanibel Island, Florida at our beach condo, and as you can see, I woke up in paradise! Things have been somewhat wild with our remodel in Dallas, and it was so lovely to escape for a few days! Did you see the tour of our little condo on my Instastory on Wednesday evening? It's just a simple one bedroom, one bath, with a galley kitchen. The simplicity of it is what we love! The view? Divine—as you can see from the photo that Bob took on our lanai on Thursday morning.
As usual, click any pink text link or image in this post for more information. Everything fits TTS, unless indicated. 😀
Silk Satin Palm Print Pajamas (under $25) | Lipstick | Casa Ybel Resort

We brought our daughter with us this time (She hasn't had a vacation in 5 years!), and my parents live nearby, so we're enjoying the sweet family fun! Bob is fishing up a storm (see pics at the end of this post), and Becca and I went shopping on Friday. One of the places we went to was the original Chico's store!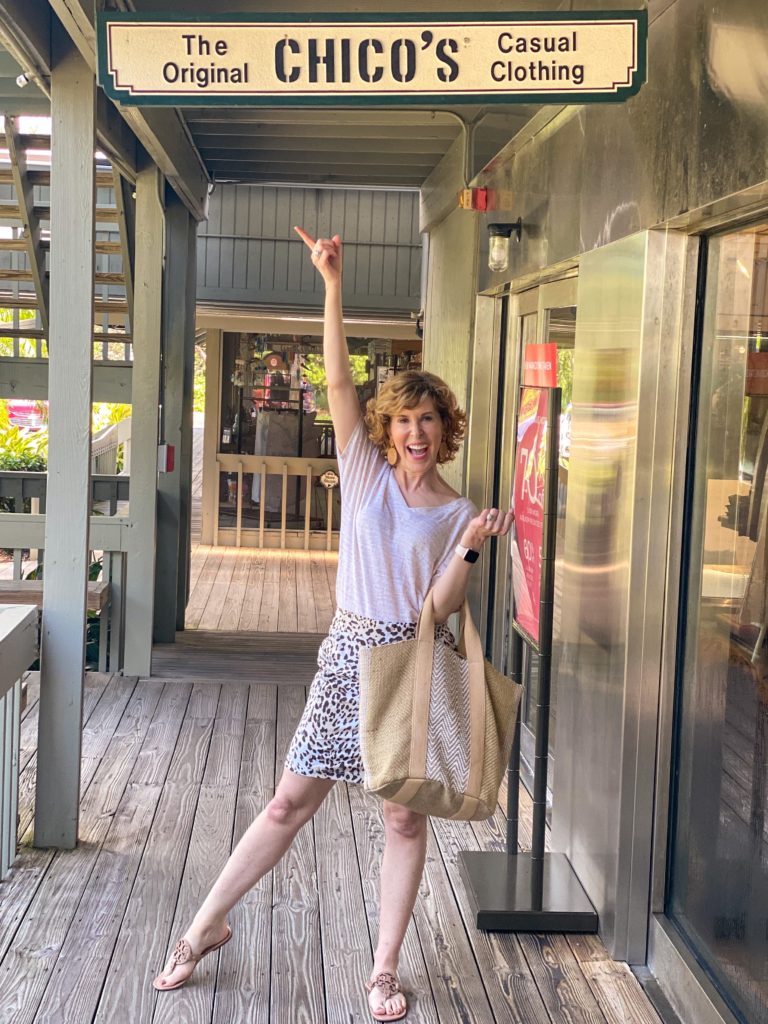 Animal-Print Skort (on sale)| V-Neck Linen Tee (order one size down) | Tory Burch Sandals (Amazon Lookalikes HERE) | Jute Tote

Yep! The brand was started here on Sanibel Island in 1983, and the original store is here! Yesterday I filmed an IGTV video for Chico's right here on the island, and it was so much fun! Bob shot it and Becca edited it, so it was quite the family affair! You can view it full-screen on my Instagram HERE, or watch it clipped for YouTube below. (BTW, if you don't follow me on Instagram, Facebook, YouTube, and Pinterest, I wish you would! I don't want you to miss a thing! 😊)
Look 1: Solid Wrap Hem Maxi Dress | Amazon Lookalike White Flip Flops | Faux Pearl Cluster Earrings
Look 2: No-Iron Linen Palm-Print Roll-Tab Sleeve Shirt | Khaki So Slimming Girlfriend Crops | Neutral-Patterned Octagonal Wood Cuff Bracelet | Jute Tote | Raffia Earrings | Similar Wedges
Look 3: Palm-Print Open-Weave Pullover Sweater | White Camisole (Underneath) | Denim Girlfriend Crops | Amazon Lookalike White Flip Flops | Simulated-Turquoise Wide Stretch Bracelet | Faux Pearl Cluster Earrings

Remodeling Progress
I spent the better part of Monday and Tuesday looking at plumbing fixtures at Nob Hill (see my new tub HERE) and then slabs and tile for our master bathroom remodel. (It was exhausting but fun!) We're looking at quartzite for the vanity and sink area, and unfortunately, we didn't find the showpiece slab I was searching for, so I'm heading home a little early next week to keep shopping! There are so many beautiful slabs to choose from, and I'm always amazed at the glory of God manifested in His creation when I start looking. Click HERE to see where we're going to look next week.
In the meantime, while we're gone this week, all of the lighting in our house is getting an LED upgrade! We're excited to check out how our potential paint selections (We're between Alabaster, White Zinfandel, and Sand Dollar.) will look once the brighter lighting is in place. (I know, they all look the same! That's what our kids keep saying! 😂)
This Week's ENB Best-Sellers

Instagram This Week
Chambray Ruffle Shift Dress | Perforated Suede Ankle Booties | Blue Tassel Fan Earrings | Life is Good Insulated Tumbler

Tie-Dye Loungewear Set (Other colors/patterns available) | Pink Bandana

It got a little chilly in Dallas last Saturday! I snuggled up in this cute and inexpensive tie-dye loungewear set all morning. By noon, I was sweating bullets and pulled on shorts! 😂
Tie-Waist Dress | Block Heel Sandals | Rattan Earrings

This lightweight tie-waist dress is an easy and inexpensive way to incorporate the tie-waist trend into your fall wardrobe! It comes in a multitude of colors!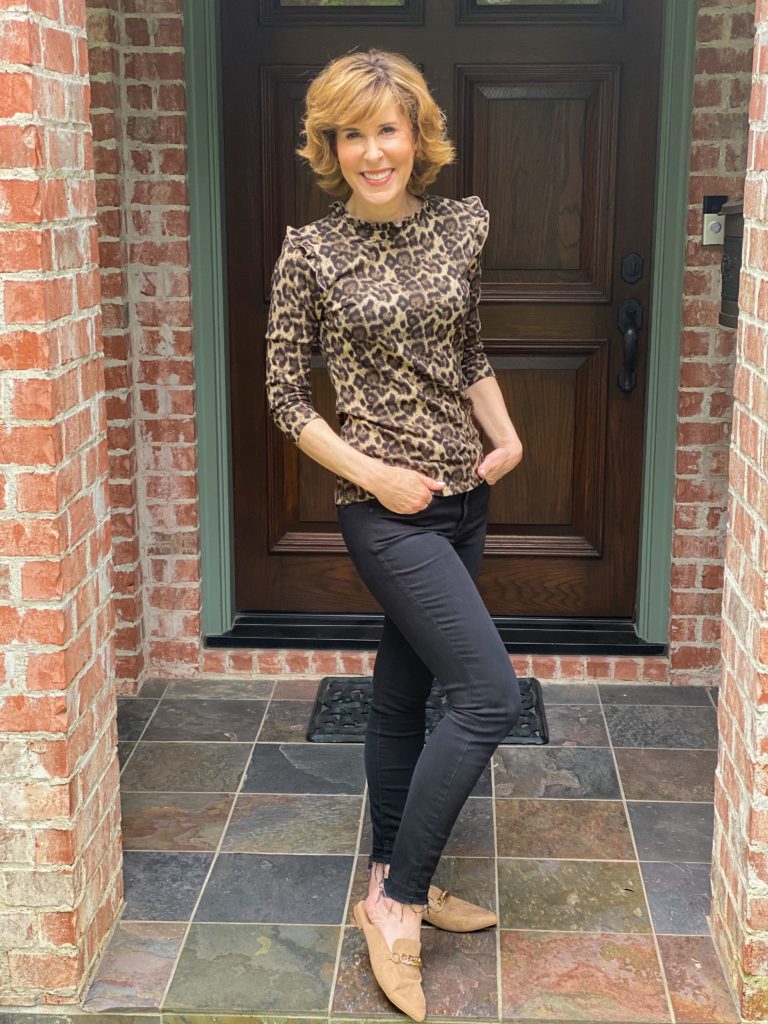 Leopard Ruffle Collar Knit Top | Similar Black Skinny Jeans (Without raw hem.) | Chain Link Mules

My ¾-sleeve Ruffle Collar Knit Top is lightweight and perfect for this time of year! The ruffle collar is a huge Zoom-worthy trend for fall, and the ruffles at the shoulder of this sweater are a fun little bonus! My Chain Link Steve Madden lookalike mule on Amazon is a best-seller! The original Steve Madden ones were part of the Nordstrom Anniversary Sale, but sold out SO FAST! If you're between sizes, I would go up a size.
I wore this outfit when my interior designer and I went to look at slabs on Monday! After schlepping around picking out bathroom fixtures and then warehouses full of slabs all day, my feet were still going strong! My designer, Tricia, said she came home and immediately ordered a pair of these mules because she was so impressed! 😂 The quality for the money is fantastic!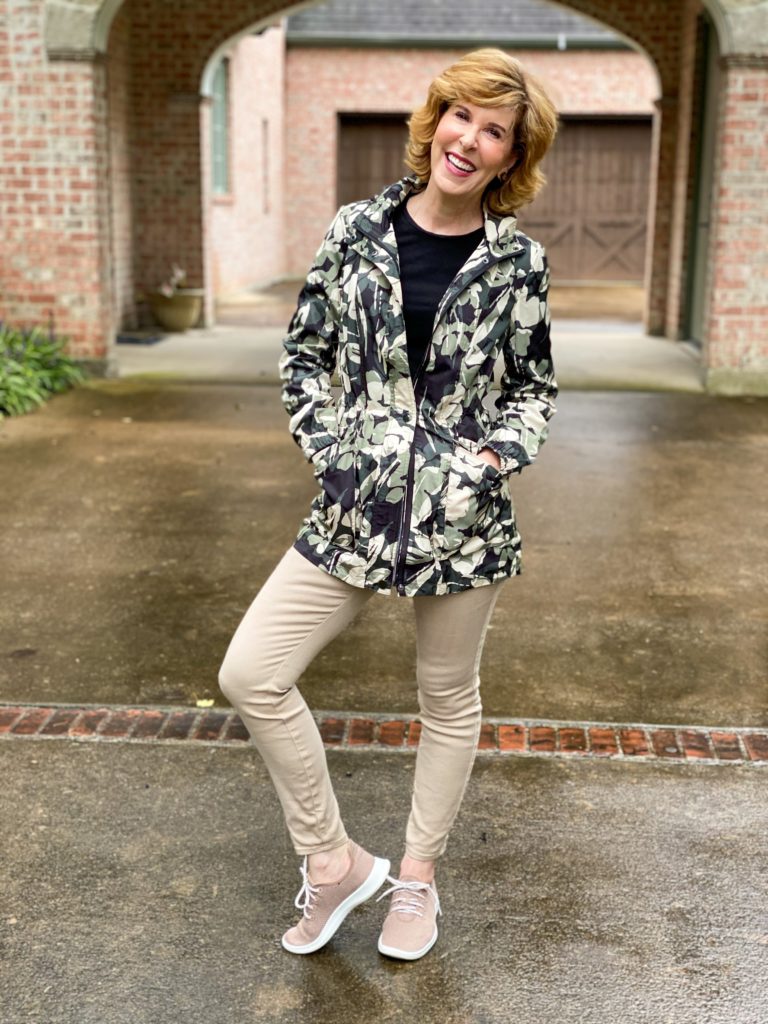 Cinch-Waist Floral Camo-Print Rain Jacket | Long Sleeve Crew Neck Tee | Similar Khaki Jeans | Similar Khaki Sneakers

We got some much-needed rain in Dallas on Tuesday, and I was so excited to pull out my new Floral Camo-Print Rain Jacket (#gifted). The cinch-waist is what makes the fit so flattering!
Lightweight Navy & White Gingham Sweatshirt | White Ankle Jeans | Navy Sneakers | Faux Sapphire & CZ Earrings | Custom Computer Case | Custom Tote Bag | Briggs & Riley Hardside Luggage (Lifetime Warranty!)

I loved packing my new laptop in my new, customized laptop case and fitting it all in (with the help of this tote organizer) into my customized tote. I designed them both on the Barrington Gifts site, and, even if you don't buy, it's a blast playing with all of the options for customization! (They offer 10% off for new customers!)
Best Weekend Sales
Thank you so much for shopping with my links! It helps support Empty Nest Blessed and allows me to continue to do this job I love so much!
There are great sales from the high end (TORY BURCH) to the lower end (TARGET) this weekend! Enjoy!
ANTHROPOLOGIE | Up to 40% off new tops, cozy jackets, and home entertaining. THIS darling graphic sweatshirt AND THIS puffy sleeve camo pullover top that I just bought (for full price! 🙄) are included in this sale.

CABANA LIFE | 30% off dresses with code FLASH30. This is my favorite spot for happy, colorful UPF 50+ clothing! I'm doing a post with Cabana Life next week all about relaxing responsibly (think hygiene, safe travel, SPF protection, etc.) I can't wait to share it with you! Here are some of the styles I'll be featuring.

CHICO'S | Up to 50% off select full-priced styles (priced as marked) + up to 70% off already-reduced styles + BOGO 50% full-priced jewelry. Most of the items from my video are included in this sale!
J.CREW | 50% off outerwear with code COZY. Puffer jackets are everywhere for winter, and I really like J.Crew's take on the trend. It's not hard to figure out that a puffy jacket can add, er, width, to your waistline! But THIS ONE has a much slimmer profile. (And now it's 50% off!) #winner
LOFT | 40% off fall-perfect tops or 50% off 2+ tops with code STOCKUP. I've got my eye on this Lou& Grey rainbowstitch sweater! It will go with everything in my closet!
SOMA | $19.99 and up bra sale + extra 30% off sale sleep & apparel. (Incredible deals here!)
TARGET | 20% off clothing, shoes, and accessories for the entire family.
TORY BURCH | Fall Event! 25% off $200+; 30% off $500+ with code FALL.
WHBM | 40% off select full-priced styles.
Have a great weekend! We'll be on the beach, for sure! Today, Bob caught a hammerhead shark, and he's after more this weekend! 🦈😱
Be sure to watch my Instastory or Facebook Story to see all the fun!
Blessings,