Let's talk 2020 Fall & Winter Shoe & Accessory Trends! Just like the 2020 Fall & Winter Fashion Trends, when it comes to accessory trends this year, it's all about comfort, and, well, Zoom!
First of all, if you haven't done it yet, I highly recommend that you read or reread my 2020 Fall & Winter Fashion Trends post. Shoes & Accessories are merely a subset of those overall trends, and many of the trends I'm sharing in this post won't make sense unless you really understand the fashion trends in general!
Today I'm sharing the fall & winter shoe & accessory trends with you, along with my "Pro Tips" for making these trends work when you're over fifty! Look for the bolded text for the must-know info!
As always, click on any pink text link or image (including the collage above) for more information or to shop.
Here's what you need to know as you go through my 2020 fall & winter shoe & accessory trends post:
This post is best viewed on a laptop, iPad, or another tablet. On mobile, the images may be too small to see clearly.
I worked hard to find well-priced and affordable examples of each trend, but that can be somewhat challenging for shoes, accessories, and handbags! Know that I did my best to provide great options at a variety of price points. If you see something you like, it may be on sale, so be sure to click on it to check the price!
I focused on in-stock, highly-rated items.
Many of the items featured in my example images come in multiple colors and patterns. If you like a style, be sure to click on it to see the other options!
Thanks for shopping with my links! When you click through on either text or image links, I earn a small commission if you make a purchase. Your support enables me to continue to do this job that I love so much! 
2020 Fall & Winter Shoe Trends
Pearl Detailing
If you focus your accessory game in one area this year, make it pearls!

Chain Detailing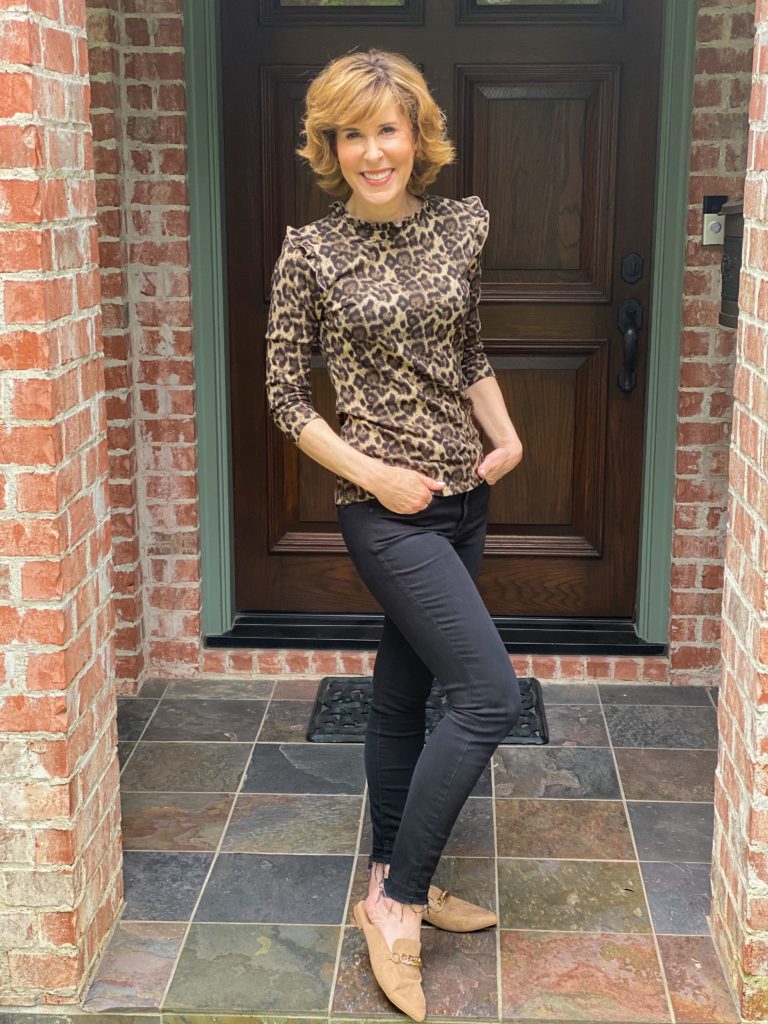 Leopard Ruffle Collar Knit Top | Similar Black Skinny Jeans (Without raw hem.) | Chain Link Mules

If you've been hanging out here for a while now, you know that my favorite mules of the fall are THESE Amazon lookalikes of more expensive designer mules that sold out lightning fast in the Nordstrom Sale this year! They've just been restocked, so they're available in every size! They're so comfortable that I've worn them all over Dallas as I've traipsed from warehouse to warehouse, picking out slabs, tile, and fixtures for our bathroom remodel! In fact, my designer was so amazed; she ordered a pair for herself!

***Suzy's Pro Tip For Women Over Fifty: Opt for a more subtle chain detail, rather than something super-chunky.
Ruching
We all love figure-flattering ruching on dresses and tops, but who in the world had the thought to put ruching on shoes? 🤷‍♀️ Oh, it's a thanggg this year!

Furry & Fluffy
Furry Cross Band Indoor/Outdoor Slippers
If this trend doesn't say pandemic comfort, then what does? 😂 Yummy, cozy, soft fur! I bought these pretty faux fur slippers back in May, and still wear them almost every day! The description says they're for indoor or outdoor use, but I think my husband and kids would disown me if I wore them to dinner or something! 🤣

I just ordered THIS cute pair of fur-lined black mules at Target! They also come in animal print and snakeskin.

Chunky Soles/Brogues
I'm not a fan of this trend, but maybe I'll get used to it! I do like THESE chunky-soled wedge sneakers I own, and I think THESE Ked's are adorable, but I can't picture myself in brogues! 😬 Let me know what you think in the comments!
BTW, a subset of the chunky sole category that can't be ignored is the combat boot! They're not for me, but let me know if you're going to incorporate this look into your fall wardrobe!

Brogues are a menswear-inspired shoe style with roots in Ireland! They were traditionally considered to be outdoor or country footwear. They're typically (but not always) lace-ups, with chunky soles and a punched through decorative pattern on the toe. Apparently, they're super comfortable!

Poofy & Puffy/Quilted
All I can think of when I see these is the 2004 movie, Napoleon Dynamite! 🤣 My boys were obsessed!
I'm not recommending puffy shoes for women over 50! (Unless you've just come off the slopes, of course! 🎿
***Suzy's Pro Tip For Women Over Fifty: Just like the puffy fashion I talked about in my fall fashion post, the alternative, slimmer line of quilted styles is infinitely more wearable! Case in point, THESE quilted booties.

Bows (Mostly) on Toes
As you can probably imagine, Suzy is all about this trend! 🙄 Sooo predictable! 😂 I've got my eye on THESE suede booties with side bows! They come in almond, black leather black suede, burgundy suede, and navy suede. (BTW, it's so difficult to find navy booties! I bought a pair a few years ago, and I wear them with jeans constantly in the winter!)

***Suzy's Pro Tip For Women Over Fifty: Lower cut booties offer a longer, more flattering leg line than those that top off at mid-calf.

2020 Fall & Winter Accessory Trends
***Suzy's Pro Tip For Women Over Fifty: Handbags are a great place to work any hot trend into your wardrobe!
Knotted Headbands
Knotted headbands are the perfect accessory for days when you barely have time to pull together an outfit, let alone fix your hair!
***Suzy's Pro Tip For Women Over Fifty: Pair a printed headband with a monochromatic outfit for a chic look.

Statement Earrings
A few years ago, the term "statement earring" seemed like code for "giant earring!" 😂 Thanks to Zoom, this is no longer true! Nobody wants to be that person in the Zoom group who's earrings are attracting more attention than they are! This year, look for more wearable statement studs or smaller, dangle drops.
***Suzy's Pro Tip For Women Over Fifty: For the money this year, I'd go with statement earrings that feature pearls! You get extra points for two trends in one, and pearls look great with white in the summer, so that's a four-season earring! 🙌

Chokers
Repeat after me: All accessories Must. Be. Zoom-Friendly. 😂 Also, look for coin embellishments on chokers.
Pearls and More Pearls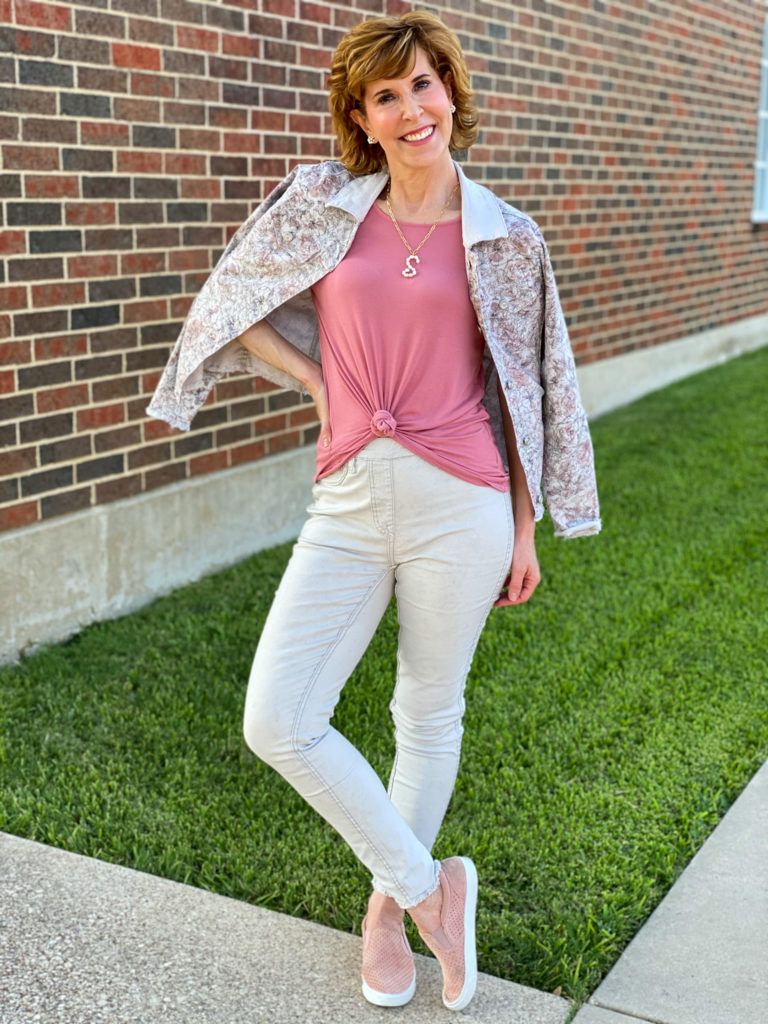 Pull-On Jeans (These are reversible 😮 and come in a variety of patterns/colors) | Twist Front Tee | Coordinating Twill Denim Jacket | Blush Suede Perforated Slip-on Sneakers (Similar) |Pearl Initial Necklace | Pearl Cluster Earrings

It's perfectly acceptable now to wear pearls for dressy occasions or for casual. That makes them a good, affordable, four-season purchase! 🙌 My pearl cluster earrings and this pearl initial chain pendant (both pictured above) have been my go-tos since summer—and they're still going strong!
This year, you'll find pearls adorning shoes, belts, handbags, headbands, and, of course jewelry of all types.

Chain Game
If you haven't guessed by now, one of the very hottest trends of the season is the chain! You'll see lots of chain jewelry, and we've already seen how many shoes there are that feature the trend.
Chain-Embellished Handbags
When it comes to handbags, look for bags with chain straps. I think this Ring Chain Mini Satchel is so cute! It's a great price and a versatile, neutral color! THIS chain handbag strap is even sold separately, so you just add it onto a bag you already own!

Chain Jewelry
Besides pearls, a chain-link necklace is the other jewelry purchase you might want to make this fall! When it comes to chain link necklaces, think layers! Start with a choker and build from there. Alternatively, buy a set. (THIS is the set I bought.)
***Suzy's Pro Tip For Women Over Fifty: Two subsets of the chain-link trend you need to know:
The coin pendant. I bought THIS one after seeing it on another influencer! (But I still may buy THIS one too, because I think it's so classy!)
The choker. If you hate your neck 🙋‍♀️, this may not be the style for you!

Maskcessories
In a trend that is full-on 2020, we're running around complimenting complete strangers on how cute their masks are. (Or is that just me doing that? 😂) Not only are masks trending (Some of my favorite stylish masks are at Chico's.), but chic "mask necklaces" are as well.

Ladylike Handbags
Dome Satchels
Ladylike dome satchels are the "it" bag of the season. Hey! They hold a lot, and their clean silhouette makes you look more organized than you probably are. Now that's my kind of bag!

Poofy & Puffy/Quilted
If you're going to work this trend into your wardrobe, this is the place to do it. After all, the quilted Chanel bags are the original poofy & puffy bag, right? 🤣

Micro Bags
I just bought THIS Tory Burch Micro Bag! It fits my keyring wallet, face mask, my favorite lip gloss, and my phone! Some bags are only large enough for a cell phone! If you have one of those card carriers on the back of your phone, that may be all you need.
2020 Fall & Winter Shoe & Accessory Trends: What I'm Buying & What I'm Skipping
As I hope you know by now, I think your decisions about what to buy and what to skip are pretty personal! With accessories, I find that I need to add a little here and there. I love it as a way to embrace the trends in a low commitment way!
Here's What I've Already Bought

:

Here's What I'm Buying
I mean, like, it's my job…😆

Here's What I'm Skipping
Poofy & Puffy Anything
Brogues
Knotted Headbands (I don't really have the hair for it!)
What 2020 fall & winter shoe & accessory trends are you loving? Drop me a comment and let me know what you love and what you're skipping this year!
I've pulled together many examples of the fall & winter shoe & accessory trends in a boutique below this post. Click on any item for more information or to shop. There's a lot on sale right now, so if you see something you like, be sure to click through to check the price.
Blessings,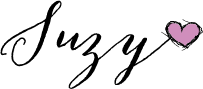 Pin the image below to your Pinterest page for future reference, and feel free to share this post using the icons below.