This post is sponsored by Hair Biology. I only highlight and share products that I use and truly love. Thank you for supporting the brands that support Empty Nest Blessed!
What if you could find a hydrating hair care line targeted specifically to meet the needs of your hair? It would be a game-changer, right? It was for me! Shiny, soft, hydrated hair means more good hair days. And I'm all for that! Serious #hairgoals, right?
Like many of you, as I've gotten older, my hair has gotten drier. Apparently, it's a normal part of aging. But why is it considered normal? Today, we're going to talk about it, and I'm going to share my personal hair journey. Finally, I'm going to tell you what I've been using (and doing) that has made all the difference in my hair.
Hydrated Hair: Why Hair Gets Drier With Age
Oil glands actually shrink as we age. That's right! Changing hormones cause the oil glands in our scalp to shrink, preventing our body's natural oils from reaching our hair. (Since hair has no oil glands of its own, it counts on the oils made in its roots to stay moisturized.)
Location, location, location! If you live in a dry, hot climate with a lot of sun exposure, it can contribute to your hair's dryness.
Damage can lead to more damage! Hair has cuticles, which form a barrier of protection, shielding your hair from heat and sun damage. If your hair is damaged from things like the chemicals in your hair color, washing too often with a harsh shampoo, or too much blow-drying, it can damage the cuticle.
Some health conditions can contribute. Certain autoimmune disorders can make hair drier.
I could put a check mark by each one of those!
Hydrated Hair: My Journey
I have wavy, textured hair that can be diffused and scrunched into curls or blown dry and straightened with a big round brush. I like the fact that I can wear my hair in a variety of ways! When we're at our condo in Florida, humidity is my hairdresser (Hahaha!), and I embrace the waves and curls for all I'm worth. But in Dallas, I like to straighten it, letting the ends curl and using the heat from my blow-dryer to direct them where I want them to go.
As a teenager with oily skin, my wavy hair, although never very thick, was always moisturized and shiny. Fast forward to age 45 or so, when perimenopause hit, I began to notice that my skin was getting drier, no matter how much water I drank or how much lotion I used. I also noticed that my hair started to thin, compounded by the onset of an auto-immune disease. In an effort to gain more volume, I actually stopped using conditioner, thinking rougher hair would be fuller. (That seems so dumb now! What was I thinking?)
Around the same time, I started noticing a few gray hairs—and decided to camouflage and blend them with highlights. The coloring process did "rough up" my hair and increase volume slightly. But continuing to skip conditioner didn't help matters in terms of the health of my hair. My good hair days were few and far between!
Fast forward to 2020. At age 55, I found myself with dry, brittle hair. It was damaged by years of highlighting, using the wrong shampoo, skipping conditioner, and daily hair washing and blow-drying. I knew I needed to make some changes to care for my dry and damaged hair. My hair was in desperate need of hydration.
So I started researching! Guess what I found?
Basically, I was doing everything wrong! As I aged, I adapted my skincare and makeup routines, but I hadn't changed up my haircare products or routine.
If you find yourself in the same situation, with hair that's brittle, thirsty, and damaged like mine was, know that there is a lot you can do to about it. Here's what I learned when I committed to focusing on the health of my hair.
Hydrated Hair: How to Get It
Wash Your Hair Less Often
I was washing every day because I work out every day. But seriously? I don't always do a cardio workout, so I don't always sweat enough to make daily shampooing a true necessity. I've cut back to every other day whenever I can.
Heat-Style Less Often
It seems obvious, but if I shampooed less frequently, I didn't need to use heat to style it as frequently either! I also started using an absorbent hair towel right after getting out of the shower. It cut my drying time almost in half!
I switched over to Hair Biology's Soft & Hydrated Moisturizing Shampoo. It's infused with Biotin and made specifically for dry hair.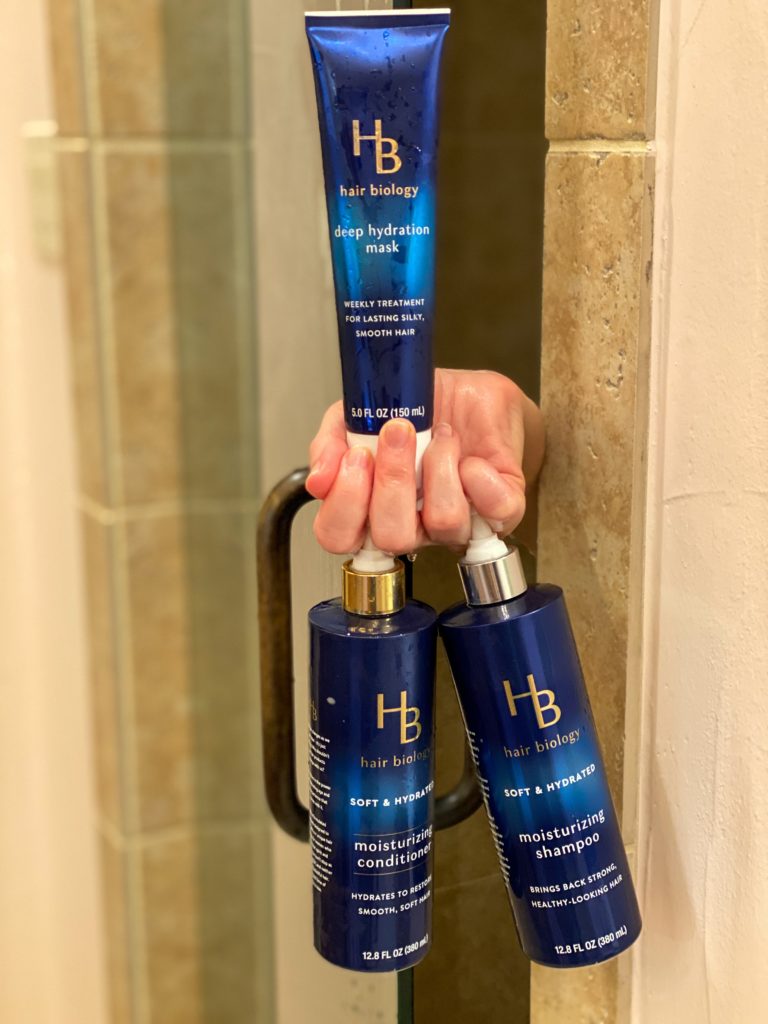 The entire Hair Biology line is paraben-free, safe for color-treated hair, and made specifically to meet the changing hair care needs of women over 45. How great is that? For my dry hair, I needed the Soft & Hydrated moisturizing line, but Hair Biology also makes a line specifically to promote fullness and volume, and one for gray hair.
I also added Hair Biology's Soft & Hydrated Moisturizing Conditioner to my routine, and I've found that my hair is softer and more manageable! If I'm wearing my hair curly, my curls are springier, have more bounce and resist frizz. If I'm wearing my hair straight, my hair is shinier, softer, and has more volume.
Trim Split Ends
I find that trimming my ends regularly makes my hair feel smoother and helps it retain a style better. I've also realized I don't need to get my hair cut as often as I used to when I was younger—since hair grows more slowly as we age.
Use Natural Oils to Add Shine and Manageability
I've been using Hair Biology's Argan Oil Taming Serum as the second-to-last step in my haircare routine. (Right before hair spray, and actually, Hair Biology also has a great hair spray!) It's added so much shine and softness to my hair! It smooths any frizzies and makes any unruly gray stragglers fall right in line!
Take Your Vitamins & Minerals
Experts say that supplements like Iron, Vitamin D, Folate, Vitamin B12, and Selenium can all help keep your hair healthy.
Deep Condition
I've been using Hair Biology's Deep Hydration Mask twice a week to deep condition my hair. It's my very favorite product in the entire Hair Biology line! After shampooing, I use it in place of my regular conditioner and leave it on for three minutes. Then I rinse as normal. It's made a huge difference in my hair's manageability!
I've made lots of changes this year in caring for my hair, and it's really paid off for me! Hair Biology's moisturizing hair care products have been a big part of that. My hair is hydrated, shinier, and so much healthier!
As I get older, I'm getting bolder about making the changes I need to stay healthy and happy. Achieving my #hairgoals is a part of that! Here's to many more good hair days to come!
You can also check out all of their products from Target HERE! Let me know what you think!
Blessings,