Today, I'm letting you in on the three classic holiday fashion must-haves I think every woman needs in her closet. We're talking about three specific items you'll pull out every year in late November and December. Sure, they'll go buh-bye 👋 again in January, but you'll bring them out again the next year. (It'll be like seeing long lost friends!)
As always, click any pink text link or image for more information.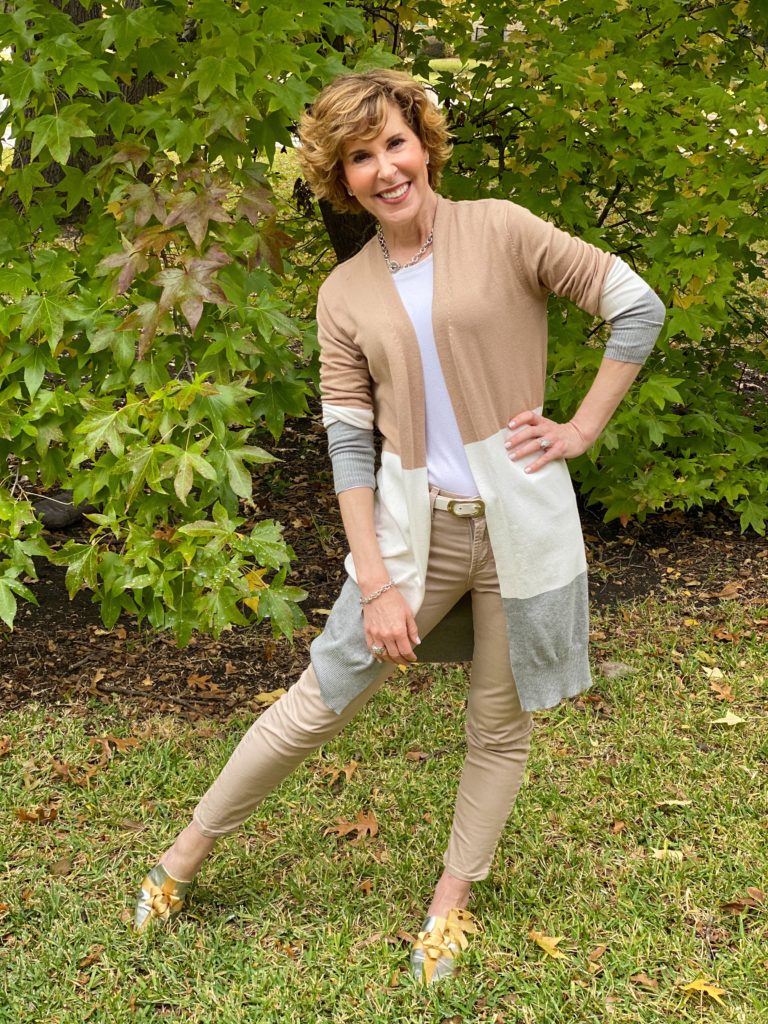 1. Classic Holiday Fashion: Bow Mules
Bow mules are everywhere this year! I think it's because mules remind lots of people of slippers, and if there was ever a year when we wanted to wear slippers during the holiday season, it's 2020! Amirite? 😂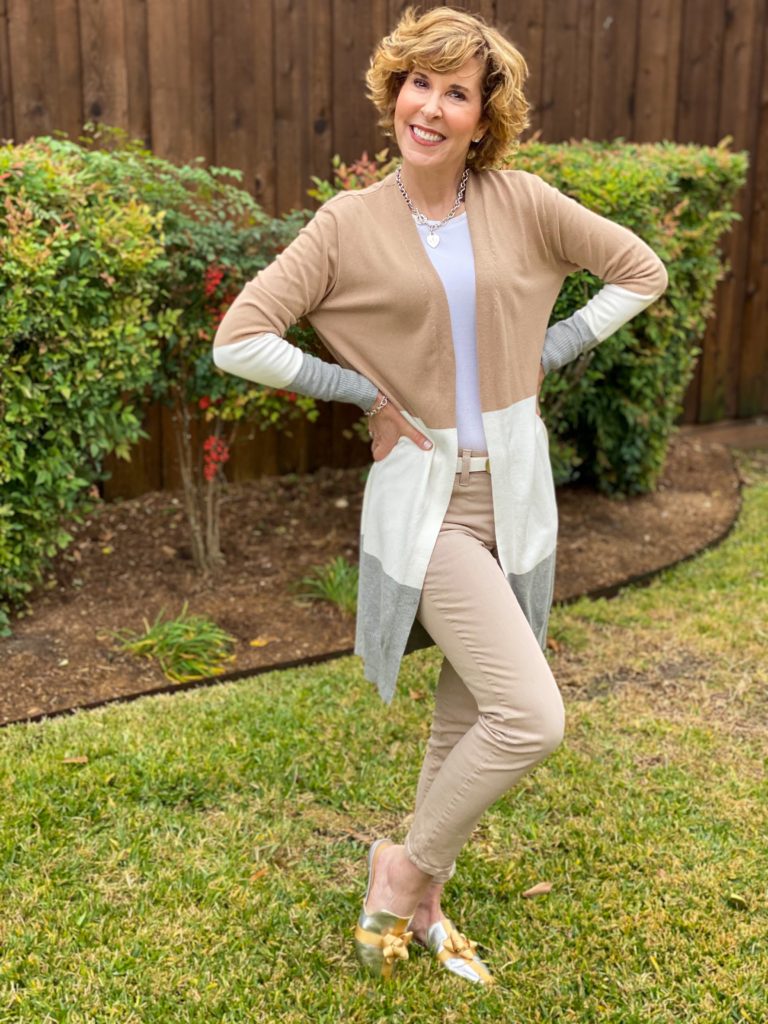 Open Front Color Block Cardigan (several color options) | Similar Tan Jeans | Long Sleeve White Crewneck Tee | Similar White Belt | Bow Mules | Tiffany "Return To" Heart Necklace | Tiffany "Return To" Heart Bracelet

These mules are selling fast! They come in several color options and it may be tricky to find your favorite color combination in your size. (Although my specific pair is still available in every size!) I've linked as many options for you as I could find!

The thing I love about shoes is that you can dress simply and let them be the star of the show! They're comfortable, with a cushy insole. Also, the front comes up far enough on your foot that they don't fall off while you're walking! 🙌 (All the praise hands for that, right?)
I'm wearing an open front cardigan for a casual look, but these fun bow mules would look awesome with a dressier monochromatic look as well.
I know that not everyone likes mules! That's okay! If you don't, there are plenty of pretty shoes with bows out there as well.

2. Classic Holiday Fashion: Velvet Leggings, Jeans or Joggers
My recommendation is to buy this holiday staple in black for maximum versatility. I own Spanx velvet leggings and NYDJ velvet jeans, and you'll be seeing them all over my Instagram in December! 🖤 If you're choosing between leggings, jeans, or joggers, I'd say leggings, because, hey, 2020! 😂 It's all about comfort this year! (THIS pair of velvet leggings even has a little sparkle!)

3. Classic Holiday Fashion: Something Plaid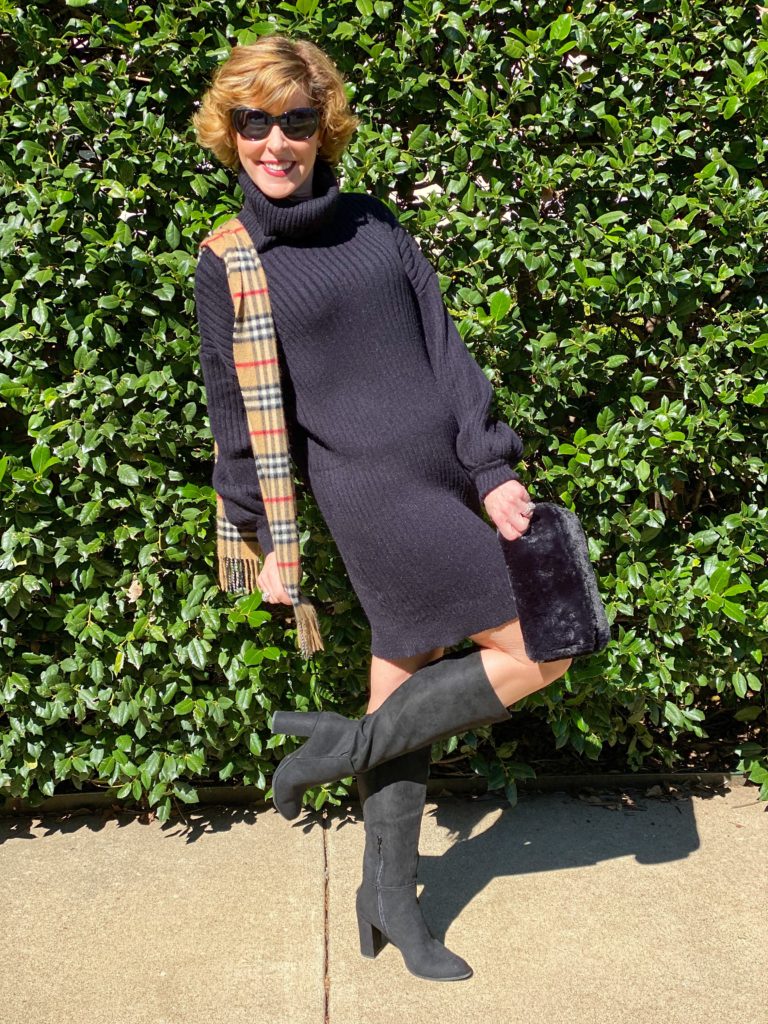 Black Sweater Dress | Black Faux Suede Boots | Burberry Nova Check Scarf | Faux Fur Clutch | Sunglasses | Earrings

Plaid is always in style in the fall and winter months, and never more so than at the holidays! I love the classic holiday style of the Burberry Nova Check plaid, and I've been adding to my collection a little at a time for the past 20 years!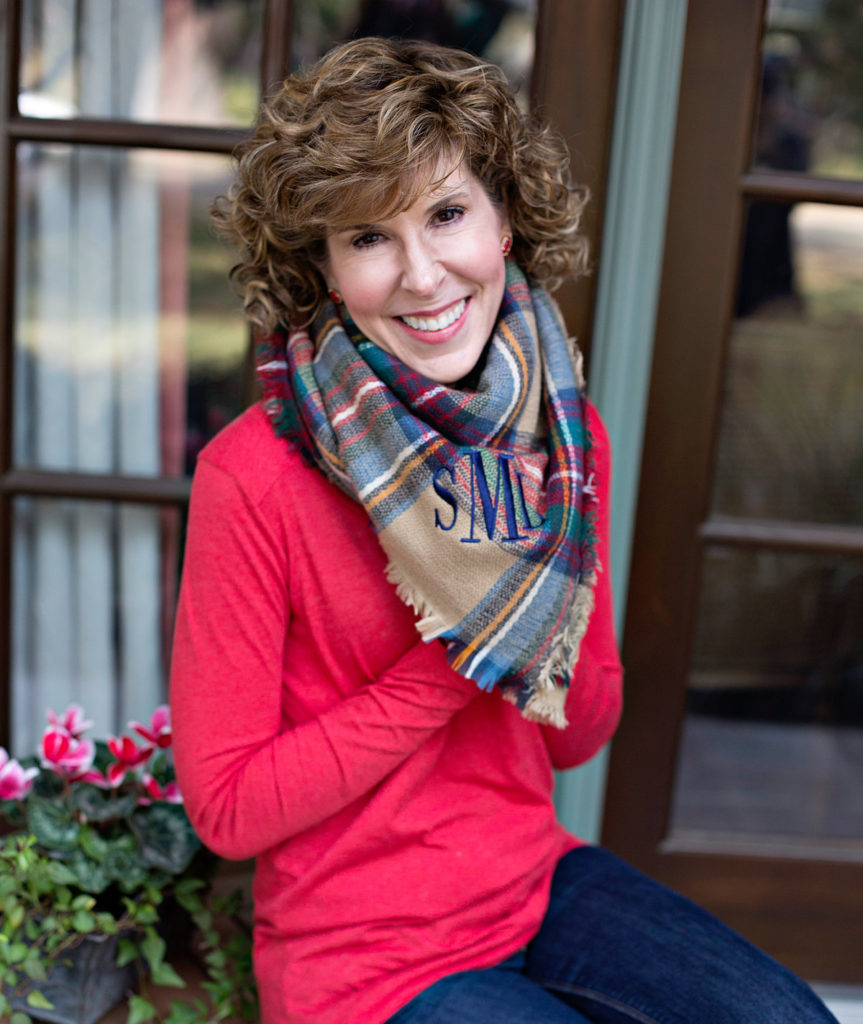 Red Tunic Tee| Indigo Dark Wash Jeans | Plaid Monogrammed Blanket Scarf | Earrings


When I took to my Instagram Story earlier this month and asked my followers what kind of holiday outfits they wanted to see this year, the answer was overwhelmingly clear! The winner? Cute, casual outfits! Everybody wanted looks that could take them from errands to family dinner, to a socially distanced lunch with friends!
I hope this post has given you some great ideas for classic holiday fashion pieces that will work both this year and for years to come. Do you have a go-to holiday look? Share it with us in the comments, okay?
Blessings,
P.S. You might want to Pin this post on Pinterest for future reference! And if you want to share it with others, use the social media icons below.