Happy Weekend! After a week full of stops and starts (thanks to Tropical Storm – later Hurricane Eta!), we finally arrived at our beach condo on Thursday evening! (We were originally scheduled to come last Sunday.)
The painters were painting the enamel trim at our house in Dallas this week, which was why we originally planned to be gone in the first place! (Can anyone say, "paint fumes?"😬) So, we moved to a hotel in Dallas while we waited for the storm to pass. We were finally able to get out on Thursday, and we're so happy to be here in our favorite place!
I'm thankful that I was able to work at Bob's office this week! I got some posts finished up and finalized some fun partnerships for the coming weeks and months. (More to come on that!) I also added some items to the Empty Nest Blessed Empty Nesters' Gift Guide. I do that throughout the holiday season, so if you've already looked at it, know that it's definitely worth coming back to again and again as you shop throughout the season!
Awesome Gift Guide Additions

Best Gift Guides
Oh, there's a lot on the Empty Nest Blessed Empty Nesters' Gift Guides, for sure! But hey! There are lots of other great gift guides out there. Click the links to go right to the gift guides at a few of my faves spots!
An Exciting Partnership
I get questions from you guys all the time about midlife beauty issues and what to do about them! You want to know about skincare, cosmetic procedures, and lots of other midlife beauty issues! I get it! There are so many products, with so many ingredients, and so many procedures! It's confusing, and hard to know the best options for your individual issues as well as the best place to spend your money.

Well, I'm thrilled to announce that I've partnered with the Dallas Center for Dermatology and Aesthetics for 2021 to get you some answers! Look for some blog posts, Instagram & Facebook posts, Instastories, Facebook Lives, along with YouTube and IGTV videos. I'll be educating you about the treatment options for various beauty and skin issues, by talking with the DCDA doctors, sharing products and special discounts from their online store, and even undergoing some cosmetic procedures 😲 myself!
We'll be kicking things off in January with a survey. In it, you'll have an opportunity to share all your questions and everything you want to know, and then we'll take it from there!
Pretty exciting, right?
In Other Partnership News…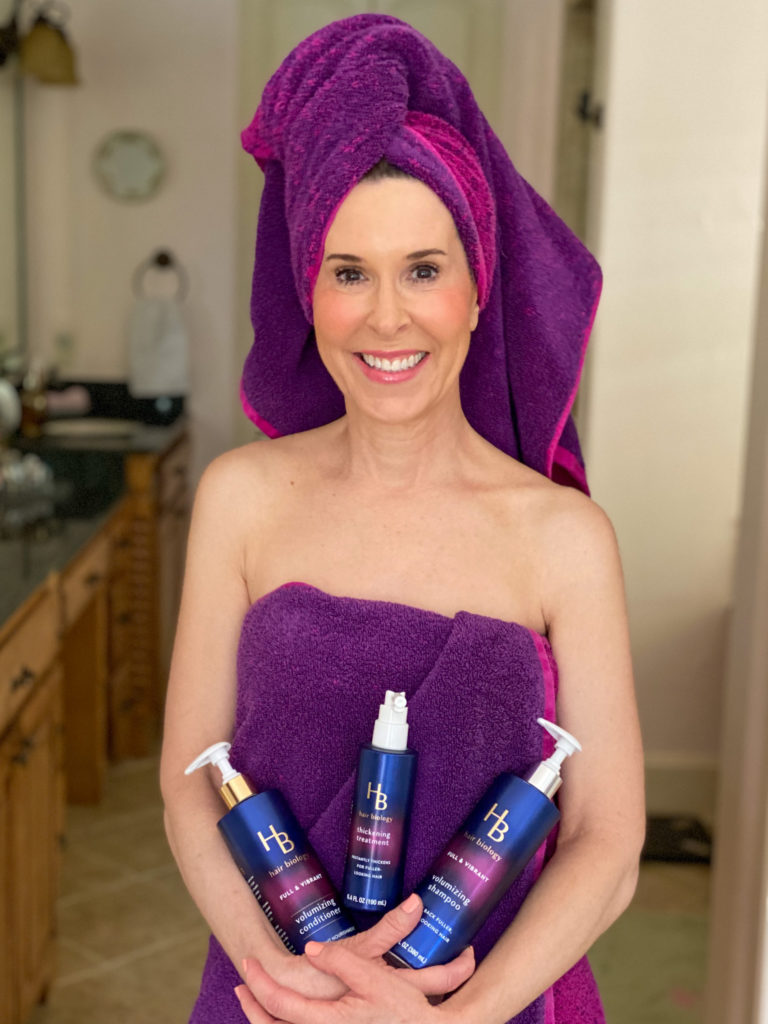 In other hilarious partnership news, I've signed on to represent the Hair Biology hair care line that I love so much by embodying a certain, er, holiday persona, shall we say…on their Instagram, Facebook, and website all through December. I can't tell you much more, except that Hair Biology's Silver & Glowing Line is definitely the product of choice for this character. 😆😂
Trust me, you'll want to be sure you're following Hair Biology on Instagram and Facebook so you don't miss a thing. 🤣🤣🤣
ENB Best-Sellers This Week
I am super impressed that you all are getting after that holiday shopping. (Your favorite blogger hasn't even started! 😆) Here's what you're loving:
Instagram This Week
Monogrammed Elbow Patch Pullover Tunic | Bronze Metallic Leggings | UGG Wedge Shearling Booties | Clear Gameday Bag in Green Snakeskin Trim (Great gift idea! Many other team colors available.) | Tassel Fan Earrings

This yummy snap front pullover tunic is monogrammed free and has the cutest elbow patches! But the real star of the outfit, in my opinion, are the Sherpa-lined wedge booties from UGG. They are awesome!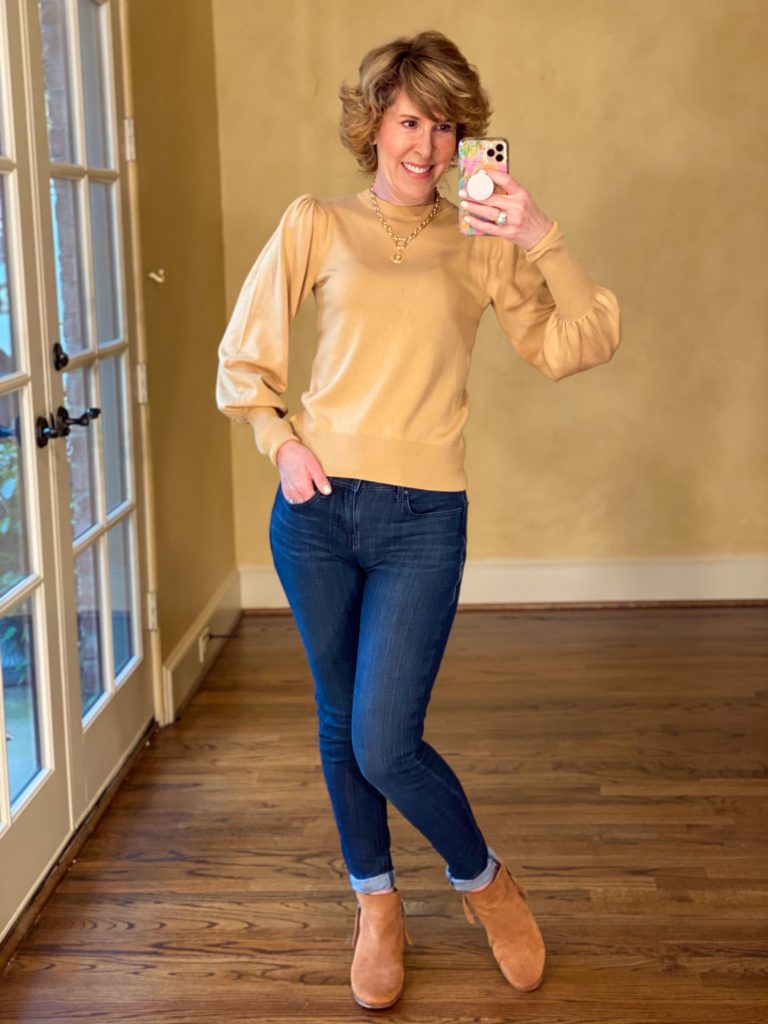 Puff Sleeve Sweater | Similar Dark Blue Jeans | Sam Edelman Booties | Coin Pendant Chain Link Necklace | Tory Burch Logo Earrings

I said on Instagram Stories that this puff sleeve sweater was the nicest quality item I had ever ordered from Amazon, and I meant it! The fine gauge knit is beautiful and the detailing is incredible. I literally ordered it in every color!
Sweater Dress | Faux Suede Black Boots | Burberry Plaid Cashmere Scarf | Faux FEarlier ur Clutch | Sunglasses | Earrings

Earlier this fall, you may remember that I wore this sweater dress in a dark orange! (See photo HERE.) It's so soft and cozy, I just had to snag it in another color!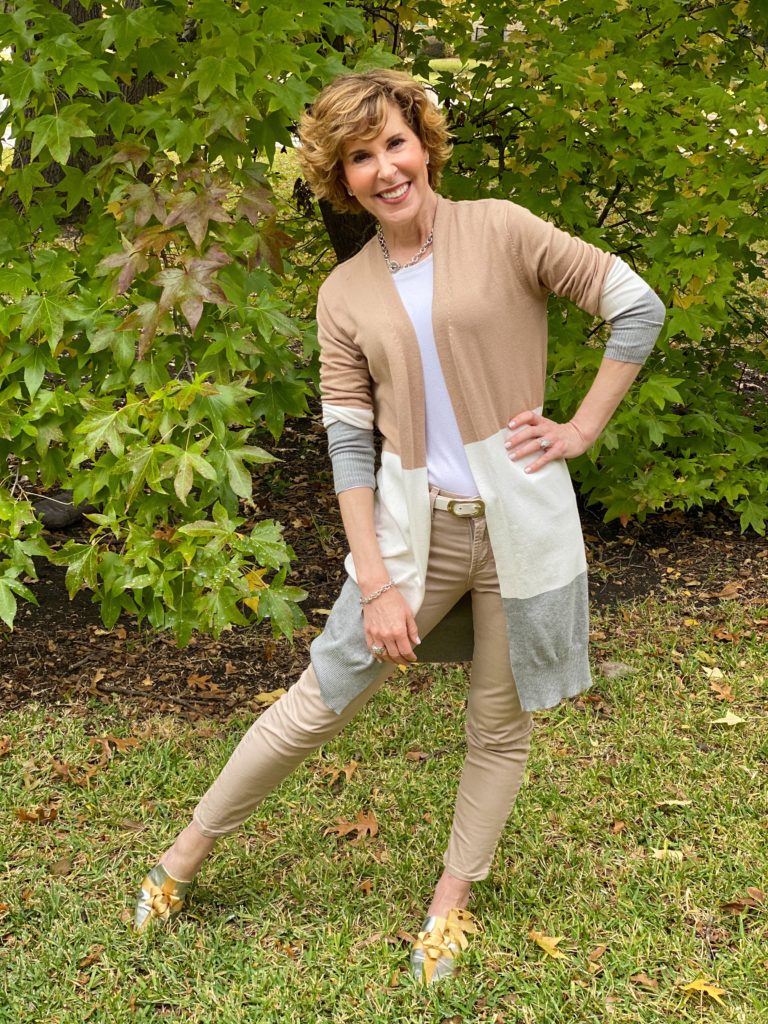 Open Front Color Block Cardigan (several color options) | Similar Tan Jeans | Long Sleeve White Crewneck Tee | Similar White Belt | Bow Mules | Tiffany "Return To" Heart Necklace | Tiffany "Return To" Heart Bracelet

Did you snag a pair of bow mules after reading my Three Classic Holiday Fashion Must-Haves For Women Over Fifty post? How festive are they?
Best Weekend Sales
Every week, I comb the web for the best weekend sales! Also, my relationship with some brands allows me to get advance notice of select upcoming sales. I always share those with you right here in my weekend posts! My heart is to help you stress less and rejoice more this holiday season. 🎄⛪💗
Thank you for shopping with my links! When you click through on one of the pink text links or images in my posts, I earn a commission on any sale that my link drives. It will never cost you any extra, and it allows me to keep doing this job I love so much!
ABERCROMBIE & FITCH | 15% off entire purchase. Every time I look at A&F, I wonder why I don't shop there more! Going to really dive in this weekend!
CABANA LIFE | Sun protection isn't just for summer! Take 40% off the hooded tassel coverup and everything else at Cabana Life this weekend!
CHICO'S | Friday ONLY! 40% OFF all full price Zenergy pieces. (That's their cozy, comfy good-for-lounging-or-erranding line!)
J.CREW | 45% off for J.Crew Reward members (free to join) with code FAMILY + 35% off for non-members with code FRIENDS.
LAND'S END | 40% off entire purchase with code NUTS. Little known fact about Suzy: I love Land's End! I love their…wait for it…silk long underwear! I shared a video with my Instagram followers this week where I showed them my secret for traveling from a cold climate to a warm one. (Especially because the temps on a plane can be unpredictable.🙄) Yep! Non-bulk-adding silk long underwear.
NORDSTROM | Remember the tip I always give you about Nordstrom? Check the sale section constantly for the best deals (and use the filters in the left sidebar to make your shopping time-efficient!) Want a sneak peek at the Cyber Weekend deals? Oh, I've got you! Click HERE.
NORDSTROM RACK | Check the deals below.
OLD NAVY | 50% off pajamas, sweatshirts, jeans.
SOMA | Friends & Family Event! Save an amazing 25% sitewide (exclusions apply). (Ends Monday, 11/16.) In addition to our Friends & Family Event, Soma is also offering $49 Cool Night Sleep Sets & $69 Cozy Sleep Sets!
SHUTTERFLY | 50% off almost everything + free shipping with code SHIP4FREE. Their gift items (just upload a picture and create!) are always best-sellers on the Empty Nest Blessed Empty Nesters' Holiday Gift Guide!
TARGET | Not to be outdone by Walmart 😂, Target is celebrating Black Friday all month with new deals every week! Click HERE to check out this week's Black Friday deals in electronics, kitchen appliances, vacuums, and more!
VINEYARD VINES | 30% off almost everything in their Early Black Friday sale with code CHEER. This is the perfect place to shop for teen and college boys! My college-age nephew lives in Vineyard Vines tees!
Suzy's Tip: Use the filters on the left side of the page to narrow your search.
VISTAPRINT | 30% off in their Friends & Family sale on custom gifts, masks, and more with code EXCLUVP!
WALMART | Another of Walmart's Black Friday events is on NOW! Browse all the deals HERE.
WHBM | 40% off full-price sweaters. I'm crazy about this beautiful black foldover off-the-shoulder sweater!
WILLIAM SONOMA | Got a foodie on your list? Find amazing deals in William Sonoma's clearance section and take an extra 20% off this weekend with code EXTRA!
I'll be spending some beach time this weekend, and also gearing up for next week! Working on bringing you posts with ideas for holiday date nights for couples + my fave Gift Ideas for Him and another full of fresh and new activity ideas for what to do with the fam during the holidays.
Have a wonderful weekend, sweet friends!
Blessings,
SHOP MY LOOK